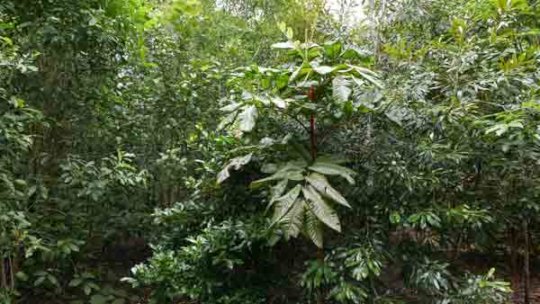 Lot 46, in the heart of the Daintree Lowlands, is Rainforest Rescue's most ambitious restoration project to date. This project looks like it is rewarding us with a healthy, vigorous developing rainforest. However, you can't base restoration success purely on 'looks' alone. Particularly when you are dealing with the complexity of the tropical rainforest ecosystem. Actual science is needed to inform a genuine understanding of how successful the restoration project is.
Which is why five years ago, our resident scientific advisor, Dr Robert Kooyman, assisted us in setting up an ongoing monitoring process that would allow Rainforest Rescue over time to collect data and record 1) growth rates, 2) degree of canopy closure which is an all-important aspect of rainforest structure, and 3) the development of adequate leaf litter to feed the ongoing growth of the trees.
We are in the process of conducting another remeasuring all of these monitoring components and are looking forward to the results of this analysis. If the science supports what we all believe is a true success story, Robert's intention is to write a scientific research paper projecting the values of this restoration story and submit this to an international peer reviewed journal. This effectively will turn our jewel in the crown of restoration into an international star, projecting Rainforest Rescue's commitment to restoration integrity. A win for everyone. Including all of our loyal supporters who value this process and its achievement!
Lot 46 has been attracting a great deal of attention. Tourists stop by the side of the road to marvel at this lush and beautiful young rainforest. Scientists from both Australian and international universities have set up collaborative partnerships to conduct their research on Lot 46. This dynamic young rainforest seems to have a great deal to offer everyone, including the number of Cassowary and other native animals who are very pleased with the food sources it offers.
We still need to ensure full protection for this jewel in the crown that represents so many years of work and restoration passion. Once we have acquitted the loan, Lot 46 will earn its 'saved in perpetuity' status, with the jewel in the crown a living testament to the commitment and passion of our valued supporters and their desire to protect rainforest forever. We simply could not achieve what we do without you. Thank you so much!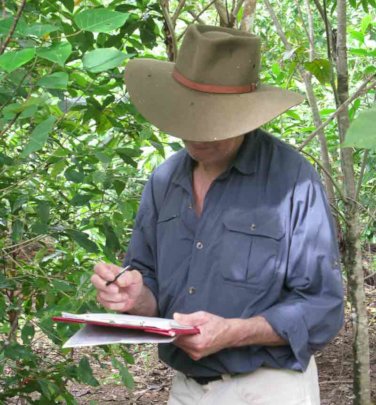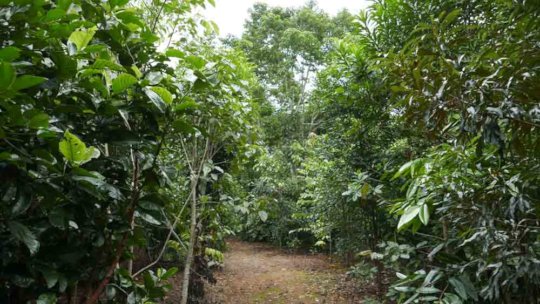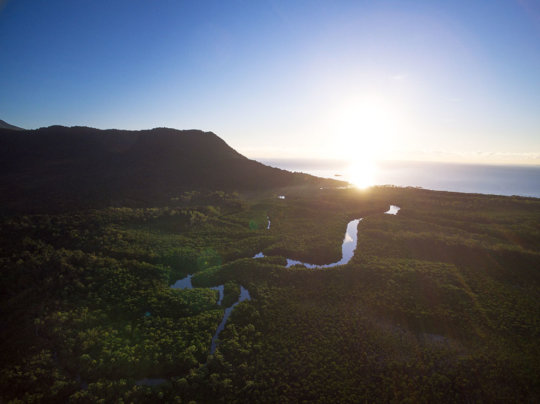 Recently we wrote to you about an important rainforest property that supporters helped rescue. Acquiring that property was the next step in extending the Milky Pine nature reserve and creating an even larger biodiversity corridor. Thank you again for your contribution to this conservation win!
This property was the first acquisition in the #next10 campaign, launched last year and focused on securing literally the next ten rainforest properties that will significantly contribute to preserving high biodiversity value land. With one down and 9 to go, our #Next10 campaign is off to a roaring start.
We want to keep the momentum going and are now focused on the next two high priority properties.
Choice #1 is approx. 16 acres of rainforest that transitions through wetlands to the coastal stream and estuary. Another important feature of the property is that it is in close proximity to one of Rainforest Rescue's larger restoration projects which backs on to National Park. By securing this property, we would be forming a bridge that in turn would complete an important, very large and continuous corridor that extends all the way from the mountains to coast. Most importantly the whole of the catchment will be protected, thereby ensuring clear and clean water deposits on to the Great Barrier Reef.
Choice#2 offers and exciting opportunity to create a new corridor in the Forest Close area. This property adjoins a group of other properties located in steep country and importantly no development is on them - yet! The rainforest is fully intact and in need of protection. If these properties were to be developed it would significantly impact not only on the rainforest itself but its ability to control the flow of clean water down hill.
Your support is needed now more than ever. By continuing to support this project, you can make a significant contribution to the ongoing protection of the magnificent Daintree lowland rainforest, its wildlife habitat and water catchment areas. Please give now to #Next10 campaign. Your support will be contributing directly to Protecting Rainforests Forever - leaving a legacy for future generations.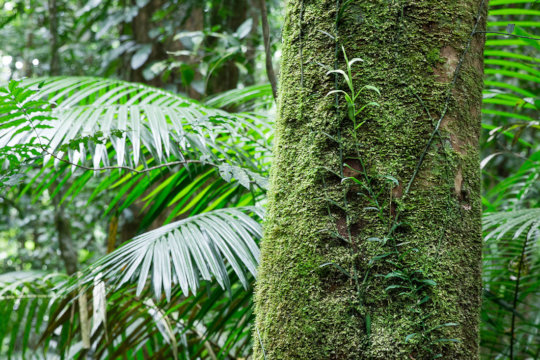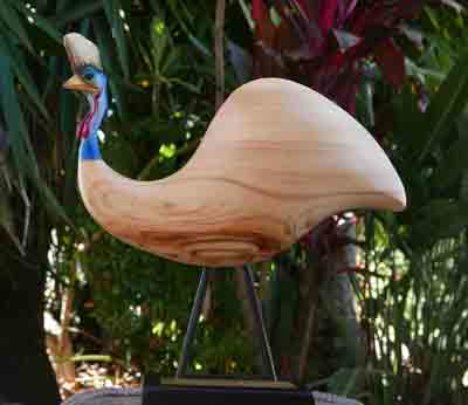 Thanks to you, Rainforest Rescue has been able to continue its work to protect and restore important habitat for the Southern Cassowary.
At this year's annual Wet Tropics Management Authority Cassowary Award event, Rainforest Rescue was awarded the prestigious Thorsborne Award for Community Conservation and Rehabilitation sponsored by Queensland Parks And Wildlife Service.
The Cassowary Awards were established in 1999 in recognition of outstanding contributions to the improvement of the Wet Tropics World Heritage Area's natural values, including the protection and rehabilitation of flora, fauna and other natural landscape elements in the area.
Together with their family of rainforest supporters and conservation partners, Rainforest Rescue have, to date, purchased 30 properties in the Daintree and planted over 100,000 trees, creating protected habitat and connectivity corridors for animals like the endangered Cassowary.
Rainforest Rescue is honoured to be the recipient of such an Award, and values all the people who contribute to making their work a success.
Again, from all the team at Rainforest Rescue, we send our sincere thanks to you today for your ongoing care and commitment. Your generous support not only helps to create and restore vital connectivity corridors for species like the Southern Cassowary, but also helps to protect this very special, vulnerable area of tropical rainforest forever. We share this award with you!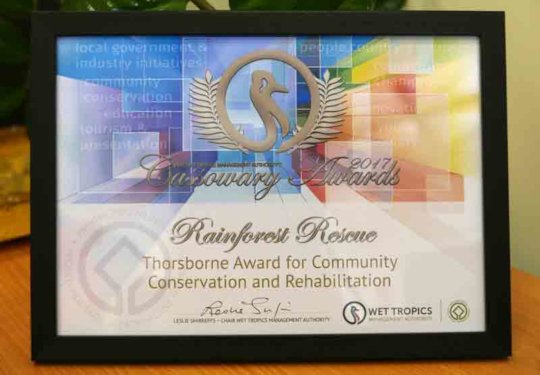 WARNING: Javascript is currently disabled or is not available in your browser. GlobalGiving makes extensive use of Javascript and will not function properly with Javascript disabled.
Please enable Javascript
and refresh this page.