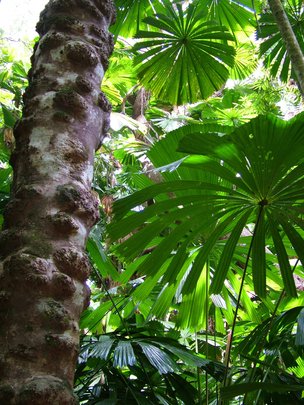 Twin Daintree properties protected forever

Two new rainforest properties have been purchased as part of Rainforest Rescue's Daintree Buy Back and Protect Forever Project. Lot 83 Rosewood Road settled 19th January, 2012 and Lot 82 Rosewood Road settled 16th May, 2012. This brings the tally to 16 rescued properties.

"These blocks are located in Cow Bay, an area that we've been working towards protecting for more than a decade, and now it's all coming together," says Rainforest Rescue CEO & Founding Director Kelvin Davies.
"It's not only a win for the local wildlife and rainforest; it's a win for our supporters. These people and businesses have given not only their time and money, but their trust. They've shown faith in our motivations and strategies for purchasing properties. They've trusted us to make decisions in the best interest of the Daintree Rainforest and future generations of Australians."
Both properties purchased this year were ear-marked for development, but will now be protected forever.
"So what's happened is, we've safeguarded an existing wildlife corridor from future development and fragmentation. Lots 82 and 83 connect with five other properties already purchased by Rainforest Rescue and increase the size of the Baralba Corridor Nature Refuge.
This corridor provides a vital link between two isolated parts of the Daintree National Park / World Heritage Area. It allows for the movement of wildlife such as the Endangered Cassowary… and it connects populations of plants, among them three vulnerable and 11 rare plant species," says Kelvin.
Assigned by local Aboriginal people, the kuku yalanji, the name Baralba means 'wildlife track'. "The biodiversity here is amazing," says Kelvin. "I have seen Cassowaries in this area. It is a real hotspot for Cassowaries."
Rainforest Rescue carefully chooses the properties it purchases andprotects following careful research into the conservation gains to be obtained. By strategically acquiring properties alongside one another we provide the habitat required for essential corridors for Cassowaries and other wildlife.

With each block purchased, regardless of size, further settlement in the Daintree is impacted; and it's the settlement pressures of increased infrastructure, dogs and traffic that prove most devastating to local Cassowaries.

People settling in the Daintree Lowland Rainforest also bring garden plants that can invade the rainforest and become environmental weeds. We work to clear up these 'garden escapees' and keep on protecting more properties so that integrity is maintained and less settlement disturbs the Daintree.

The suite of native plants and animals on Lots 82 and 83 is diverse and well worth protecting. A fauna and flora study revealed the presence of over 137 different species of plants on the properties including locally significant rare and threatened species Haplostychanthus sp. Cooper Creek (rare), Normanbya normanbyi, Endiandra microneura (rare), Cleistanthus myrianthus (rare) and Hernandia albiflora. Both properties are classified as essential habitat for the Endangered Southern Cassowary (Casuarius casuarius johnsonii) under the Queensland Vegetation Management Act 1999. Thanks Mates!! We're doing the work that needs to be done and we hope you will tell yourfamily and friends about our work. Take care!