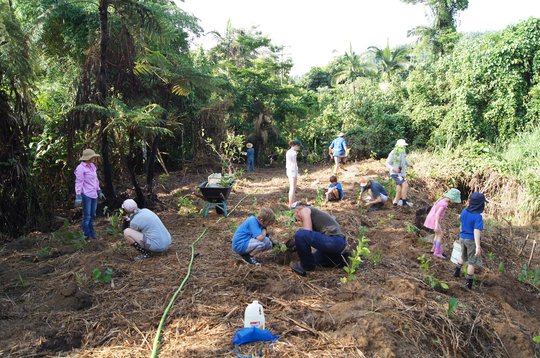 Dear Friends,
On behalf of Rainforest Rescue, I wanted to thank you very much for your continued support. We have a very nice Project Report to share with you and we hope it will encourage you to donate again to this fine project and conservation effort. Please know your help and your generous support is the life source of our operations and we mean it when we say that every dollar counts. Please contact me anytime if you happen to have any questions on this project-- medicipj2@yahoo.com. Thank you and I hope to hear from some of you soon.
**Cassowaries in the Bingil Bay area have larger, safer and better connected habitat as a result of local residents clearing weeds and planting 500 trees on a council reserve.
Funding provided by Rainforest Rescue culminated in a tree planting event held on Sunday 17th February, managed by project implementation partner Terrain NRM, where nearly 40 locals planted 500 trees.
Around 40 volunteers from the local community planted 500 trees to expand habitat for Cassowary populations at Bingil Bay Reserve
The tree planting is the second to be funded by Rainforest Rescue in the Mission Beach area; the local Cassowary population is also benefitting from the planting of 1,900 trees, also managed by Terrain, in a Cassowary corridor at Cottonwood, near Wongaling Beach.
Bingil Bay resident Greg James, who planted trees on the day and is also a Rainforest Rescue supporter said, "Because of the pressures around here, this is an area that needs attention, every little bit counts."
This year's site was specifically chosen because it is known that Cassowaries use this particular reserve for both habitat and as a corridor.
"This corridor links Clump Mountain with Brookes and Garners Beaches and at least six different cassowaries have been seen using this corridor," said Terrain's Tony O'Malley.
The corridor provides a valuable wildlife link between Clump Mountain and Brookes and Garners Beach. At least six different Cassowaries are known to use this corridor.
Rainforest Rescue's Erryn Stephens said, "Through Terrain we are achieving positive outcomes for local Cassowary populations and other threatened and endangered species that rely on the rainforest for survival.
"This collaborative approach to rainforest restoration would not be possible without the wonderful support we have received from the Mazda Foundation, Taronga Conservation Society, GlobalGiving donors, Foundation for National Parks and Wildlife, North Queensland Wildlife Trust and Amuse Australia, along with donations from the general community."
The site is part of a network of reserves managed by the Cassowary Coast Regional Council in the Bingil Bay area.
This particular tree planting event builds on revegetation work that Terrain previously funded C4 to do to improve the landscape for this endangered species, on another section of the same site.
Local Siobhan Jackson said, "The community involvement is a great initiative. It gives people ownership of environmental care and an awareness of where the corridors are."
"Bingil Bay is a special place where people live in the rainforest and share the same space as the Cassowary," said Mr O'Malley.
Rainforest Rescue will also fund a contractor to manage weeds in the replanted site through the wet season.
Cheers,
Paul Medici