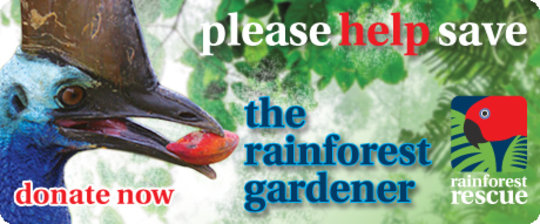 Dear Friend & Supporter,
One of the most ancient of all creatures to inhabit the Wet Tropics of Queensland is the Endangered Southern Cassowary. As a 'keystone species' the Cassowary's role is pivotal in preserving the rainforest and its unique plants and animals. Yet, It's estimated that fewer than 1,000 birds remain.
The Southern Cassowary has been the Wet Tropics' 'rainforest gardener' for virtually its entire existence, and is the major seed disperser of around 150 plant species. Around 70 to 100 of these plants depend entirely on the Cassowary to disperse their seeds, maintaining the rainforest's rich biodiversity.
With so few birds left in the wild, we must act now to help save the Endangered Southern Cassowary. If it becomes extinct, we stand to lose not just one of Australia's most iconic animal species, but also the Wet Tropics - including the magnificient Daintree Rainforest - as we know it.
Please make a donation by Tuesday 31st December to help protect and restore critical Cassowary habitat and assist with conservation efforts.
The greatest threat to Cassowaries is us...people. Rapid urban development in parts of the Wet Tropics has either destroyed or fragmented much of their habitat. An adult Cassowary needs 250 hectares in which to forage for food and to breed. The disruption of their habitat forces them to travel further - exposing them to threats like dog attacks and road fatalities.
Thanks to Rainforest Rescue supporters we are taking postive action to help save the Southern Cassowary. This includes the purchase and protection of 22 properties to date classified as 'essential' Cassowary habitat, and the planting of 43,756 trees in the Daintree Rainforest and at Mission Beach to create Cassowary corridors and provide extra food and shelter.
Mission Beach, south of Cairns, is home to Australia's greatest density of Southern Cassowaries. Yet, due to a combination of rapid development and extreme weather events, like Cyclone Yasi, as few as 40 to 50 birds remain.
That's why we are negotiating with the Queensland State Government to co-manage the Garner's Beach Cassowary Rehabilitation Centre near Mission Beach. This is the only facility that rescues, rehabilitates and releases injured and orphaned Cassowaries back into the wild.
Protecting and restoring essential Cassowary habitat and supporting the life-saving work of the Garner's Beach Cassowary Rehabiliation Centre is only possible with the support of generous people like you. Your donation is key to helping us reach our target of $130,000 by Tuesday 31st January.
Your gift is vital to carrying out these types of long-term projects:
$50 could provide food for one adult Cassowary for a week
$250 could help with the planting and maintenance of 25 native rainforest trees to help restore or create Cassowary corridors
$750 could cover the care of an injured or orphaned Cassowary over an 18-month period
$1000 could contribute to the preservation of 200 square metres of Cassowary habitat
The work of caring for and protecting the rainforest, on your behalf, never stops. As the annual cyclone season begins, a gift from you now can do so much to protect the Endangered Southern Cassowary, which is extremely vuolnerable at this time of year.
Please make a donation by Tuesday 31st December. Together, we can protect and restore habitat that is critical to the survival of the Southern Cassowary - and the many rainforest plants and animals that in turn rely on the 'rainforest gardener' for their survival.