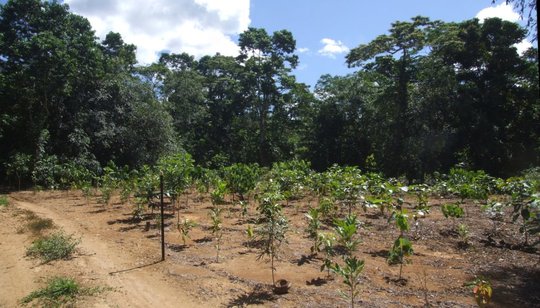 The restoration of Lot 46 Cape Tribulation Road continued with the removal of the final rubbish from the site, extensive tree planting, and ongoing growth monitoring.
Nine semi-trailer loads of rubbish were removed, including 13 car bodies, a shed, tank stand, a 24-foot boat trailer and rotting caravans. An additional five tonnes had to be carted by hand to not interfere with sensitive regeneration areas.
Restoration of the rainforest continued with an additional 16,235 trees planted in the remaining two now cleared areas. A week's worth of measuring and monitoring previously planted seedling trees confining the success of our planting designs and restoration methods. The four-year-old plantings are eight metres tall and have already formed a closed canopy, and are producing fruits which are an important source of food for the local native fauna. Leaf litter from the young trees is now blanketing the previously bare ground; assisting the essential process of creating a healthy ecosystem. New 'volunteer' seedlings are now sprouting throughout the plantings, adding diversity and complexity to the rainforest.
Different planting designs were used to establish the best methods to restore rainforest on the property, with care taken to protect and enhance natural regeneration.
Since restoration began in 2010, Joe and his team of workers and volunteers have eradicated all of the introduced mature oil palms (known to be an environmental and aggressive weed species), and have made significant inroads towards eradicating the hundreds of oil palm seedlings.
Cassowaries have been sighted on the property on numerous occasions, feeding on the available fruits of the new plantings. They are known to nest at the back of the property where it adjoins the National Park.
What comes next?
We are planning guided walking tours of Lot 46 during the dry season to demonstrate what can be achieved when rainforest is re- established, protected and properly managed.

All seedlings planted will be cared for - watered and weeded for two years until they are large enough to care for themselves.

The final 2000 trees will shortly be planted on the remaining zone that requires restoration

Continuing fundraising to ensure we can create a permenant conservation reserve on Lot 46
Making Lot 46 a Cassowary Conservation Reserve
Located in the heart of the Daintree lowlands, Lot 46 was purchased in 2010 to protect it from further destruction. The property was cleared in the 1960s for cattle grazing and agriculture, and later for growing exotic oil palms. Rubbish and impenetrable weeds had taken over much of the property.
Of the 24 properties that Rainforest Rescue has saved, Lot 46 is the only one not purchased through fundraising. The bank currently holds the title of Lot 46 and until the loan is repaid, we are unable to protect the property in perpetuity.
Rainforest Rescue is currently fundraising to ensure Lot 46 is protected forever and turned into the Cassowary Conservation Reserve.