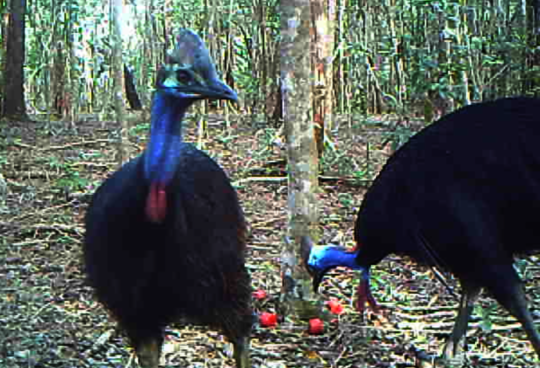 With donors help, Rainforest Rescue sponsored important research on the various aspects of the ecology of the threatened Southern Cassowary. The research was conducted by an honours student from Southern Cross University, NSW Australia. Under the guidance of wildlife ecologist Dr Ross Goldingay and CSIRO cassowary expert Dr David Westcott, a comprehensive cassowary survey was conducted.
Conducted in the Daintree coastal lowlands, situated 120 km north of Cairns and within the World Heritage Wet Tropics region of north-eastern Queensland, Australia. The Daintree lowlands are one of six priority cassowary management areas, comprising of identified critical cassowary habitat. It is only the second comprehensive cassowary survey of the Daintree region, the first being almost 20 years ago.
The student and researcher was accompanied by Indigenous Jabalbina rangers whilst surveying the more remote areas. Monitoring and caring for cassowaries is of high cultural importance and a priority action on Jabalbina's management plan.
'A privilege it has been indeed to have spent such deep time in the ancient forests of the Kuku Yalanji people with these superb birds. I am very happy with the outcomes of my fieldwork, it took lots of legwork to get the data but it's been worth every step' Research Student
The aims of the research was to
Record any sign of cassowary (sighting, prints, scats and vocalizations) on 31 sites
To assess habitat parameters and survey variables that may influence usage by, or detectability of these birds.
To monitor these sites with motion sensor camera traps and attempt photographic identification of individuals.
To compare lean season fruit resource use to fruit resource availability by through dietary analysis of scats and identification and quantification of fruit on the forest floor.
An experimental survey technique was also trialled whereby coloured lures (imitating fruit) were secured to the base of trees in front of camera traps.
Thanks to Rainforest Rescues assistance in providing camera traps, cassowaries were detected on all 31 sites and 45-50 individual birds have been photographically identified.
Ongoing research on Cassowary populations is vital for assessment & evaluation of rainforest protection and restoration methods. Signs of Cassowary returning to and being sighted in an area is the single most effective way to confirm that what we're doing is working. Without supporters help we could not continue this vital work to provide habitat for the Southern Cassowary and ensure it's survival. Thank you to all of our supporters who understand and are a part of this work!