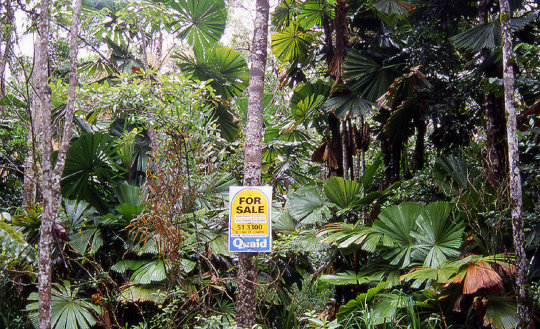 Rainforest Rescue launched in 1999 with a passionate dream and a commitment toward saving rainforests and protecting their biodiversity permanently. This dream was born out of frustration that institutions who were in a position to do more, weren't doing enough and the belief that individuals could and would rise up to meet the challenge. Rainforest Rescue supporters often report that they feel empowered by knowing they are doing something tangible and immediate to protect rainforests. Our vision is simply to Protect Rainforests Forever.
As of today, with the help of supporters, we have saved and protected twenty-eight properties in Australia's Daintree rainforest lowlands. The Daintree Rainforest is one of the oldest and most bio diverse rainforests in the world. It is home to 12 of the world's 19 primitive plant families, the highest concentration on earth. By raising funds from supporters, grants and partnerships, rainforest properties which are earmarked for development are purchased, restored if necessary, and protected forever by seeking nature covenant status. We strategically target properties to create wildlife corridors and reserves.
Our reach through the years has widened to include all of Australia and also internationally significant projects. This includes buy-back and protection of rainforest in Tasmania; reforestation projects across the Big Scrub area in Northern NSW (over 125,000 trees) and SE Queensland; and Cassowary conservation at Mission Beach through the Save the Cassowary campaign. International partners have included: the Orangutan Information Centre in Indonesia; Rainforest Concern in UK/Ecuador; and Rainforest Rescue International in Sri Lanka.
Recently the Rainforest Rescue Board of Directors drafted and adopted a new 5 year plan, embedding a clear and strategic plan to take the organisation through to 2020. In the Daintree, buy-back will continue to be our primary focus, ensuring maximum conservation outcomes for investment. We will also be investing in our Native Nursery, developing it into a seed ark and a focus for local social enterprise. Seeds are collected from local rainforest and grown at the nursery for reforestation projects on rescued land. Over 80,000 trees comprising over 200 species have been cultivated at the site and planted in the Daintree.
We will continue to seek out and cultivate partnerships to increase reach and impact both within the Daintree and further afield, targeting conservation projects which help improve connectivity and biodiversity and building on successful projects such as our recent Nightwings partnership project just south of the Daintree river, which has now seen over 20,000 trees planted, restoring and transforming previous sugar cane lands back to pristine rainforest.
Your support and involvement is vital to our 2020 vision. By adopting rainforest now, you can be a part of this unique and important vision to Protect Rainforests Forever. Please join others in making a real and sustainable difference to rainforests, biodiversity and climate change.