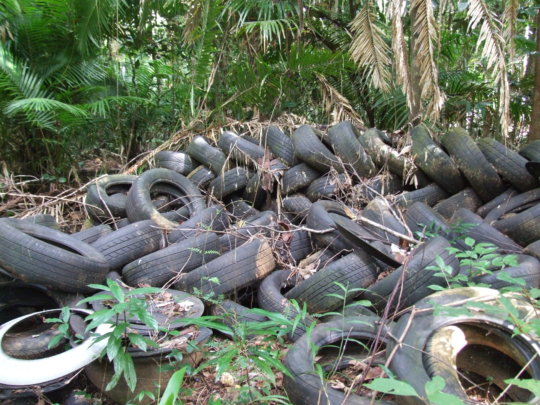 Almost a year ago we told you about a research and development project that aimed to recycle tyre bollards for use in the Daintree. Even in remote areas such as the rainforest, dumped tyres are an environmental issue; especially in prime cassowary corridors.
When Rainforest Rescue purchased Lot 46 in the Daintree to rescue the degraded rainforest site, over 180 tons of debris was removed including dumped tyres. This was a property which represented a sizebale chunk of the unprotected Daintree and hence cassowary habitat - twenty four football fields worth to be exact. We planted over 40,000 trees to help restore the rainforest to its former glory. Disaster then struck in 2016 when drivers in a Ute illegally sped onto the site and purposefully destroyed an area of newly planted trees. Action was needed to prevent this from reoccurring.
After a number of failed designs from different manufacturers, John Dobozy at Molectra came up with a viable solution using vulcanisation of old rubber crumb – importantly not using any chemicals in the recycling/upcycling process.
The creation of these bollards represent many wins for the environment by stopping vehicle access, protecting trees that we have planted to regenerate the cassowary's habitat; plus protecting one of the oldest rainforests on the planet and providing a new use for old tyres. This wouldn't be possible without your support.
"It's been an interesting process trying to develop a sustainable solution to the problem. Over the past 18 months we've learned a lot about reuse and recycling of rubber! Research and Development projects always throw out interesting challenges, but with patience and professionality these have been navigated and now we have recycled tyre bollards in the ground protecting trees and the cassowary's habitat– result!" Julian Gray CEO Rainforest Rescue
More good news that our efforts are creating positive change: The Southern Cassowary has moved from Endangered to Vulnerable status, a step closer to a healthy population.
Here is a short video of the Cassowary father and his chicks which we recently just stumbled upon in the lowland Daintree; again proof the corridors are safely being protected.
On behalf of all at Rainforest Rescue, and the endangered Southern Cassowary – Thank You
--------------------------------------------
This project has been supported through Bridgestone's Tomorrow Matters initiative, which seeks to find new and better ways of using technology; encourage our children to find solutions for tomorrow; and help ensure a healthy environment for generations to come