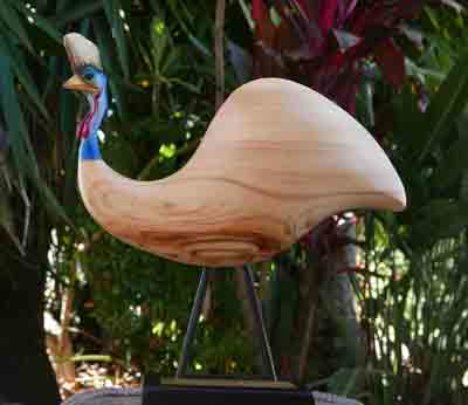 Thanks to you, Rainforest Rescue has been able to continue its work to protect and restore important habitat for the Southern Cassowary.
At this year's annual Wet Tropics Management Authority Cassowary Award event, Rainforest Rescue was awarded the prestigious Thorsborne Award for Community Conservation and Rehabilitation sponsored by Queensland Parks And Wildlife Service.
The Cassowary Awards were established in 1999 in recognition of outstanding contributions to the improvement of the Wet Tropics World Heritage Area's natural values, including the protection and rehabilitation of flora, fauna and other natural landscape elements in the area.
Together with their family of rainforest supporters and conservation partners, Rainforest Rescue have, to date, purchased 30 properties in the Daintree and planted over 100,000 trees, creating protected habitat and connectivity corridors for animals like the endangered Cassowary.
Rainforest Rescue is honoured to be the recipient of such an Award, and values all the people who contribute to making their work a success.
Again, from all the team at Rainforest Rescue, we send our sincere thanks to you today for your ongoing care and commitment. Your generous support not only helps to create and restore vital connectivity corridors for species like the Southern Cassowary, but also helps to protect this very special, vulnerable area of tropical rainforest forever. We share this award with you!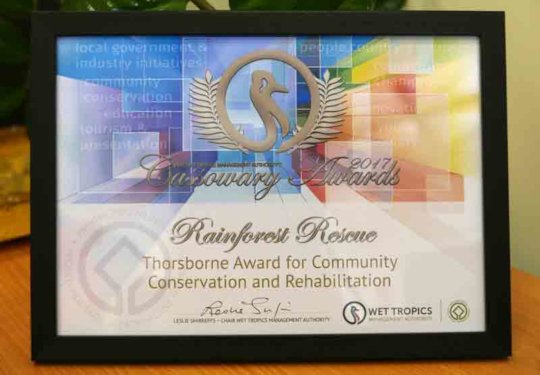 Our 31st Threatened Property Saved thanks to YOU!
Last time we wrote to you with the news that we had secured the protection forever of a 30th threatened rainforest property.
Well, not yet six months later and with your wonderful support Rainforest Rescue has been able to save our 31st threatened and vulnerable Daintree lowland rainforest property! We have already started the conveyancing process on this land.
This is a particularly satisfying win, as back in 2015 when Rainforest Rescue originally tried to save this block it was sold from under our feet for development. Luckily since then and now only a small area was cleared before work stopped and this will regenerate quickly with our plantings.
Our purchase of rainforest under threat is always strategic, never scattergun. We care more about our contribution to conservation than numbers per se. We hold out for properties of significant strategic conservation value, ensuring that we use supporters' donations to the best possible effect. We take our duty of care to our supporters very seriously.
And this is where we have come to with property # 31: This land links to a current Rainforest Rescue wildlife corridor and connects upland World Heritage Area and National Park to the lowland rainforest and coast. Strategic acquisitions such as this will continue to deliver vital protection for the rainforest.
The Lowland Daintree Rainforest lies between the Wet Tropics of Queensland and the Great Barrier Reef IUNESCO World Heritage Areas, thus having a vital role in connecting these two significant ecosystems.
Thank you again for helping us save this very threatened property!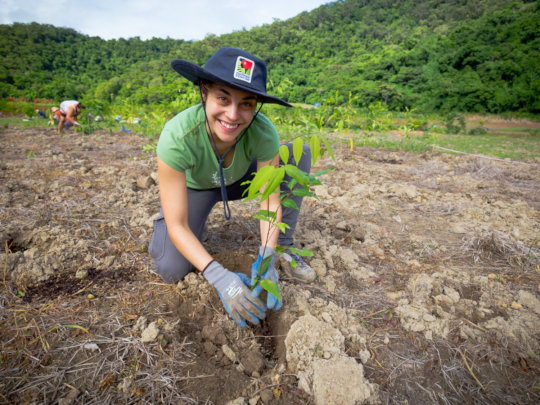 Many thanks for your kind help to save Lot 46 Daintree and protect it forever. Usually when we identify important rainforest needing protection we ask for your help to purchase the property, however in the case of Lot 46 we needed to act urgently to protect it. This meant we did something we hadn't done before but believed was absolutely critical – we took out a bank loan to buy the property.
This immediately saved Lot 46 from developers, however the loan against the property prevents us from being able to protect it into perpetuity and elevate it to Nature Reserve Status. This campaign, when fully funded, will allow for Nature Reserve Status to be given and therefore will protect the 27.66 hectares of Lot 46, and the rainforest on it, forever.
What makes Lot 46 so special and worth saving?
it's of critical importance, in terms of habitat and connectivity, for the endangered cassowary and other species
surveys have recorded 14 rare, three endangered and two vulnerable species
it sits at the base of the spectacular Thornton Peak (Wundu), and provides an important link between the upland and lowland rainforest
it supports an Endangered Regional Ecosystem
two important creeks (part of the catchment area for Cooper Creek - one of the larger Daintree lowland creeks) run through it
it contains remnant forest with ecological transitions from rainforest to swamp forest
the western boundary is Daintree National Park/World Heritage Area
With the help of supporters, Lot 46 has already been restored to its previous splendour and about half of the loan for property has now been paid down. We continue to work towards saving this important parcel of rainforest – one donation at a time. Thank you again for helping to Protect Rainforests Forever!
WARNING: Javascript is currently disabled or is not available in your browser. GlobalGiving makes extensive use of Javascript and will not function properly with Javascript disabled.
Please enable Javascript
and refresh this page.