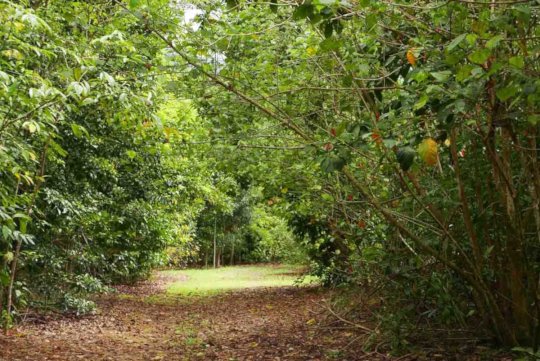 Rainforest Rescue extends an enthusiastic 'thank you' for your continuing interest in the restoration of Lot 46. We think it's an exciting ongoing story, and enjoy the fact that you do, as well. We last reported on our methodology for collecting monitoring data on this 68+ acre restored property. Once back in front of the computer, an analysis of this data confirmed what is easily reinforced by simply walking through the property – this restoration is a huge success, and it's beautiful!
But what is successful restoration, and what does this depend upon? The goal of rainforest restoration is to set in place, or establish, the potential for a return to a rainforest with the structure and diversity of the original.
When trees grow, they increase in height. The reason is that they are chasing the light. When trees are planted close together they compete for light and continue to gain in height. The basis of our planting designs is to use this 'height light' strategy of plants and the natural variation between species to achieve a forest with complex structure and canopy closure.
This same planting strategy achieves another outcome - eliminating weed growth. Many weeds love the light so can easily become competition for young seedlings that are attempting to establish.
The high-density high diversity planting design relies on the fact that not all trees are the same. Some require full light and others are shade tolerant. Some grow tall, eventually reaching the canopy. Others stay smaller and live in deep shade in the mid-story. And some are short in stature and include shrubs. Each of these has a different strategy to survive. When mixed together they create a diverse planting of species with different characteristics that allow coexistence without extreme competition.
Another great attribute of this planting design is that it develops structure and food resources for animals very quickly. The result is an increase in habitat and resources for terrestrial and arboreal mammals, birds, and insects. The increase in biodiversity is rapid and continues as the forest develops towards maturity.
Aldo Leopold captured the ethic of restoration in his wonderful quote:
"A thing is right when it tends to preserve the integrity, stability and beauty of the biotic community. It is wrong when it tends otherwise."
We couldn't agree more.