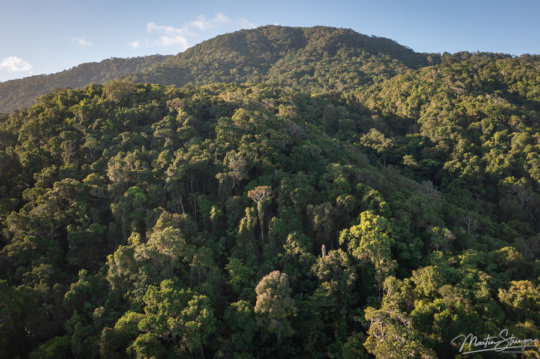 TOGETHER WE ARE PROTECTING RAINFORESTS FOREVER

At Rainforest Rescue it's not often that a single property comes up that leaves all of us speechless, yet Lot 18 Cape Kimberley Road is such a property. With your help, we can protect it forever. YOU make the difference between development and thriving, protected rainforest.
Lot 18 Cape Kimberley Road—the name belies the true majesty of what this area of pristine rainforest represents—is almost 9 hectares of mature Spur Mahogany and Mossman Mahogany, as well as several Silky Oak species including Fishtail Silky Oak, Briar Silky Oak, Cream Silky Oak, and Red Tulip Oak. And so much more!
It provides a rich and vibrant habitat that supports our beloved and endangered Cassowaries, the wonderful spotted-tail quolls, the tree kangaroos, tiny jumping spiders, and large-shelled snails ... the list is significant as is this crucial habitat.
Our Ecological Advisor, Allen Sheather, noted the property's significant conservation value. "Lot 18 borders the National Park and World Heritage Area on three sides and its western boundary is against a lot that is also as undisturbed."
Allen noted that the species present, "exemplifies established, mature rainforest— it is missing any weed incursions and has a very high, intact canopy populated by many large buttress rooted trees and not so many mid-canopy species that can often be seen even in good rainforest that has endured severe weather events."
AND IT IS BEAUTIFUL

"The vegetation found on Lot 18 is Complex Mesophyll Vine Forest on foothills and appears to be a very good example of such. It is completely undisturbed right up to every boundary and beyond", says Allen Sheather, Ecological Advisor for Rainforest Rescue.
It is a sublime expression of Nature at its most beautiful and mere words to describe it do not do it justice; the sights of untouched rainforest, the sounds of silence punctuated by occasional bird calls, the humid richness, calm and sense of serene one-ness with Nature.
IT IS ENTOXICATING
There are times where one connects so deeply with nature and a single property such as this, that to protect it forever is not just an opportunity, but a duty—a duty borne out of the love and admiration for an untouched part of paradise, and because someone must do it.
The only way we will be successful to rescue this very beautiful, very whole, and very worthy parcel of rainforest is together – and today I need you.
Together, we can buy back and protect this outstanding rainforest property.
In this video Justin McMahon, Rainforest Rescue Land Manager, tells us what makes Lot 18 so special.