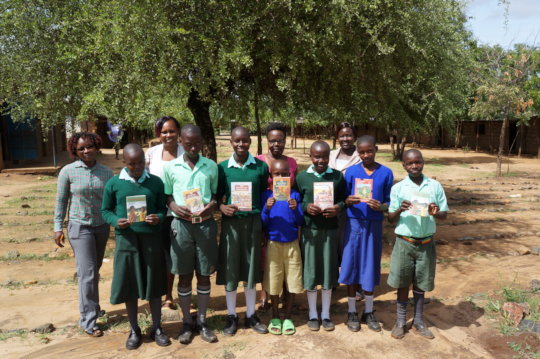 Since 2016, Our Sisters Read (OSR) has brought storybooks and literacy activities to primary students across Tharaka, Kenya. The goal of the program is to build foundational reading skills and create lifetime-learners among rural primary school students, especially girls. Rural girls make up the majority of those out of school, and rural women are the least likely to achieve literacy, leading to great disadvantages in financial independence and personal development (UNICEF, 2013). Tharaka District, where OSR operates, is one of the poorest districts in Kenya, with low secondary school completion rates, especially for girls, which perpetuates the cycle of poverty.
We are excited to say that thanks to the help of supporters like you, our mobile libraries and reading activities--which visited 21 schools last year--are expanding to 29 this school year!
By building reading skills, encouraging and motivating children in reading while working with families to build a supportive community, OSR increases student time spent reading both at school and at home, improves women's literacy and overall well-being, encourages parents to value literacy and education, and helps create a sustainable culture of reading for years to come.
Here's some of our impact so far:
Students participating in reading activities in school every day:
2016: 15%
2018: 74%
Students reading at home for fun for over 30 minutes per day:
2016: 9%
2018: 51%
Parents who believe reading leads to a brighter future, employment, and
self-reliance:
2016: 23%
2018: 80%

Thank you so much for your generous support of our programs in Kenya. A movement begins one girl at a time!