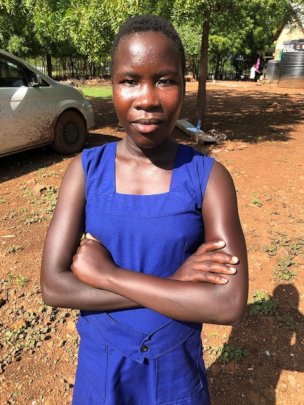 The new school year in Kenya began in January and Women's Global Education Project's Sisters to School program is proud to support 188 scholars this academic year, the 12th year that WGEP has been working in Tharaka District, in partnership with local community based organization Tharaka Women's Welfare Project (TWWP). Because there are numerous obstacles to girls' education, WGEP goes beyond simply ensuring that girls are able access school, it also works to ensure that girls will succeed in school and beyond by offering a wide range of interventions in addition to school fees, living expenses, uniforms, academic supplies and toiletries.
Scholastica, (pictured above) is a scholar with the program and expressed her excitement about the new school year, describing how the program has helped her, "My favorite subjects in school are Science and English. I especially like the topic of plants, especially rice. From WGEP I get help, like they pay my examination fees, and even my clothes. When I became a scholar, I was very happy. Even my parent was very happy. Now I have finished class 8 with 320 marks, which is high. I try, I try. I try a lot, because I know without education, I cannot go anywhere. TWWP encourages us to learn so that our future life will be better."
"I want to be a doctor when I grow up. I want to treat people who may even need operations. My parents can't pay school fees. I was even chased home, out of school. I was sent home because of the fees, but I worked hard so I could continue getting the scholarship."
In addition to scholarships, Sisters to School offers after school clubs, known as molding clubs, which will be held in 12 schools this year, with over 500 participants. The clubs provide an opportunity for boys and girls to learn about topics such as children's right to education, development, interpersonal relationships, sexual health, parental care, and protection against harmful practices in a safe environment. Every year, WGEP and partner, TWWP, convene the Alternative Rite of Passage (ARP) program to abandon FGM/C, ensuring that girls remain healthy and in school. Three hundred girls are expected to participate in the ARP this year. Sisters to School also offers a Boys' Retreat, a complementary program parallel to the ARP where boys undergo safe male circumcision and discuss female empowerment so that they can publicly support sisters, cousins, and female friends in standing up against FGM/C.
Another important intervention offered by Sisters to School, is community awareness activities, a highly effective and important way to engage parents, village leaders and other residents on the benefits of educating girls and to shift underlying attitudes towards this goal. WGEP expects to reach one thousand parents and community members this year through these meetings. Sisters to School will also offer adult literacy classes that will reach 600 women so that mothers can learn how to read and write in order to support their daughters in school and become role models.