With the Horn of Africa drought and famine affecting 3.75 million Kenyans, WGEP is helping affected scholars and families in the Tharaka region with temporary food relief. We are distributing food at our local community partner offices to 100 families, giving out 20 kg of maize and 20 kg of beans per family. WGEP Kenya anticipates that they will be assissting a total of 600 people.
"The rains came in good time, and if they continue with the same stability, we hope there will be harvest in January," WGEP Kenya Project Coordinator Aniceta Kiriga says. "In the meantime, thank you for being there for us."
Our scholars and their families find themselves at the fringes of their societies, and most vulnerable to the effects of natural disasters. All of us at WGEP wish to thank you for your support of our mission and for helping us affect lives.
Links:
WGEP Kenya scholars recently participated in a workshop where they learned to make their own reusable cloth sanitary pads. Lack of access to sanitary items can lead to high absenteeism among teenage girls in remote rural areas.
WGEP programs are committed to a multilayered approach in addressing the barriers that keep girls from attending and staying in school. To read more about WGEP Kenya, please visit us at www.womensglobal.org.
Links: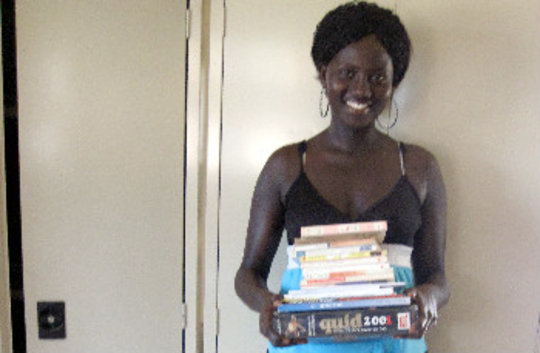 Congratulations to WGEP Senegal Scholar Mariama Diagne Diop, Winner of the Kergui Association Poetry Writing Contest!

AILLEURS, VERS L'INCONNU
Elsewhere, in the unknown
by Mariama Diagne Diop
translated from French (below)

Why do they go away to unknown horizons?
Why do they go away to hostile horizons?
Why do they go elsewhere?
To this elsewhere which gives them nothing without suffering
Yes, why!
You the immigrant, you the accursed of the earth
You send yourselves far from your homes, to Europe, to America
Oh yes, I understood you went away
Because your earth is stripped bare
Because fertility has deserted your soil
Because sun and fire have burned down your forests
Because your malnourished animals give nothing more than a small pittance
Because the greatly reduced food can no longer provide a subsistence
Because sometimes war, hideous war, has destroyed your homes
So, you launch yourselves into the music of the unknown
So, you disappear into the terrible belly of the Atlantic
Yes, I understand you, this is the wretched misery that withers you
And me, I pray that the skies of heaven would open themselves
For the abundant waters to bathe and revive the earth
That beautiful harvests will grow in your field.
That there will at last be a return of abundance and laughter will blossom in your homes,
henceforth, happiness.

Mariama is part of WGEP's Sisters-to-School program that currently helps 270 girls in rural Senegal attend and succeed in school. To read more about WGEP Senegal, please visit us at www.womensglobal.org.


In the original French
AILLEURS, VERS L'INCONNU
Mariama Diagne Diop

Pourquoi s'en vont-ils vers des horizons inconnus?
Pourquoi s'en vont-ils vers des horizons hostiles?
Pourquoi s'en vont-ils ailleurs?
Vers cet ailleurs qui ne leur donne rien sans souffrances
Oui, pourquoi!
Vous les émigrants, vous les damnés de la terre
Vous vous envolez loin de chez vous, vers l'Europe, vers l'Amérique
Oh oui, j'ai compris vous partez
Parce que vos terres sont dénudées
Parce que la fertilité a déserté vos sols
Parce que le soleil et les feux ont brûlé vos forêts
Parce que vos animaux mal nourris ne donnent plus qu'une faible pitance
Parce que la nourriture bien réduite ne suffit plus à la subsistance
Parce que des fois la guerre, la guerre hideuse a détruit vos demeures
Alors, vous vous jetez dans l'inconnu des airs
Alors, vous vous enfoncez dans le terrible « ventre de l'Atlantique »
Oui, je vous comprends c'est la misère sèche qui vous sèche
Et moi, je prie pour que les gargouilles du ciel s'ouvrent
Pour que l'eau abondante baigne et ravive la terre
Pour que de belles récoltent croissent à vos champ
Pour que enfin l'abondance revienne et fleurisse de rires vos foyers désormais heureux.
Links:
WARNING: Javascript is currently disabled or is not available in your browser. GlobalGiving makes extensive use of Javascript and will not function properly with Javascript disabled.
Please enable Javascript
and refresh this page.