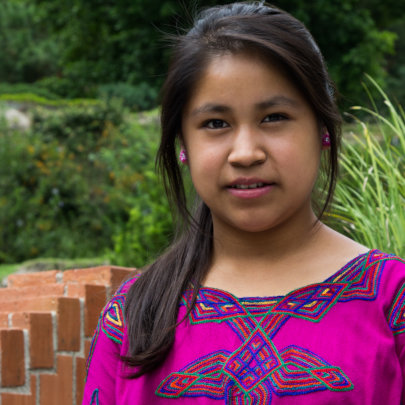 Dear Friends,
I would like to tell you a little bit about what has been happening in my life this month. Thanks to you a big part of my time has been spent on my studies. We had Holy Week/Spring Break starting Holy Saturday (April 20), but they gave us homework to work on during our break. In my Business English class, we only had to translate letters into Spanish. In Advanced English, we were doing speeches in English and then our classmates asked us questions. In our Pre-Professional class, we finished writing letters, and now we are working on writing shorthand. This class's purpose is to help us remember all that we have studied in years past.
My older brother, who hurt his finger, is still living at home. He has started to build wooden seats and small tables so he won't get bored with nothing to do.
During Holy Week, we were all at my house and didn't go out anywhere. We did eat traditional white beans with fish and egg, bread with honey, and izote flowers in chuchitos (mini tamales), as we call them. We use tortilla dough and put tomato sauce and meat on it, and we wrap it in cornhusks and tie it. Then we cook and eat it.
In May we celebrate the feast of the Holy Cross, Mother's Day, and my birthday–I'll start my 19th year of life! This month is also the beginning of the rainy season. It's a pretty month filled with sprouting plants. I am interested in what is special about this month for you who help all of us stay in school?
Did you know about World Book Day (April 23)? Do you like to read? I've read a few books so far. There's a book called El Triunfo: Un Reto a la Juventud. I liked it a lot because it tells us we can accomplish anything, and not to give up quickly. In the book, there are several stories about young people who have accomplished their goals. Now I'm reading El Milagro Más Grande del Mundo, and I read it whenever I have time.
I would like to keep talking to you and telling you about my life, but for now, I have to say goodbye. I hope you are well. The support you give is appreciated. This year I will graduate from high school. Without your help I never would have been able to reach this goal. Thank you.
Ingrid