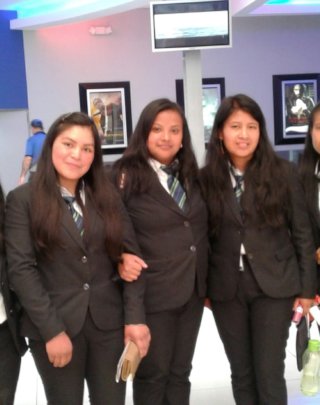 Aura has almost reached her goal. She will graduate in October with a certificate as a bookkeeper. She has overcome all the obstacles put in front of her with her positive spirit and can do attitude. Her goal is to always have a dream and be happy.
Aura lives in a small village outside of the city of Comalapa. Her family works hard in the fields raising vegetables to sell. They have a few coffee plants to harvest. They have had to struggle with the illness of the father of the family. This made it difficult for them to do the work needed to survive. Despite the difficulties, they struggle to keep Aura and her six siblings.
Aura and her mother are very close. As the oldest, she and her mother worked together to sustain the family during her father illness. In 2006, she left school after fifth grade. Her mother needed her at home to help. After six years, when her father recuperated, she returned to finish elementary school at 18 years old. A difficult thing to do! She was so much older than the other students, but with her positive attitude and happy spirit, she fit in. She became someone the others looked up to.
Now at 23 years old, she is ready to graduate! She has a career! All of her teachers predict success for her in the future. Hers is a story of persistence, a positive attitude, and a family that believes in her.
To end, I want to share with you a poem she wrote in one of the Kateri workshops.
Poem for the Leaders
I want the daughters of Guatemala
To have a better future.
I want them to work hard to
Change their country.
Young Guatemalan leaders
Are the future of Guatemala.
It is not important who you are
Tall, short, fat, thin,
All these things are not important,
Neither color nor race,
Only you can change things.
Keep your head high
And be firm.
I think she will follow her own advice. She seems poised for a good future. She is an example of the opportunity YOUR support provides.