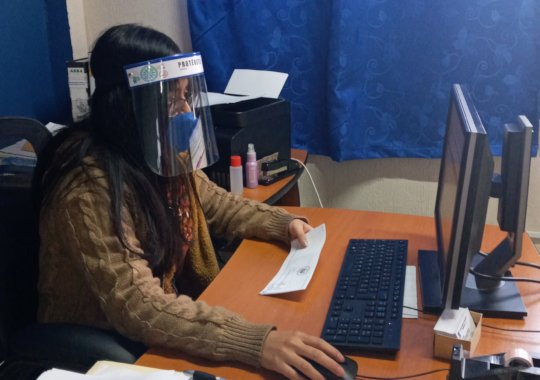 Deysi is an intern at an accounting office in her hometown. Her high school training was as a bookkeeper. This placement gives her an opportunity to get work experience in her profession. Below is her report on her experience.
"I want to share with you the experience I have had during these times. It has been very helpful to my career to be able to develop myself as a person. I have worked with things related to SAT (Guatemalan IRS) that were complicated for me and other activities, but over time I've had experiences that teach me. Last time I was negligent concerning a client who did not present a declaration. With this, I learned to be very attentive so there are not fines. With time, I am learning I must be more attentive to what I am doing.
I am very satisfied to know that I am contributing to the business and at the same time to society with the work I do. To work helps me stay productive. The other is that I feel that each day I am learning new things, having more knowledge, reinforcing the skills that I have to be able to be more efficient in the activities I do.
The people I work with are nice and I learn from them every day. They help me with my doubts or situations that appear a little complicated for me. They help me resolve them. The atmosphere is very pleasant since my coworkers are persons of good character. They are not always angry and serious. They are always laughing and so it is a nice atmosphere to work in.
In this situation, I can be with them with all the precautions necessary during the pandemic. We meet and talk. It is an experience for me since I am not very sociable and it is very cheerful to socialize with my workmates.
I feel more each day like a professional person. One of my goals now is to be able to continue working in this business where I am and then continue studying.
The scholarship that I receive is a great help for my family.
I hope to continue learning during the time that continues, increasing my knowledge and experience to grow as a person.
Thanking you for your fine attention. I leave you.
Deysi