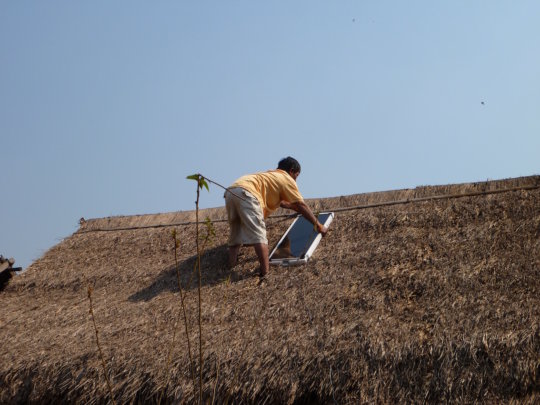 We would like to start this report by thanking you for your donation. The majority of our projects are supported by individual donors so without the generosity from people such as yourself, our work simply would not be possible. As we are still a long way from reaching our target goal for this initiative, we will focus our attention on raising funds until a time in which it can be implemented. In the meantime, let us give you some background regarding our previous solar projects so that you have some idea of just how important bringing solar lighting into people's lives is:
Solar lighting at Koung Jor refugee camp
Our first solar project took place in 2012 at a refugee camp in Northern Thailand which is home to ethnic Shan who fled Burma due to violence and persecution. We installed solar lighting systems in every household which enabled just under 600 residents to have access to this green and safe technology. This improved safety, education and income generation standards in this community. To find out more about this project, please click HERE.
Retrofitting of solar systems at a Karen village in Thailand
For this project, we partnered with the Border Green Energy Team. Solar systems in this isolated village in Thailand had already been installed by the Government, yet many of these systems had since failed to work. This is due to the lack of maintenance training that was provided to the villagers and also outdated technology. We helped repair solar panels and other components, and provided training so that these systems could be repaired locally. More information regarding this project can be found HERE.
Solar lighting for an Internally Displaced Persons (IDP) camp in Burma
This project was implemented at the beginning of 2015. Residents of this small community lived in a very remote area close to the Thai-Burmese border and did not have access to electricity. Using GlobalGiving, we raised enough funds to provide solar lanterns for approximately 120 people. Please click HERE for more information.
Solar lighting for 115 school children from Burma
This project also took place during the first months of 2015. We partnered with Solbakken, a grassroots organisation who are specialised in bringing solar lighting and clean water to remote communities both in Thailand and in Burma. The solar lighting we installed allowed 115 school children to be able to study at night and therefore bring an overall improvement in the quality of education in this small community. You can find the GlobalGiving page for this project by clicking HERE.
We hope that in the next update we are closer to our funding target. To help us get there, please feel free to share this project with your friends and family.
With sincere gratitude,
Tom Rosen and The Branch Foundation team