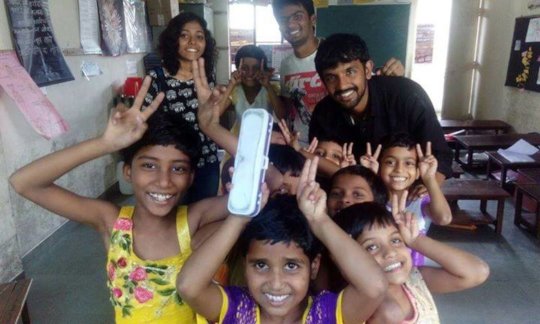 It was Teachers' Day - a day when schools across India celebrate and recognize the efforts of those who have tirelessly invested in their lives through education.
At our Learning Center in Bangalore, seven-year-old Nandhini was excited. She had made a poster for her U&I teacher. It said, "You are my favorite teacher. Happy Teachers' Day!"
She waited eagerly for her tutor, Sunethra, to come to class. But as Sunethra was running late, Nandhini was assigned to another teacher.
Finally, Sunethra walked in through the doors of the Learning Center. Nandhini jumped out of her seat, ran up to her, wrapped her up in a big hug and gave her the poster she had made.
It was a special moment. Sunethra, an architect by profession, usually carefree and casual, couldn't help but choke up with emotion.
At the debrief with the U&I leaders after class, Sunethra shared that never before had she been celebrated or recognized in such a genuine and poignant way.
"It really makes me put my faith in what I do with these kids," she said, committing to work even harder to give every opportunity for the next generation to succeed.
At U&I, we realize it's a two-way street: those who give are rewarded in ways they can't ever put a price on. We're thankful to our 1200 volunteers who reach out to 1500 children through the week, ensuring that they have the resources and the attention they need to live to their fullest potential.