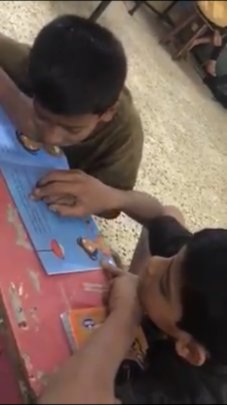 When Priyal started as a volunteer with U&I, she was apprehensive. She was assigned to teach English to 9-year-old Vijay, at an orphanage in Mumbai. She wasn't quite sure what to expect.
The spark in his eye said that Vijay was a keen learner. Yet, Vijay struggled with self confidence. He wasn't sure he could learn to read as he hadn't been able to, thus far.
But, gradually, Priyal was able to help Vijay overcome his fears. Within a few months of one-on-one classes with Vijay, he was able to read his story books with ease. His confidence started to soar, not just with his reading ability, but in every area of his life.
Vijay soon became a role model to the other children in the orphanage. In fact, he soon began to help the other boys, who were struggling with English, with their reading.
It was truly fulfilling when Priyal had the chance to watch her student become the teacher as Vijay helped his friends to read.
Through our volunteers like Priyal, U&I helps 1750 children across India grow in their academic abilities and their levels of confidence. We invest one-on-one time with them, so our volunteers are not merely their tutors but also their mentors who help these kids believe in their dreams.
U&I is showing these first-generation learners that education is a way out of poverty.
Thank you for investing in the lives of underprivileged children and changing the course of their lives!