A playground in the backyard is every child's dream! For the 90 special needs boys, the dream may never have been verbalized. Maybe the dream seemed out of reach.
But in the last month, that dream has become a reality.
Thanks to U&I's partnership with Bosch, a playground with the latest equipment in India has been set up in a previously-unused area of the Boys' Home. The children now have access to the playground every single day.
But it's more than just fun. The equipment has been carefully selected by U&I's physiotherapist so the boys have the opportunity to improve their motor skills. Over the last month, the playground has proved to be the best Christmas gift to the boys who get to expend their energy and just have some fun!
To the rest of the world, installing a playground may seem like a small step in tackling the big problem of caring for abandoned special needs individuals. But, at U&I, we recognize the joy that each small step brings to each individual. And that matters!
Thank you for your continued partnership with us to change the lives of these boys! Together, we can make sure to give them the childhood that they deserve!
Shelter Homes for vulnerable girls are not typically considered the place for big, audacious dreams. But, Harshitha, a 7th grader, doesn't really care about "typical." She has a dream. A bold one. She wants to join the Indian Police Service.
And while her dream may be audacious, it's not impossible. At least, not with the support structure that U&I offers her.
Harshitha meets with her U&I tutor and mentor couple times a week. Aishwarya, her mentor, knows just how important it is to encourage her - she knows that Harshitha is not going to get that kind of personal encouragement elsewhere. She has no parents and lives in a group home. No one has the time to tell Harshitha that she matters and that her dream matters.
So, Aishwarya affirms her in every class and teaches her so she can excel in her studies and chase after her goals.
That's the difference that U&I makes. We have a low teacher-student ratio, sometimes it's as low as 1:1, so each child receives the individualized attention she needs to thrive. We give wings to audacious dreams.
Volunteers are trained to teach their student - and also to affirm each child. That makes a difference to Harshitha and 1500 children across India. We are, together, building communities of change.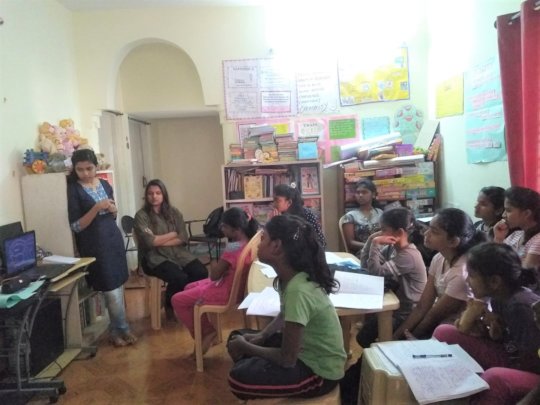 Some of U&I's women volunteers at our Learning Center, Refuge Home, decided to conduct a session on menstrual hygiene for the girls in the shelter home. At first, the session was met with embarrassed giggles and some relcutance as the girls shyed away from the topic.
Soon, however, the session turned into an informative conversation where the girls got to ask questions. Gradually, the stigma surrounding the topic dissolved with the information that the volunteers presented clearly.
In a country where 23 million girls drop out of school every year when they start menstuating, it's crucial to spread awareness and equip girls with the knowledge to combat age-old, patriarchal beliefs about the 'cleanliness' of a woman's body during a completely natural and biological process.
We are thankful to our committed volunteers for dispeling these myths and for teaching these girls to live with confidence.
WARNING: Javascript is currently disabled or is not available in your browser. GlobalGiving makes extensive use of Javascript and will not function properly with Javascript disabled.
Please enable Javascript
and refresh this page.