The Indian summer is upon us. But that's not why U&I staff are sweating it out!
We are, in fact, working out and sweating it out so we can kill it in the World 10K Run on May 19th in Bangalore, India.
The run is not just to test our endurance levels. We are running to give underprivileged children a shot at a quality education. We are running to help special-needs men, women, and children get the best care and rehabilitation possible.
Every year, our staff divides itself into two competitive teams to see which team can win the m6ost money for our children. It's a fun two weeks - but we never lose sight of our goal to improve the lives of the 1800 people we have been working with, in the last eight years.
Since 2011, U&I has been serving disadvantaged communities across India. We started by tutoring a handful of kids in English and Computers. Today, we reach 1600 children through education and 300 at-risk individuals through rehabilitative care.
Thank you for cheering us along in this journey. We can't wait to lace up our shoes and step up to the challenge of running 10K for our community!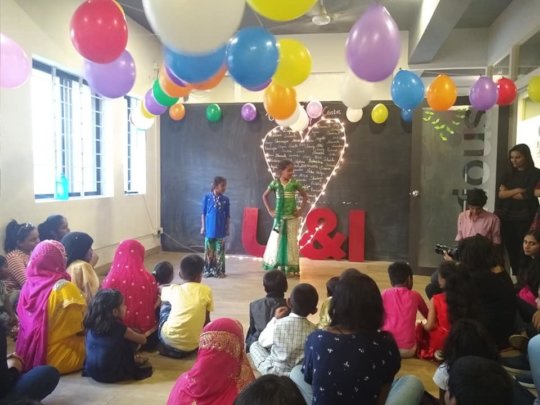 The academic year has drawn to a close - and itt's end-of-year party time at U&I classrooms across India. Our Learning Centers have been hubs of celebration as we handed out medals and certificates to hundreds of excited students. Many centers were decorated with balloons and streamers. The children participated in dance and music performances.
One of the most unique parts of our end-of-year parties are the cards of affirmation that each volunteer makes for their student. It's a keepsake that the student cherishes as it affirms them for their talents and their hard work. It's a personal endorsement - something that many of these children have not had in the past!
Thank you for supporting the students in their journey. The last academic year posed challenges, but we have wached the students persevere and come out as winners.
This year, U&I staff will once again lace up their running shoes to participate at the World 10K Run in Bangalore. For several the run helped us raise funds for children. And this year, we plan to just keep on putting one step in front of another so we are able to give more children a quality education in 2019-2020.
Thank you for coming alongside us to make all of this possible.
The boys have been busy at Home the last month. With the blazing summer sun beating down on the playground, activities have moved indoors, and the boys are enjoying some play time with games like their favorite – Protect the Balloon!
U&I staff have also been spending more time to the "profound" kids so their get individualized attention. About 11 boys, who are considered to have profound disabilities, meet for an hour a day with the staff with the aim of improving their motor and cognitive skills. Two of these boys have also received wheelchairs from a partner organization and U&I staff have been training the boys to use them correctly.
Our reports may not have big numbers. We are focussing on 11. Even 2. But, while we may not be making a difference to a huge number of people, we are making a big difference to a handful.
Thank you for your support in helping us improve the lives of these boys. One by one, day by day, we're making an impact. Our involvement gives them a sense of purpose. We want to enable each of these kids to live to their fullest potential. Thank you for making this possible.
WARNING: Javascript is currently disabled or is not available in your browser. GlobalGiving makes extensive use of Javascript and will not function properly with Javascript disabled.
Please enable Javascript
and refresh this page.