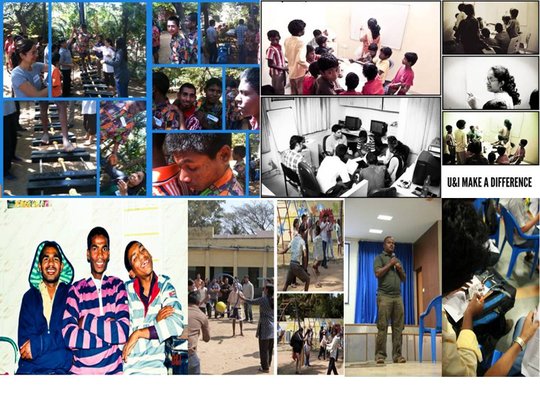 PROJECT MANAGEMENT
THE HOME FOR MENTALLY CHALLENGED BOYS
Since October 2011, there have been many developments at the home with the continued progress of our earlier endeavours.
HIGHLIGHTS
U&I received a donation of 3 new washing machines by PricewaterhouseCoopers, India. The washing machines were installed in a few days time and are now used on a regular basis.
Our boys now have brand new clothes and footwear to protect themselves from diseases, which was donated by Seasalt Clothing and our other big donors.
10 boxes containing 100 sweatshirts and t-shirts, 73 pairs of warm track pants and 73 pairs of brand new footwear, and 73 Lamb of God t-shirts were distributed at the home during Christmas!
In addition to the generous donations, we have also had professionals visit the home and investing time in 3 different medical camps for the benefit of the boys.
Skin care: One of the well-known dermatologists in the city- Dr. Elizabeth, visited the boys for a general skin check-up and has prescribed medication for the same, which is given to them by our nurses on a regular basis.
Dental care: Professors and students from RV Dental College conducted a dental check-up for all 72 boys. Some boys who need treatment are being sent to their facility on a weekly basis.
General Health: A few doctors from ASHA FOUNDATION conducted a check-up which covered ENT, BMI, Blood Pressure, and a regular eye check. The results will be consolidated and maintained by our nurses.
Apart from visits by medical professionals, we also had employees from Dell come in on the 29th of January and spent an entire day with the boys. They played games together, danced and had a blast!
We are currently in the process of recruiting more nurses and a special educator and we have a specialist from The United States- Mrs. Svetlana Iyer helping us out with recruiting and developing a curriculum for the boys.
TRIP TO BREAKTHROUGH
30 boys from the home were taken for a day out to a sports outreach facility – Breakthrough accompanied by 10 volunteers. They were engaged in a few therapy sessions along with loads of fun activities. They had a great time with different races, jumping on the trampoline, walking across the tremor bridge and a few games.
VOLUNTEERING PROJECT
7 DAYS OF CHANGE
U&I is currently running 9 projects across the city with the help of 100 volunteers reaching out to around 400 underprivileged children and women.
Monday: Computer course – MS Word, Excel, Powerpoint
and Internet Partner- Oasis
Wednesday: Spoken & written English course
Partner- Karunalaya & Oasis
Thursday: Subject Tuitions
Partner- Sneha Nilaya
Friday: Spoken & written English basics, Intermediate
and Advanced course Partner- Oasis
Saturday: Spoken & written English Intermediate course &
Subject Tuitions Partner- Shishu Mandir & Balakriya Bala Mandira
Sunday: Special Education
Partner: The Home for Mentally Challenged Boys
All the above projects currently follow a curriculum designed by the U&I team but we are presently working with Pratham towards building a standardised curriculum. This in the long run will help all the children learn in more simple and structured manner. We have also planned a professional training session, in the months to come, for all the project heads and volunteers by the English Co-ordinator of Pratham, Mumbai.
Our volunteer strength has grown to 63 as a result of our awareness workshop (Vote to Volunteer) in 3 colleges – Christ University, Mount Carmel College and Jyothi Nivas. We have around 20 volunteers helping in the Crisis Intervention Centre, 33 dedicated students from Mount Carmel College spread themselves in 5 of our projects teaching English and special education, and lastly we have 11 students from Jyothi Nivas College taking tuition for the girls from the Crisis Intervention Centre.
U&I also took the awareness workshop to one of the leading A grade business institutions in India – IIM Bangalore.
The most recent project we have introduced is regular tuition classes for children from our partner organisation- Oasis India. These classes are scheduled for every Mondays, Wednesdays and Fridays.
RESCUE OPERATION
Our latest venture with the Government has been documenting and participating in a rescue operation. For the very first time on the 2nd of December the Government with NGOs in the city of Bangalore performed an operation to rescue children and women trafficked into begging. U&I has been documenting every step of the operation; from the planning meetings to the actual rescue and it's follow up. A team of 14 members are presently in the process of completing the final stages of the documentary, which is scheduled to premiere on 23rd February '12.
For more details about our work log onto:
Website: www.uandi.org.in |Blog: www.uandi-org.blogspot.com | Facebook page: www.facebook.com/uandi.org.in