When U&I volunteer tutor Arathy walked into class in Thrissur, Kerala, she was in for a surprise. The students looked excited - like they had something up their sleeve!
A few minutes later, Arathy and the other volunteer tutors were asked to take their seats as the students had a play to perform for them.
The students in Arathy's English tutoring class had, on their own initiative, written a script for a play on the theme of kindness. They had practiced for a few days and now they were ready for their audience.
While the script may not have been perfect and while the acting may not have been award-worthy, the play was remarkable for all the right reasons. From the theme to the execution, the students had poured their creativity into this little production.
For Arathy and the other volunteers, this was a testimony not just to their work, but to the relationship they had built with each student. They were now seeing the fruit of their labor.
This is how U&I is transforming lives - one classroom at a time, one student at a time. We are giving them the confidence they need to shine where they choose.
Thank you for standing with us to transform the lives of more than 2000 children across India.
When U&I volunteers ask their students about their dreams and goals, they get varied answers. Some want to be teachers (just like their volunteers). Others want to be pilots. Some want to be doctors and give back to the community. Some want to be dancers and artists and authors.
While all those dreams are heartwarming, we don't see too many children with dreams as specific as Aditya's, a student from one of our Learning Centers in Ahmedabad. When his volunteer teacher asked him what he aspires to become, the answer was very clear: Aditya wants to be an astronomer.
Why, we asked him. His answer inspired his volunteers. "The sky always makes me smile and I want to know more about the space," replied the 8th grader. This determined young boy doesn't just have a big dream. He also has a clear game plan on how to get there. From his junior high school from St. Xavier's College to his Master's Degree from London School of Astronomy, Aditya has all the details mapped out.
It's children like Aditya who you are supporting. Children with big dreams. Children with a vision. Children with passion and determination. What they lack, however, are the resources to get where they want to go. But through U&I, their future opportunities are no longer just pipe dreams.
Thank you for helping kids like Aditya. One day when you read about a famous astronomer from a shelter home in Ahmedabad you will have the satisfaction of knowing that you helped make that dream a reality.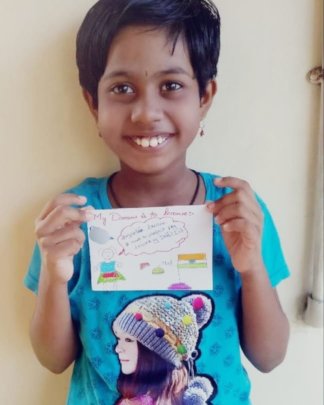 When 7-year-old Tina at our Vizag Learning Center was asked to draw a picture of what she wanted to be when she grew up, we were not expecting that particular response.
Tina drew a picture of herself in a multi-colored dress, standing by the Indian National flag. Next to the flag, she drew a green helmet - part of a soldier's uniform.
Yes, Tina's dream was to be a soldier in the Indian army. When her volunteer asked her about it, Tina replied that she wanted to protect her country. That was the motivation behind her dream.
When our volunteers sign up to be tutors at our Learning Centers, we inspire them with the U&I tagline, "Be the Change." We believe that they have the potential and power to change the lives of those we impact.
But, sometimes, the children we reach surprise us by choosing to be the change themselves.
Today, U&I reaches 2000 other children like Tina who are mentored to believe in themselves and believe in their dreams. Tomorrow's India is going to be different because of these children.
WARNING: Javascript is currently disabled or is not available in your browser. GlobalGiving makes extensive use of Javascript and will not function properly with Javascript disabled.
Please enable Javascript
and refresh this page.