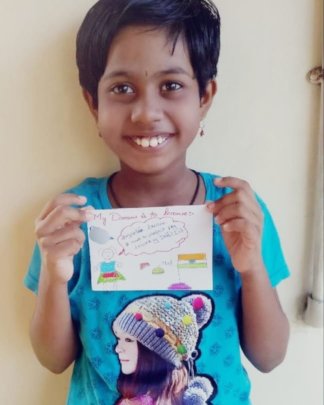 When 7-year-old Tina at our Vizag Learning Center was asked to draw a picture of what she wanted to be when she grew up, we were not expecting that particular response.
Tina drew a picture of herself in a multi-colored dress, standing by the Indian National flag. Next to the flag, she drew a green helmet - part of a soldier's uniform.
Yes, Tina's dream was to be a soldier in the Indian army. When her volunteer asked her about it, Tina replied that she wanted to protect her country. That was the motivation behind her dream.
When our volunteers sign up to be tutors at our Learning Centers, we inspire them with the U&I tagline, "Be the Change." We believe that they have the potential and power to change the lives of those we impact.
But, sometimes, the children we reach surprise us by choosing to be the change themselves.
Today, U&I reaches 2000 other children like Tina who are mentored to believe in themselves and believe in their dreams. Tomorrow's India is going to be different because of these children.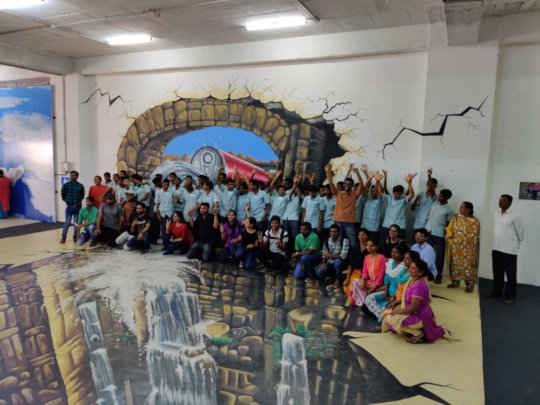 The boys could hardly contain their excitement. They were on the sets of some of their favorite movies and TV shows. They were touching props that their film heroes had used. They were dancing to music from Bollywood hits.
To say that the boys' trip to Innovative Film City was a success would be an understatement. U&I manager, Jayaraj says that it's hard to put into words the boys' excitement. "They were beyond thrilled," says Jay, speaking of their excursion to one of India's premier movie-themed parks.
The other highlights of the day included the wave pool (a first for all the boys) and the unlimited buffet lunch. The boys were accompanied by a team from one of U&I's corporate partners, ensuring that it was a safe day where they could be supervised while they had a blast.
While for many of us, a trip to a theme park is fun, for these boys who barely have the chance to leave the confines of their State Home, this was a trip of a lifetime - something they're unlikely to forget for years to come.
Today, U&I cares for close to 300 residents in State-run institutions like the Boys' Home. We are there to ensure that each person there lives to their fullest. Thank you for partnering with us to make this happen.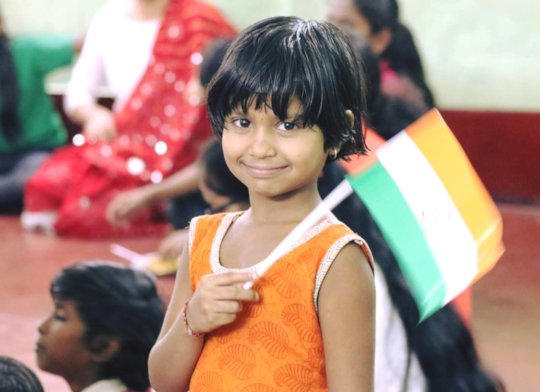 India celebrated her 73rd year of independence and hundreds of U&I students celebrated with the country!
At one of our Learning Centers in Mysore, for instance, the children worked for weeks, along with our volunteers, to put on a show for Independence Day. Some of the children delivered speeches, others sang songs about the country and a few got to demonstrate their artistic side with rangolis (floral patterns made on the floor with colored powder).
While to many this may not have been a spectacular show, to the children it was a unique chance to express themselves and build their confidence.
Our tutors couldn't have been prouder to see the excited kids work hard and take on the stage with exuberance. This is partly whatIndia's independence is about - that every individual, irrespective of caste or income, has the right to education, the right to express themselves and the right to be heard. The country's future is in these children.
Without our donors and their support, we wouldn't be able to build these future generations. We are investing in children. We are investing in the country.
WARNING: Javascript is currently disabled or is not available in your browser. GlobalGiving makes extensive use of Javascript and will not function properly with Javascript disabled.
Please enable Javascript
and refresh this page.