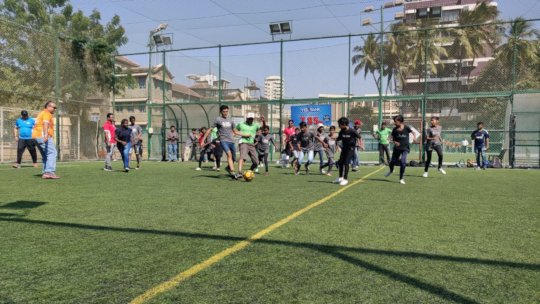 U&I teamed up with Grant Thornton India for two fun sports events for our students in Bangalore and Mumbai. A third sports day in Delhi is in the works for next week.
The Bangalore event, "Sports Fest", saw boys and girls from one of our Learning Centers play high-energy games like football, cricket and three-legged races. The Grant Thornton employees rolled up their sleeves and got right into the thick of things.
The kids had a blast and took home medals and prizes. "This is way better than my school sports day," said one of the girls who won a prize for the three-legged race.
The event also included lunch and refreshments for the tired but happy kids.
U&I believes in providing a well-rounded educational experience for our students. We understand that sports are a great avenue to build confidence and foster teamwork. It also revealed a competitive edge to some of our students who are quiet in their classrooms. The Sports Fest was also an important way to reiterate to our female students that girls can rock at sports, too!
Most of these children don't go to schools with sports facilities where they can actually kick a ball or run a race. While they may attend sports days at their schools, its more about marking attendance than learning a sport.
Thanks to our partnership with Grant Thornton, we were able to give these children the opportunity to grow in their sports skills and boost their confidence.