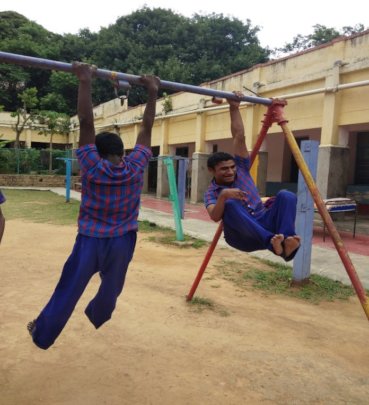 Mayaram was a regular boy, interested in sports and playing with friends. His circumstances, however, were not so normal. He was an abandoned child, growing up in a shelter home in Bangalore. But that didn't deter Mayaram from enjoying himself and taking care of his friends at the shelter home.
Unfortunately, a few months ago, Mayaram's life took a bad turn. After hospitalization for an illness, he became paralyzed due to wrong medication being administered. The once active boy was not able to move or speak. Finally, when the hospital couldn't help him any longer, Maya was brought to the Institute of Mentally Handicapped Children (IMHC) where U&I staff met him.
Says, Jayraj, U&I's Care manager, "He was completely unresponsive. He didn't want to try to get involved in anything."
But over the course of the last few months, Jayraj has noticed disctinct changes in Mayaram's behaviour. Thanks to physiotherapy, speech therapy and personalized attention, Mayaram is slowly improving in his motor abilities. "While his movements are still very very slow, he is starting to join the other boys on the playground," reports Jayraj. Mayaraj is also re-learning how to colour, how to form letters and how to dress himself. The last few months have been tough on this young man, but with U&I's help he is not giving up.
We are thrilled to make a difference in the lives of these boys at IMHC. The changes are not always huge. Sometimes, they are not measurable and quantifiable. But for Mayaraj, U&I's involvement in his life spells hope for the future.