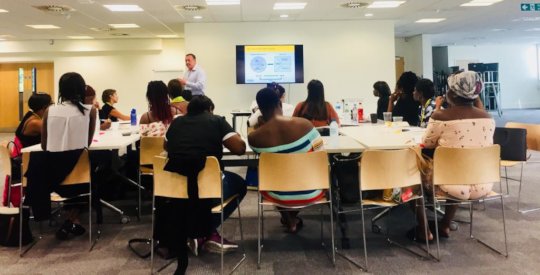 In this Second Quarter, HERA UK and HERA France Association members conducted three major activities to prevent re-trafficking of women survivors in the UK and dangerous migration of young women from Central and Eastern Europe through strengthening women's entrepreneurship. In May and June, the HERA France Association's expert panel concluded its review of the Sixth Annual International Grants Competition submissions from women entrepreneurs in four countries – Armenia, Georgia, Armenia and Ukraine -- and informed all applicants of the competition results. In June and July, HERA's UK team ran its 11th Entrepreneurship Training and Mentoring Program at Imperial College London for 22 trafficked women survivors. In July, one of four HERA France teams carried out the assessments of the highest ranked ventures in Armenia, delivered networking and training sessions in three different regions, and met with local partners. What follows is a brief summary of our outcomes and results from these three activities.
Sixth Annual International Grants Competition – The international assessment panel of seven reviewers received 133 applications this year from the four countries, which is the highest number received in any competition to date. Of the 133 applications, the panel rated 41 in the top category (10 out of a total 15 points). The seven reviewers came from Germany, Britain, France, and Italy and included a banker, business professor, economist, engineer, NGO manager, and agricultural specialist.
After the peaceful revolution and transfer of power in Armenia in May, several applications from there came in later so the assessors held the competition open through mid-May. Three former grantees in Armenia also spread the word far and wide and helped women to fill out the forms correctly. Caritas, an NGO working with the Government, also wanted to send us over 100 applications but we persuaded them to take their top five that best fit with our criteria of supporting ventures that would employ young women at risk of dangerous migration and trafficking. We also agreed to open our networking and training sessions to their Government applicants. In addition, several applications came in later from Ukraine which we considered to the extent possible since many are refugee women, who only heard late about the competition. When all the applications were eventually scored, only 30% were in the bottom quartile; and the overall quality of the applications this year was higher than ever. HERA France Association then organized teams of two to evaluate the ventures in the four countries over the summer and early fall. The teams agreed to consider ventures in the top two quartiles to the extent possible and to follow up with ventures from earlier years to assess their progress.
HERA UK Entrepreneurship Training and Mentoring - This year's entrepreneurship program, the 11thto date held at Imperial College London, was the most competitive ever. For the first time, the program was held at Imperial's newly created Innovation Centre and was supported by the University Provost and Vice President. Given this university-wide support, the team decided that this year's program had to be selective and only enroll women who were ready for and wanted this training and that it could make a difference to the women's self esteem and careers.
Following individual interviews with Sarah Videau, the HERA UK Director, and Jo Chidwick, HERA UK trustee, to assess the women's readiness and desire for the program, 22 of the 34 applicants (representing a 65% acceptance rate) were enrolled. The 22 women ranged in age from 19 to 45, with an average age of 32.5 years old (which corresponds with international findings that the average age of women entrepreneurs is the mid-30's). Together the women represented 14 different nationalities of origin, including Nigerian, Zimbabwean, British, Jamaican, Senegalese, Pakistanis, Iranian, Filipino, Gambian, Bangladeshi, Colombian, St Lucian, Vietnamese and Chinese. They were referred to us by HERA's partnering charities: Medaille Trust, Sophie Hayes Foundation, Caritas Bakhita Project, Hibiscus Initiative, Catholic Workers Farm, Women @ the Well, and Hestia.
The women all came with the objective of acquiring new skills and eventually opening a business. Although some already had strong ideas about what their venture and/or career plans, a few joined HERA with the hope of gaining clarity. Each of their unique backgrounds and skillsets came together during the three weeks at Imperial Business School to produce accomplished presentations of their business plans.
Prior to and during the course, the team trained 26 mentors over three sessions and thus, were able to provide each woman who successfully completed their business plan presentations with a mentor tailored to their plans and interests. The additional mentors will be assigned at a later date as some mentor-mentee relationships invariably do not work. A mentor may move and/or find that s/he cannot make the expected time commitment. As with any relationship some just do not work so the team arranges mentor-mentee exchanges in September.
For the entrepreneurship training, the UK team engaged a wide range of professionals and academics, which again ensured a very high quality level of training. The women appreciated having the chance to study at Imperial College. They were also hosted for an afternoon at Salesforce offices in the City. The team kept the same MBA format as previous years. They divided students into teams to present final projects together and organized a Market Exercise with a real-life entrepreneurship test where the students interviewed businesses at the Borough Market, and then in teams, had a small amount to invest and/or build on from which to generate a profit.
Some positive features of this year's program were:
The smaller class size (22 students versus an average of 34 in past years) meant that each student had more one-on-one time

with the speakers and HERA team members alike, which led to the high quality of the final business plans;

Throughout the programme every student remained actively engaged and some took photos of the slides and almost all participated with pertinent questions and note taking;

For the first time, an overwhelming majority (20 out of 22) plan to open a venture in the future and a couple have already begun;

As in earlier years, the students bonded and supported each other over the course of the three weeks;

Attendance, as in past years, was high – all students, save for medical and legal/migration meetings, attended 100% of the course; and

This year's Academic Director, Dr. Filipa Figueira, a professor from UCL, taught at least one class per week to ensure continuity with the students that both encouraged and reassured them.
The students wrote at the end of the course:
"This program is one of a kind! You teach minds, touch hearts, transform lives!"
"I suggest we should not stop this program because there is a lot of people out there that still need this type of program to empower themselves."
"I would love to work and give back to HERA in a very near future!"
"Thank you to all the HERA team and all those professors and participants. You are doing an excellent work to help other human beings. I am grateful. Well done HERA."
"Thank you for helping us find ourselves."
On a scale of 1-5 (with five being the highest score), 16 of the 22 students rated the program at five, three rated it four. This year's program, with an 87% response rate, received an overall score of 4.8 out of five.
Armenia Assessment – Two HERA France Association members, Lynellyn Long and Sonia Boubekri, met with Armenian venture owners whose applications had been ranked in the first two quartiles. During the assessment, they met 26 women-owned ventures and funded 16. They also funded the mentoring/transport costs for two women entrepreneurs, former grantees, who are actively mentoring other women venture owners in their region.
Of the 16 ventures funded, only three – a bakery, printing business, and meat packing business – were second time grantees. These grantees had clearly demonstrated that their businesses were growing and they were employing more young women. In the case of the bakery, the owner also plans to open a new Syrian sweet line and employ three young Syrian women refugees in her village. The first time ventures funded included three social enterprises in the arts, handicrafts, and fruits/jams; an English and math center; kindergarten; cosmetic production; hair dressing; bakery; wedding events planner; florist; fruit farm; and leather production. All demonstrated a track record of sales and market demand, good financial management, and the capacity to grow their enterprises.
In addition to the applicants, the team met with five former entrepreneurs – all of who had businesses that are performing well. One of the former grantees agreed to produce and ship another 100 scarves for HERA UK. Another former grantee has opened a new market for her products in Tbilisi and two others are selling their products internationally. From one of HERA's partners, the team also learned that one of the former grantees, a single mother, who had suffered extreme violence and was supporting her children and parents, was continuing her bakery business and had received a fellowship to continue her university education.
In addition, to meeting with past and current grantees, the team met with three local NGO partners, including the Armenia General Benevolent Union (AGBU), the Homeland Development Initiative Foundation (HDIF), and Caritas. One of the partners, HDIF subsequently opened a new market for one of this year's grantees; and AGBU and Caritas are providing ongoing support to the grantees that they recommended to HERA. Their collaboration is making a serious difference to advertising the program widely, helping HERA to select ventures, and providing needed support to help the ventures grow their businesses.
As promised to our partners and former grantees, Sonia and Lynellyn organized three entrepreneurship and networking workshops that brought together 12 women entrepreneurs in Gyumri, two entrepreneur owners in Dilijan; and ten in Yerevan. Through Caritas, the Government Employment office, offered to send many more women to the networking event in Gyumri but since the team had promised to give current grantees some serious networking opportunities, they limited outside participation to five for this round. However, there clearly is a demand for networking and entrepreneurship training events. One woman travelled over two hours by mountain roads at night to meet with the team in Dilijan. At the other two events, several women travelled an hour or more away to attend. Given this demand and commitment, the HERA volunteers discussed the idea of collaborating with the NGO partners to organize more such events in the future.
To meet with all the grantees this year, the two HERA France Association volunteers travelled some 288 kilometers, north-south from Koghb to Yeghegnadzor, and covered many more kilometers west to east to reach ventures close to Armenia's western border with Turkey and to its eastern border with Azerbaijan. The team benefitted from an excellent driver and a translator, two Armenian men, who refused to increase their rates from last year (but clearly covered more ventures and kilometers). They were very proud of the women's ventures; and kindly encouraged and championed all owners along the way. It was very hard for the team to turn down any of the ventures. Thus, the France Association funded more in Armenia this year than ever – partly by keeping assessment costs below 30% so as to allocate more funds to the ventures. The average grant size of Euro 453 per venture is small but the potential impact large. As one of the NGO partners wrote the team recently, "Love what you guys do!" Working in Armenia is extremely gratifying because the women entrepreneurs themselves want to make a difference not only for themselves but also their families and communities.
In looking ahead, other HERA France Association teams will soon travel to Ukraine and Moldova and at time of writing, Nico Nissen and Elise Do are assessing ventures in the Republic of Georgia. Meanwhile the UK team is organizing a networking picnic and monthly entrepreneurship seminars for this year's and former HERA students in the UK.