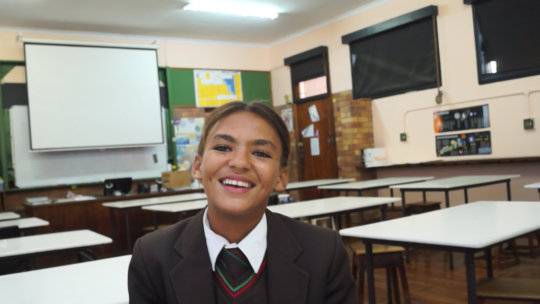 A thankful message
We would like to thank you so much for your donation!
In January the kids started at a top level high school. Because of your donation we made it possible to bring these kids to school every day. Also the books and stationary has been bought for these kids because of your donation!
They are working hard at high school at the moment and they are so happy for the opportunity they got.
Last Friday Larissa (intern at United Through Sport, Project Manager of 'Change a Child's Life') had an interview with one of the 15 kids we're raising money for. She followed Tamzyn Grootboom at Alexander Road High School, one of the best high schools in Port Elizabeth. Tamzyn told her about the difference between this high school and the high school in her township, where she was supposed to go without support of United Through Sport.
The township high school is not strict in rules and the facilities are very bad. This decreases the quality of education. Her friend who is going to that high school has a lot of free time and doesn't get any home work. A lot of people she knows quit school there because they don't see any reason to be there. These people rather try to find a job and try to earn some money.
Tamzyn says her days are long, she gets picked up every day at 6am and is back home at 5pm. Every day she has a lot of home work, I asked her what she thought about that difference. She said how happy she is, she feels privileged. She realises that not a lot of people she knows have this opportunity. It assures her of a better future and after high school she is ready for University.
Her goal is to become a doctor: 'because I get to help people and save peoples life.' Her goal changed because of the opportunity UTS gave her. With the education at the high school in her township her results would not be good enough to go to university and to study to be a doctor.
We are still raising money, it is hard to keep these kids funded because the high school is expensive.. We gave these kids an opportunity for now but we won't be able to afford the school for five years.
It is still really important to continue and give these kids the opportunity. They are working so hard at the moment to stay in high school, these kids deserve this change to let them be able to keep on follow their dreams. They really want to make a difference in this world and in their lives.