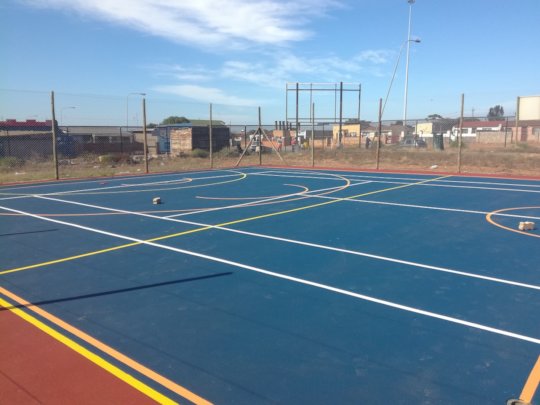 LEAVING a legacy by building a place where children can continue to play sport for years to come, was the motivation for an exciting new project completed this year by United Through Sport South Africa.
The opening of the Isaac Booi Multi-Sport Court, situated in Zwide in Nelson Mandela Bay, South Africa, meant that eager children from Isaac Booi Primary School and the surrounding community could finally test out the court – which they had watched being built over the past few months.
The children will now be able to play netball, basketball, tennis and 5-a-side-soccer on it. Isaac Booi is an anchor school of United Through Sport's Junior School of Excellence (JSE) Programme, which is based in Nelson Mandela Bay. The programme nurtures participants with ability and determination to give them access to extra academic education, sports coaching and personal development at after-school classes.
"Making a sustainable difference in the communities where United Through Sport works, is a core priority and we believe this Multi-Sport Court will continue to offer children a safe place to play sport - for years to come as a legacy project. The court not only benefits our programmes we run at the school, but it is also there for the enjoyment and benefit of all the learners at the school as well as the local community," said United Through Sport Director Nick Mould.
To continue to develop children to the highest level and give them an opportunity to rise above their challenges, they need to have access to quality facilities to enable them to compete with their more affluent counterparts, Mould said.
A parallel JSE Programme is run at Astra Primary School, in Bethelsdorp which is also in Nelson Mandela Bay, where a Multi-Purpose AstroTurf, used for hockey and soccer training, was built by United Through Sport – with the help of various funders. The Multi-Purpose Astro Turf was launched in 2016.
United Through Sport is currently fundraising for a third Multi-Purpose Court for training activities at Astra Primary School. Children between the ages of 11 and 13, spend one to two years in United Through Sport's JSE Programme - with the intention of preparing them more thoroughly for high school. Children from schools in the area surrounding Isaac Booi Primary School and Astra Primary School attend the sessions. The children are selected (150 in total) at the beginning of the year when they try out in the various sporting codes and undergo basic academic tests, to determine a placement in the JSE Programme.