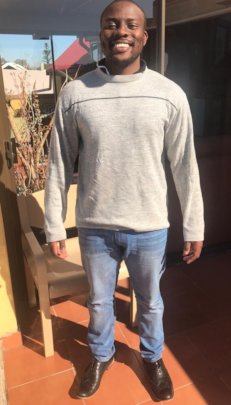 Sibulele is one of the first university graduates from United Through Sport in South Africa, and graduated with a BSc.Hons (Construction Management) from Nelson Mandela University in 2019.
He formed part of United Through Sport for 10 years, firstly as a Senior School of Excellence beneficiary who was recognised for his rugby talent and placed at Pearson High School in Port Elizabeth, and later as a very active and involved Youth1st Network member.
Sibulele was permanently employed as a Marketing Co-ordinator at a local radiostation in April 2020.
"I started working for this company when I was still a student in 2015/16 as a promoter. The Director of United Through Sport, Nick Mould, knew one of the Marketing Coordinators at the radio station, who gave me my first gig as a promoter".
"Years later, on 2 December 2019, I started working at the station as an intern and I am now permanently employed. So, thank you to Nick Mould and United Through Sport for making that initial link for me. So far I'm happy at work. The work is challenging and no two days are the same," said Sibulele.
He continues: "Because of the Covid-19 pandemic many people are finding themselves without jobs, because of retrenchments etc. I am blessed that I am part of a company that can withstand those shocks and not worry for one day about losing my job. Today I have job security where there's so many unemployed people and in no small part it is because of United Through Sport."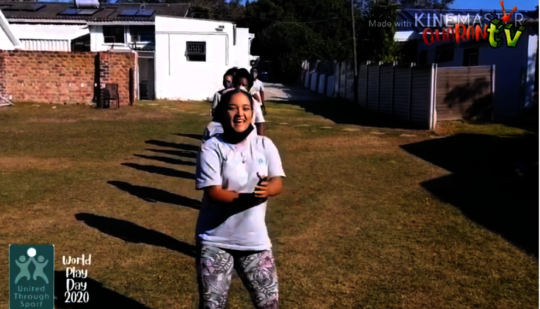 United Through Sport staff have turned into television stars during the lockdown period in South Africa.
Since the spread of COVID-19 reached South Africa and Nelson Mandela Bay, United Through Sport had been unable to physically interact with beneficiaries due to lockdown regulations in the country.
Reaching children in communities with no access to the internet, United Through Sport joined forces with two other non-profit organisations, Masifunde and Masinyusane, to provide mind-stimulating content in a daily edutainment show, QuaranTV, on local television station BayTV.
The objective of QuaranTV is to reach out to as many primary and high school pupils as possible with positive content.
The 30-minute show covers topics ranging from music, drawing and drama to literacy and sports.
Masinyusane co-founder Fiks Mahola said many learners are in challenging domestic situations without any positive stimulation and little or no resources to keep themselves entertained. However, most of these children have television.
"All three organisations focus on education and activation of children and youth in their own specific way. To sit at home without being able to work with our learners directly in a phase when they need our assistance, did not feel right. Together we created the idea to launch QuaranTV," said Mahola.
Here is a look at a special edition of the television show, which was made by United ThroughSport staff members for World Play Day celebrated on 28 May: https://www.youtube.com/watch?v=RRBbplcUa8g&fbclid=IwAR3d1x4GhNbFT4aXuoeLqi611Ey_E9SyewHRDdCHumNHg81BuVmjUjx4Uk4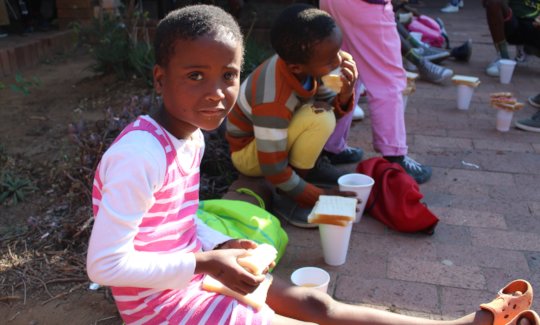 In these unprecedented times, it is important for us to come together as humanitarians to help our fellow humans as much as possible.
After having time to take in the social situation in our communities and the safety precautions announced by the South African government in response to the Coronavirus disease (COVID-19), we have decided to respond to the needs of our communities. We will therefore be shifting the nature of our activities to do what we can to support those in need.
This will include:
• Providing Food Parcels
• Providing hygiene materials
• Creating a community map of services
• Sharing key information through platforms accessible by all
• Sharing health and physical exercise activities through platforms accessible by all
• Sharing mindfulness, yoga and calming exercises on platforms accessible by all
• Providing direct financial support to families in need

We have been extremely heartened by the response of so many people wishing to help others and we are hopeful that this unique situation will bring us together and bring out the best of our human spirit.
If you would like to support our impact with the above measures, please feel free to donate on this platform.
WARNING: Javascript is currently disabled or is not available in your browser. GlobalGiving makes extensive use of Javascript and will not function properly with Javascript disabled.
Please enable Javascript
and refresh this page.