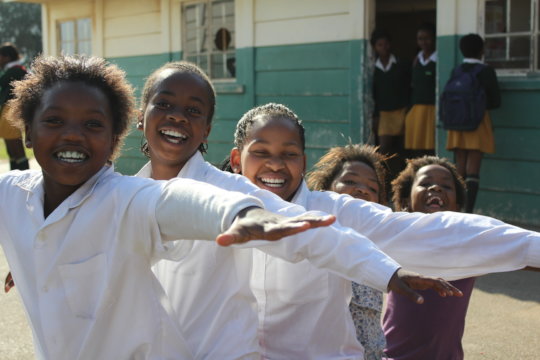 Thank you for your support throughout this year, you have contributed to the growth and development of 3457 participants through our regular programming. Additionally, your support meant that we could reach 81,364 people through our feeding programme and 12,000 people through our local TV show during the height of the pandemic.
Despite the difficulties we have faced this year, we had a number of positive outcomes that have meaningfully impacted the communities and children that we work with, including:
- 24 of our Junior School of Excellence participants have obtained fully funded high school scholarships to top-level schools
- 100% of Girls Unite participants know how to respond to challenges and problem solve
- 91% of our Mass Participation Programme participants have improved their emotional well being
- 93% of our Literacy Programme Participants have improved their reading and writing abilities
- Our Senior School of Excellence participants achieved a 100% matric pass rate
- 98% of our YOUth First participants have received employment this past year
Hear from your participants about what this year has meant to them and how it has helped them on their pathway to success:
Sibulele (Girls Unite) - "I am grateful for the opportunity they have given me, I believe that I can change the situation back at home by studying hard and being successful."
Matthew (JSE) - "This program has taught me many things that made me more confident. I wish this program to be on for a long time and change other children's lives like it changed mine."
Amanda (YOUth First) - "I am grateful for this opportunity that United Through Sport youth pathways presented me. I have always been confused with what I wanted to do career-wise, but with the consultations I had with the youth program coordinator, I connected with my purpose and found my passion along the way. I am now employed doing something I genuinely love."
We are extremely proud of our participants and our staff for all that they have achieved despite this unprecedented year.
We look forward to sharing 2021 with you and thank you again for your continued support!