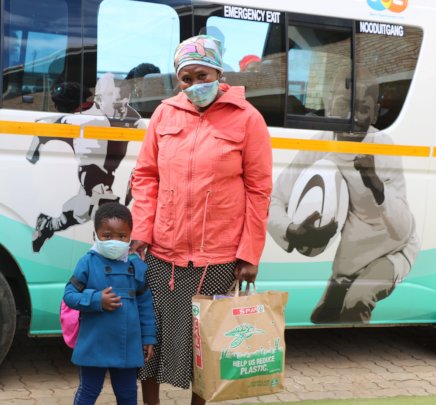 Our participants were heavily impacted by the spread of COVID-19. When schools closed during South Africa's lockdown for 57 days, many of our participants were faced with food insecurity, lack of educational support at home and limited psychosocial support. We have been focusing on addressing these three needs over the past few months.
In order to address the food insecurity that our participants and their families are facing, United Through Sport joined forces with two other non-profit organizations in the Nelson Mandela Bay area, to create Project Unity. Project Unity is a collaborative effort to support the most vulnerable participants and their families during this difficult time. Since its creation, we have been a part of distributing 12,886 food parcels, benefiting 79,893 people who were faced with food insecurity due to COVID-19.
We used our strong relationships with the schools we work in to identify the children who were at highest risk. Each teacher nominated 3 – 5 children from their classes who were at highest risk of food insecurity. A member from each identified family collected the parcel from the partner school. Project Unity allowed us to meet the basic needs of our participants and their communities, as well as strengthening our relationships with the schools that we work in.
We addressed the lack of educational support and the poor mental health of our participants through QuaranTV and QuaranTimes.
QuaranTV is a provincial TV show that we launched to keep our participants positively engaged while they were unable to attend school. To date, we have produced 60 episodes of QuaranTV reaching an estimated audience of 12,000. Our participants have really enjoyed the interactive content of QuaranTV and many watch the show with their siblings. Our participant feedback on this initiative includes:
"I really like the show, I enjoy trying the activities at home and it helps me remember UTS before COVID. I'm so thankful to be part of this programme."
"When it comes to lockdown family life, in my family we have strived to build better relationships with each other through sharing meaningful family fun activities. Thanks to UTS and JSE, this has become easy with their presentation of QuaranTV."
QuaranTimes is our health and well-being newspaper that focuses on providing information to children age 5 - 18. We have delivered 10,000 QuaranTimes with key information on Covid-19, how to protect yourself and how to help children through lockdown - supporting their social, emotional and exercise needs.
Thank you for your continued support, we are looking forward to resuming our sport for development programming as soon as it is safe to do so!