The project is going on very well. We continue to learn how to engage more donors and we have in the process been able to increase the donations. We look forward to a great future in resource mobilization.
In the last quarter, Childline Kenya was able to provide direct services to more than 320 children through the work of the Helpline service with support from its GlobalGiving donors and other partners. The children were survivors of sexual abuse, physical abuse and emotional abuse in various forms. They are all now safe from immediate danger. Efforts are ongoing to ensure the children that needed longer term medication continue to receive the same and the cases that were taken to court are facilitated to conclude in the shortest time possible in the best interest of the child. Ongoing counseling for children and their families is also provided as necessary.
Attachments: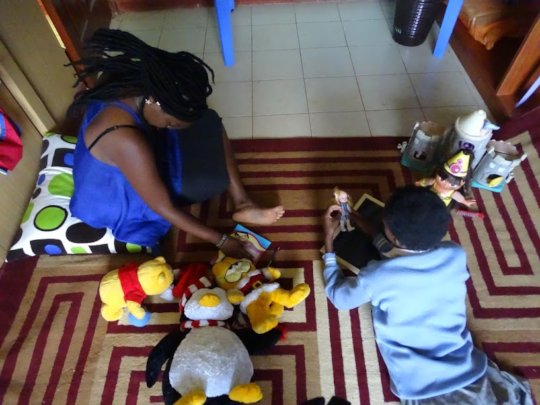 Becky lived with her parents in one of the informal settlements in Nairobi until both her parents died in quick succession. Becky and her brother were then taken in by neighbors. There were no known relatives. She is now a beautiful 13 year old full of life. She can't remember where the problem started but her foster father began sexually abusing her and her step mother became very hostile towards her.
A neighbor got concerned about how Becky was being treated and sought to find out the details She secretly asked her about her situation. When she got to know what was happening, she called the child helpline for immediate help. Becky was rescued from the abusive environment with the help of the children officers at the helpline with financial support from our donors.
Becky needed a safe environment from the hostility and the sexual abuse she was going through. She said she used to "do all the work in the house" and would be "beaten each time she made a small mistake". The man of the house on several occasions tried to "do bad manners" with her (referring to having sex with her) and even succeeded on some occasions. Becky felt scared and sad "all the time".
After rescue however, she looked happier in her new environment. Becky went through several counseling sessions where she got to understand that it was not her fault that all these bad things had happened to her. The counselors worked to build her self-esteem and now she is a confident and happy girl, a very different picture from the withdrawn and scared little girl that had been rescued in 2014. She is currently back to school with support from Childline Kenya and its partners and is always top of her class. She has a bright future ahead thanks to the timely intervention by Childline Kenya with the support of our partners to Shine a Light on Child Abuse.
Childline Kenya staff are continually in touch with Becky and provide play therapy as necessary. Childline also pays her school fees and provides all she needs through your generous donations.
Belinda's case (Not her real name)
11 year old Belinda* has been living in Nairobi with her single mother and her 2 younger siblings. Her case was reported to the Child Helpline 116 by her teacher who noticed that over a period of time, Belinda* had been coming to school with a lot of fresh injuries and marks on her body. Upon enquiry, he found out that her mother had been physically abusing her using a rolling pin, electric wires and at times she bites her mostly over small mistakes. Efforts by the school to reach the mother were unsuccessful, prompting the school to report the case to the Helpline 116. On the day the case was reported, Belinda* had been burnt with a hot iron box on the face by the mother just because she had not bought an exercise book as she had been instructed to.
The Helpline contacted the area Children's Officer who visited the school. Through your generous donations, Belinda* was rescued and taken to hospital for medical attention. She is currently safe at a safe shelter for children, where she is receiving ongoing medical care and regular counseling to aid in her healing process following the traumatic experiences. Her mother was arrested and is in custody awaiting trial. Belinda's*siblings, who were fortunate to have escaped similar abuse, are currently under the care of their maternal aunt. The Helpline team is planning to offer continued counseling to them as soon as they settle in their new home so that they understand the need for the separation without breeding hatred towards their mother.
WARNING: Javascript is currently disabled or is not available in your browser. GlobalGiving makes extensive use of Javascript and will not function properly with Javascript disabled.
Please enable Javascript
and refresh this page.