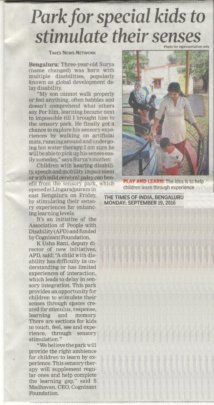 Dear Donors, Friends and Well-wishers of The Association of People with Disability (APD).

We are glad to submit to you the quarterly report of our Education Program for Children with Disability.

I would like to extend my heartfelt gratitude for your continued support to The Association of People with Disability (APD). Your kind support has given shape to the lives of many Children with Disability. They cannot pay you back. They will pay it forward through their lives.

Shradhanjali Integrated School (SIS) : One of our main program SIS founded in 1973, is a recognized primary school up to Class VII under the SSLC Board, with a capacity to educate 200 children. SIS focuses on activity-oriented learning, promoting sports, arts and crafts to ensure all-round development. As most students at SIS are children with disability from under privileged background, facilities like mid-day meals, books, uniforms, healthcare, rehabilitation, transportation and adapted learning techniques supplement their academic inputs.

The Association of People with Disability (APD) - www.apd-india.org) is a non-profit organization founded in 1959 and based in Karnataka. We reach out and rehabilitate under privileged people with disabilities. APD's aim is to create a inclusive society, where people with disabilities are accepted into the mainstream economy and social life. We achieve this through our three pillar programs i.e., Early Intervention, Education and Livelihood (therapy and mobility aids are integrated into these programs). APD is also a recognised Training Institute in the field of Disability by the Rehabilitation Council of India and offers programs for caregivers and on rehabilitation therapy for various stakeholders.

APD is registered under the societies act and employs over 250 employees, has a Professional Governing Board and manages an annual budget of Rs. 18 crores. In the past 57 years, cumulatively, our service has reached more than 5 lakh people with disability through our various programs. We are currently providing services to over 30,000 people with disability on an annual basis. This reach is a drop in the ocean considering there are over fifty million people with disability in India and one million in Karnataka state as per conservative estimates. The need is huge and our resources limited.

Some of the major activities in Shradhanjali Integrated School during the last three months are given below for your kind information.

I. Secret Santa : APD organised an event for 300 children with disability and their parents with the help of Corporate Northern Trust. All the children dressed well and participated in the events . Chocklates , cakes and gifts were distributed by volunteers dressed as Santa. It was a Fun filled day for children as they performed dance, drama and play related to Christmas
Training programs was organized by TATA Edge coordinator for all the teachers on lesson planning, usage of multimedia and worksheets.
To Improve the education quality , Symposium on Indian Sign Language was organized to acquire knowledge in Conversations in Indian Sign Language/ Signed English, Fun with Calligraphy, Role plays Title –emotions, adept expressions.
Training programs was organized by TATA Edge coordinator for the teachers on lesson planning, usage of multimedia and worksheets.
II. Communication project for the severe CP children: AVAZ software is being used for the improvement of language and communication.
III. Health and welfare of the students:
Physio therapy – 125 children
Speech therapy- 70 students
27 Aids and appliances provided to and 11 wheel chair
Surgery for 4 children
Supplement and mid day meal – 79
IV. Sensory Park : APD inaugurated the Sensory Park at its main campus in Lingarajapuram, Bengaluru, with support from Cognizant Foundation, to help effective learning among children with disability. Subhadip Sarkar - Senior Director from Cognizant along with his colleagues, Deepak - Director, and Sankarasubramanian - Associate Director inaugurated the park on 16th September.
The sensory park at APD enables children with disability, including those with hearing, speech and mobility impairments and mild cerebral palsy; to stimulate sensory experiences that in turn have a positive impact on their learning levels. The sensory park has different sections created for children to touch, feel, see and experience, through sensory stimulation.
MAINSTREAM EDUCATION / DISTRICT EDUCATION
While the PWD Act 1995 and the Right to Education Act (RTE) reinforce APD's approach to promotion of inclusive education for socio-economically challenged children with disability (CWDs). There is clearly a crying need to identify children with disability from marginalized backgrounds, ensure they enroll and are retained in mainstream schools in an inclusive, disabled-friendly environment.
APD has been working in the districts of Bengaluru Urban, Chikkaballapur, Davangere and Bijapur for the last five years has been providing mainstream education and rehabilitation support to over 1500 children with locomotor disability, cerebral palsy and speech & hearing impairment. Also the program is supporting to promote primary education for children with hearing impairment through 5 partners in Bagalkote, Haveri, Davanagere & Bijapur and supporting 1000 children with speech & hearing impairment.
APD is working towards the development of 50 model schools in Bangalore, Davangere & Vijayapura District over next 4 years period. APD intends to partner with the selected Schools (Government/Aided) in 2015-2018 with an aim of converting them into model schools. Presently we identified such 25 model schools ( Bengaluru -10, Davanagere-10 & Bijapur-5) and enrolled over 325 CWDs and working towards creating disabled friendly schools for the overall development of CWDs in rural areas.
We need your help to spread the word! Please share this opportunity with your friends and contacts, especially those who are USA tax payers . Post a link to our project page on your Facebook page asking your friends to donate . For further details please feel free to write to me shanigar@apd-india.org or call me on *Mob: +91- 9972450655*

Our sincere thanks to all our donors for their kind donations and love. We shall submit to you more news in the next report.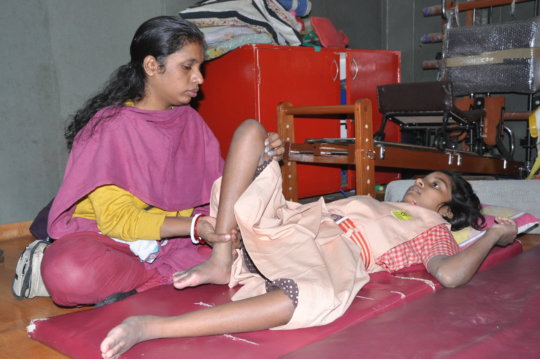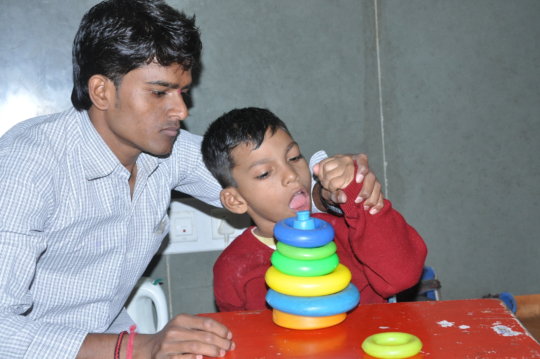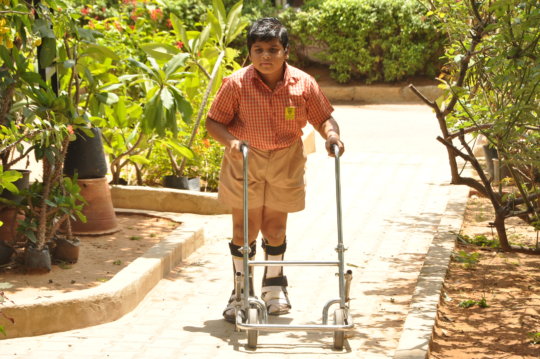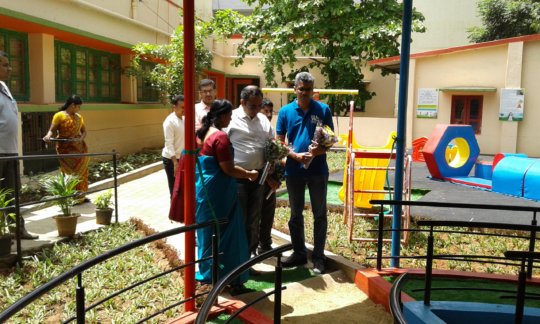 Links: