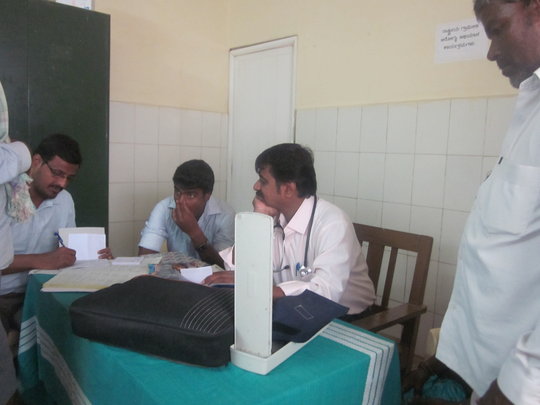 Dear Donors, Friends and Well-wishers of The Association of People with Disability (APD).
We are glad to submit to you the quarterly report of development of People with Mental Illnesses (PWMI).
The number of new PWMIs identified in Bangalore was seven, in Chikbalapur were 48, in Bijapur were 94 and in Davengere, 40. The number of follow-ups was 54 in Bangalore, 148 in Chikbalapur, and 70 in Davanagere. Out of them, a total of 177 people were referred to counseling and hospitals.
Bangalore District:
There were hand bills passed out in Bangalore, at Vinobhanagar-bus stop, KG Halii, Chulai Coloney, VenkateshapuraiI, and through this, information about mental illnesses was spread to about 860 people. There were two care givers meetings organized in Bangalore, at Shampura, Ashoknagar, and Ulsoor. A total of 18 PWMIs participated in these meetings.
In Bangalore, 09 members continued their previous jobs and 3 members are joining the horticulture training at Bairathi cross. In this quarter we organized 13 awareness programs for women groups, 15 parents group, 64 government school students groups, 65 teachers' trainings, 30 APD new staff, 32 women groups, and 18 other programs. Totally 224 members got information about mental health and mental illness, child mental health, symptoms, causes, types of PWMIs and treatments available.
There were four ID cards distributed to Sayyadakhan, Valli, Navida, and Fasha. There were also Pension plans given to three people; Valli, Navida, Fasha
Chikkaballapura District:
Mental Health Awareness Programs -
In Chikbalapur, we conducted a Mental Health Awareness Programs on the 16th & 23rd July, 3rd & 27th August 2013 and 25th September 2013. They were conducted at the Bagepalli Taluk Hospital, Chikkaballapura and Gowribidanur. During these programs we distributed mental health brochures, and showed images of the symptoms to the public. We created the mental health and Bagepalli treatment camp to spread awareness to the people. More than 800 people attended these programs.
Training for Person with Mental Illness (PWMI )-
The number of PWMI trained; in this quarter is one –Venkatalakshmamma, who got animal husbandry training from Canara Bank Training Center. Five PWMI Applied to CMC 3% Disability reservation fund for enhancement of self employment. The number of people placed is one (Manjula), a DWD office house keeper. She earns three thousand rupees per month.

Stress Management and Exam Preparation Training Program -
We conducted a Stress Management and Exam Preparation Training Program for SSLC students on 12th September, 2013 at Panchagiri High School. During this program, our people covered topics like what is stress, the causes of stress, cook up of stress, prevention of stress and how to prepare for the exams. A total of 222 students participated in this program.
PWMI and Care Givers Capacity Building Training Program-
On the date of 21st September, 2013 we conducted a PWMI and Care Givers Capacity Building Training Program, at the APD office. During this program, resource persons covered the topics of the needs of PWMIs and their families, how they can fulfill their needs, and federation advantages. 31 members participated in this training.
Treatment Camps-
During 27th July, 24th August and 28th September, 2013 we conducted 3 treatment camps at the Bagepalli Taluk hospital. In these camps, 154 members participated and they received treatment.
PWMI & Care Givers Meeting -
During 6th July, 31st August and 21st September, 2013 we conducted PWMI & Care Givers Meeting at APD office and federation office. 54 members participated in this meeting. During this meeting we discussed about family and individual needs, federation advantages, CMC 3% reservation fund and importance of the group.
Various places visited -
This period we visited DWD, DHO, Taluk Panchayath, Red Cross, General hospital, Bagepalli Taluk panchayath, Chintamani CMCs, Chikkaballapura CMCs and Bagepalli Taluk hospital for preparation of the Bagepalli camp, PDO workshop. Follow ups 3% funds and VRWs training permission purpose.
Fellows Meeting –
During the days of 4th & 6th July, 14th & 30th August and 6th, 7th and 21st of September, 2013 we conducted a fellows meeting for prepare the 6 month plan and monthly report. In this period we visited 113 PWMIs homes for information on the Bagepalli camp date, identification, and assessment, referred to treatment.
Fellowship Training –
On the dates of 13th to 16th September, 2013 we attended Fellowship training at Bangalore Ashrivanam. During this training resource persons covered the topics of Government schemes and self learning.
Bijapur District:
At Bijapur, APD made contact with the district hospital and PHC. 3 PWMIs went to their previous jobs, in their villages.
Residential Camp Program and Care Givers Program –
In this month we organized 2 programs (residential camp - 1 & Care givers - 1) for PWMI's & Care givers at Kalika Devi Temple & at the Government Hospital Bijapur. The dates were 26th to 28th August & 30th September, 2013. Totally, 73 members participated. We mainly focused on medical treatment, ID cards, various opportunities for PWMI's, and the PRERANA program. According to Goonjan entries 321 services were given.
Mental health awareness spread -
We have spread mental health awareness to women SHG leaders, Anganawadi Teachers, Retired Government officers and SECAB Degree College students. Totally, 104 members participated. The dates were 10th, 25th July, 6th August, 18th & 21st September, 2013. We mainly focused on the APD Orientation and Mental health.
Staff Training –
Our staff got training in community counseling, mental health and computers at Bangalore and Bijapur. The dates were 5th to 8th & 29th Aug and 11th to 13th September, 2013.
Davanagere District:
At Davanagere, we began interacting with the district surgeon and mental health doctor. We are ready to write wall writing in district hospital & we are discussing about wall writing in all PHCs for prabhugowda patail and the process will start going on. We are taking the 2 animators required for CMHP
Orientation Program -
We had conducted an orientation program on 12/9/13 at Durgambika temple for SHG members regarding PWMIs identification, symptoms and causes.
Residential Camp -
We have conduct a residential camp for matti, which was 3days long & the program inaugurated at DDWO, DDRC. The number of participants was 35 and the Chief for district Mental Health Doctor came to the program.
Anganawadi teacher training program preparation –
We have leant our support to one Anganwadi teachers training center for capacity building of Anganwadi teachers every 15 days. We have also conducted training for Anganwadi teachers once.
Residential Camp -
We had conducted the 3days Residential camp for matti & program inaugurated at DDWO, DDRC. The number of participants was 35 & ACChive for district Mental Health Doctor came to the program. And, we have conducted a caregiver meeting every month.
World Deaf Day Program -
We have conducted World Deaf Day Program, a 6 day Saptha from the 21st to the 26th September, 2013. In this program activities like- drawing program, press meet, collage awareness program, campaign, GP level awareness, &letter campaign 26th World deaf day program .In this program, a total of 250 people participated.
We need your help to spread the word! Please share this opportunity with your friends and contacts, especially those who are USA tax payers . Post a link to our project page on your Facebook page asking your friends to donate . For further details please feel free to write to me shanigar@apd-india.org or call me on *Mob: +91- 9972450655
Our sincere thanks to all of our Donors for their kind donations and love. We shall submit to you more news in the next report.