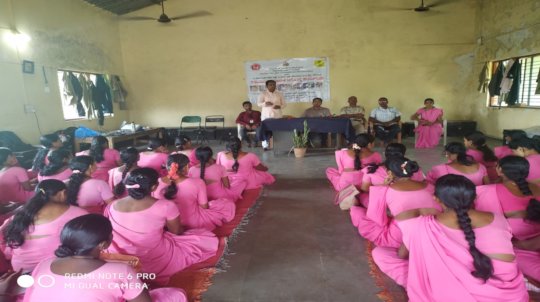 COMMUNITY MENTAL HEALTH PROGRAM (CMHP), BELAGAVI
Community Mental Health Program (CMHP) at APD Belagavi has been operation since 2018 July. According to the 2011 census, 1553 persons are suffering from mental illness in Belagavi. The Program is inactive in 2 blocks. (Belagavi and Bailhongal) of Belagavi District of Karnataka.
This Program is collaborating under DMHP (District Mental Health Program) of govt. health department at Belagavi, identified 430 PwMI from Belagavi and Bailhongal blocks through Asha workers, Anganwadi teachers, Students and volunteers. PwMI got free treatment from a government hospital and Monochaithanya camps running by govt. and they are on regular treatment with the follow up of Asha workers. Conducted Sensitization program for 800 stakeholders, to overcome from the stigma of mental illness. Conducted a Capacity Building Program (CBP) for 200 Asha workers and also connected PwMI to livelihood.
Mainly in CMHP, conducted 3 programs, i.e. Capacity Building Program (CBP), Sensitization program, Identification, Parents meeting and Residential camp.
IDENTIFICATION
Conducted mental health survey along with Asha workers and volunteers in villages for identification, organized mental health camp with DMHP and government department for PwMI and regular follow up with Asha works and near Primary Health Care center
Then stabled PWMI is connected to livelihood and self-employment and referred to social security schemes for PwMI.
SENSITIZATION PROGRAM
Sensitization program is an attempt to create awareness and responsive to certain ideas, events, situations, or phenomenon. This program is to reduce stigma and misbeliefs of mental illness; conducted a sensitization program for Asha workers, Anganwadi teachers, MRws, VRws, community people and other volunteers. Oriented on CMHP program in order create awareness in the community. So far conducted this program for 800 stakeholders in Belagavi and Bailahongal with collaboration of DMHP, DDRC, and government hospitals. By the end of this program, we got active volunteers.
CAPACITY BUILDING PROGRAM (CBP)
Conducted awareness for Asha workers, for 3 days where it includes training classes, motivational videos, and various activities. In this session focused on types, symptoms, misbeliefs, the difference between Mental illness and mental health, rehabilitation sources, treatment and social security schemes for mental health.
Started CBP from Pre-test, it includes a number of questions related to mental health mainly to create awareness on mental health to Asha workers. At the end of the training conducted post-test, to check the impact of training and learning. And finally, we took feedback from them to know the impact.
Meeting with Parents & Caregivers
Organized parents meeting and residential camp for 5 days for caregivers and PwMI, to ehance knowledge and create awareness on symptoms, types of mental illness, role of caregivers, importance of treatment, side effects of tablets, social security schemes for PwMI and rehabilitation, formation of self- help groups of care givers/ parents, and socialization among them and also visit to a public place was organized.
Currently following up with 400PwMIs and identified 30 new.