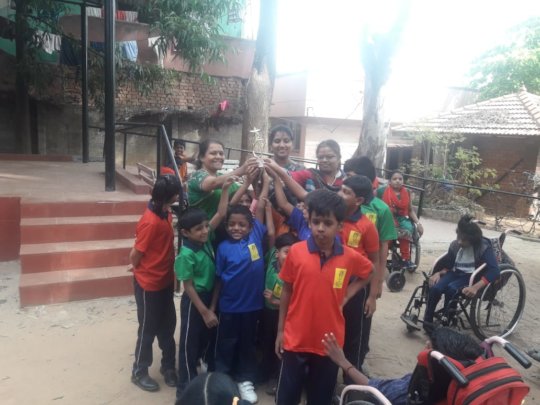 Project Name: Educate 200 Children with Disabilities in Bangalore
Summary of each event:
Sincere thanks to Global Giving for supporting APD's Shradhanjali Integrated School. One of the major purposes of SIS is to promote Inclusive Education and this model is much needed to sensitize the mainstream schools to accept the Inclusive Education system. Through your long term support, we have been able to achieve the desired results and provide education to children with disabilities.
In the academic year 2019-20, we have a total of 205 students in school. We are working towards improving the quality of education by enhancing the skills of our teachers, innovative teaching practices, digital teaching and computer lab, incorporating alternative communication and teaching for children with Cerebral Palsy. For Continuous and Comprehensive Evaluation (CCE) we follow methods like Formative assessment (FA) and Summative Assessment (SA) to assess the student's level of learning. Overall 163 children have been rehabilitated like speech therapy, sign language, physiotherapy, and occupational therapy. SIS is a resource center, shares knowledge, and skills among model school teachers and the partner staff.
Cleanest classroom trophy
The cleanest classroom trophy was handed to 1st std students. Children were encouraged to maintain cleanliness in the classroom.
Student Council Election
Contestants for Student council elections were announced in the assembly. Then contestants campaigned in classrooms and finally voting was done on 10/07/2019 at the computer lab. Results were announced on 18/07/2019. Students were encouraged to be leaders. Students were explained about their role and they were happy to take up the responsibility.
Exposure Visit Cubbon park
Nursery and special class children were taken to Cubbon park along with two teachers, one support staff and four parents. Children learned on unity, enjoyed nature, greenery, involved in games and activities conducted by teachers.
Wheelchair tennis workshop for children.
Four of our students and three of the old students took part actively. Two coaches conducted the workshop at Shree Datta Sports Academy. New Tennis wheelchairs were used by our students for practice. As sports helps in developing great interpersonal skills our children are happy to have this opportunity. Four students are taking part in practice every Friday, Saturday, and Sunday along with the teacher.
Party with Special Class on successful completion of 1 month
We celebrated the successful completion of one month through conducting Games and Activities like
1.The ball into the bucket
2. Musical chair
3. Blasting the balloon
4. Sandwich making
All the children and parents enjoyed the party, sharing, caring, and responsibilities.
Eye checkup
All Students Eye checkup was done by the staff of the Zamindar microsurgical eye Centre. Recommendations were given to the needy students.
House wise singing competition
House wise singing competition was held at the dining hall. One singing group for each house was formed by the house teachers and the theme was patriotic songs. The red house won the first prize. Team spirit and patriotism were nurtured in the children.
Training by volunteers from Ireland for our staff
General emotional skills to handle kids were presented effectively through the actin first session. The second session was focused on phonics the five key skills. Learning letters formation. Blending and tricky words. Inspirational sessions motivated teachers to practice creative and activity-based teaching.
Exposure visit – I & II
Grade I & II were taken for a day outing to Orion East Mall. Children learned the trading, marketing, discount and maintenance of commodities; they also enjoyed the games and other activities at the mall.
Exposure visit III, IV, V, VI, and VII
4 Teachers and 5th, 6th, 7th standard children had been to Bangalore palace. With all the exuberance and richness children were amazed to witness the historical palace. Garments, utensils, photographs and the grandeur of the royal surrounding left the children amazed.
Orthopedic Camp for the students.
Students from all the classes participated in this camp. Two orthopedic doctors from Sanjay Gandhi Hospital came and examined the children and prescribed the surgical and therapeutically needs and also suggestions were given to the parents on the specific needs of CWSN. Parents were briefed on their wards ailment disability and prescribed surgeries. Treatment and follow up. However financial constraints to the parents below the poverty line this is one of the greatest challenges to be faced.
Poem Recitation Competition.
As a literary competition. Students recited poems in English, Kannada, and Hindi. Team spirit and creativity were nurtured. The red house won 1st prize, greenhouse won 2nd prize. The poetic minds and imaginative thoughts rolled out of each child's heart and mind.
Rangoli Competition.
Students drew rangoli an allotted place. The theme of the competition was "Independence day" Students participated actively. Team spirit, creativity, and patriotism were nurtured. Students were judged based on the set criteria. The red house won 1st prize, Blue House won 2nd prize.
Independence Day
School choir sang patriot songs under the guidance and instructions of our vocalist teacher. We celebrated Independence day with patriotic spirit. Our leaders spoke about the importance of independence and our responsibility towards it. Grade VII student was trained by our teacher to speak about the freedom fighter Bhagath sigh. This brought out the public speaking skill in the student and encouraged many others to admire.
Teacher's day
As teachers are known to shape the mind of youth, and without knowledge no one can exist in this world. The teacher imparts good value in children and turns them into responsible citizens. So, our children had a teacher's day celebration as a gratitude to their teachers. Students took turn to plan and carry out the event to entertain the teachers.
The principal recognized and honored teachers and volunteers for their service to children. Organizational, networking, Resilience and Adaptability, Unbridled Creativity, attitude of gratitude was nurtured. Children came up with great gratitude cards, carried out the event with fun games planned instantly for teachers.
Science Talent Exam
As competitive exams are like a positive push for students towards their excellence. Children were facilitated to write the Putani vignana science talent exam with the guidance of two teachers in the dining hall. Students were motivated to endeavor for better and deeper understanding of subject and compete outside the school.
International Literacy day
As the aim of International literacy day is to promote the importance of literacy as a matter of dignity and human rights and to advance the literacy agenda towards a more literate and sustainable society. Facts about the literacy were discussed in the assembly. Posters on literacy, proverbs, and poems were shared in the assembly and also students conveyed the world oneness through the literacy message by holding the flags of different countries and the poster.Active learning was nurtured in the students to establish a meaningful connection with the world.
Created awareness about literacy, students learned about literacy and the importance of it.
Hindi Divas
Hindi Divas was held in small ground to commemorate the adoption of Hindi as an official language of India. Students performed assembly in Hindi. Importance and the reason for the Hindi divas were explained by the Hindi teacher. Children were connected with language to make their learning more meaningful. And are aware of the day and the facts about it.
ABA Workshop
Our certified and experienced trainer in Applied Behavioral Analysis) ABA conducted the workshop for all the teachers about ABA. She discussed the principles of ABA and the methodology. It enabled teachers to handle the student's behavior which is a day to day challenge through this effective/organized method.
International day of sign language
The international day of sign language was held in the dining hall. A teacher shared about the importance of deaf day, song mime, dances were performed by hearing-impaired children and a movie about Helen Keller was shown to encourage students and parents. Parents shared their experiences with the child and how school facilitated them. Each child received a small gift as a remembrance of this day. And then the event ended with national anthem depicted through sign language. Awareness about the facts around the international day of sign language was created.
A platform for hearing impaired children encourage, involve and develop was created.
Parents and teachers capacity building on Occupational Therapy, Speech and Language Therapy and Physio Therapy
Workshop on importance of eye-hand coordination and behavioral issues was conducted. It. enabled the teachers and parents with few activities that they can encourage the child to do to improve their handwriting, hand function and the co-ordination with eye. Similarly, capacity was built on importance of hearing aids, their design and maintenance. Parents and teachers were taught anout the use of hearing aid and its maintenance eachers. They were also taught about the maintenance of a wheelchair. Briefed about how to use the wheelchair, its mechanism, designs, and types..
Fireless cooking
The class-wise fireless cooking event was held in the small ground. Students enjoyed cooking, displaying and learning about nutrition. Cooking with children in school helps to teach nutrition education such as planning meals and make smarter food choices.
Dental, Eye and General checkup camp by Rajiv Gandhi
Dental, eye and general checkup camps were held in the dining hall by Rajiv Gandhi. All the students participated in it and the prescribed further treatment for necessary cases. To recognize and manage basic health problems of school children.
Craft from waste material
Children were thought to reuse and understand the benefits of recycling. Recycling saves the planet, saves the environment and was nurtured skill development and creativity through the process.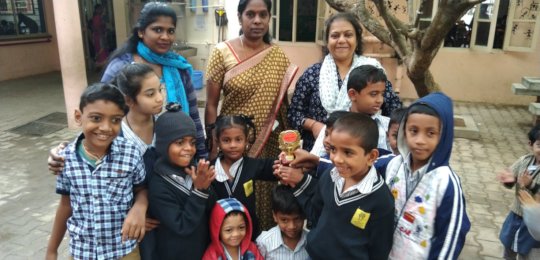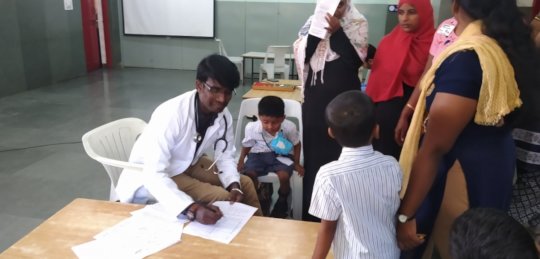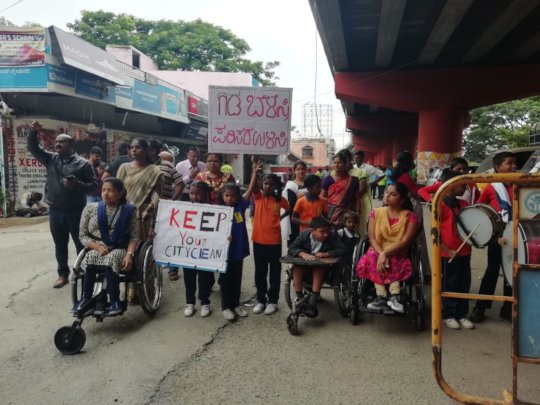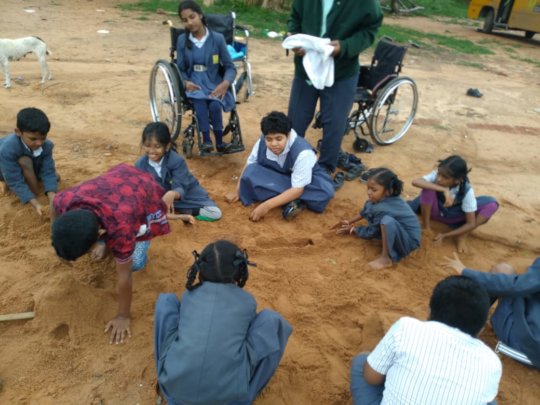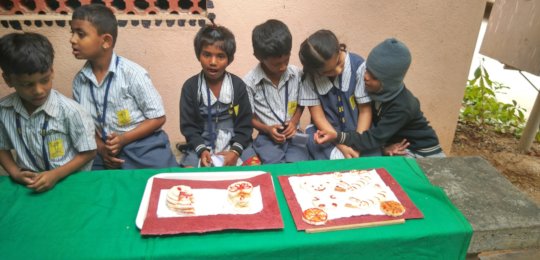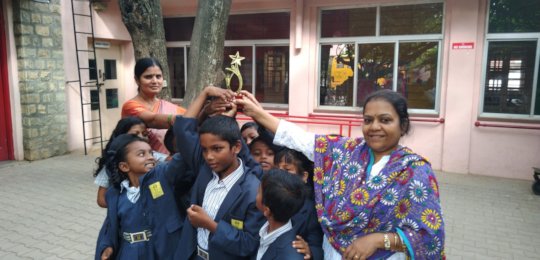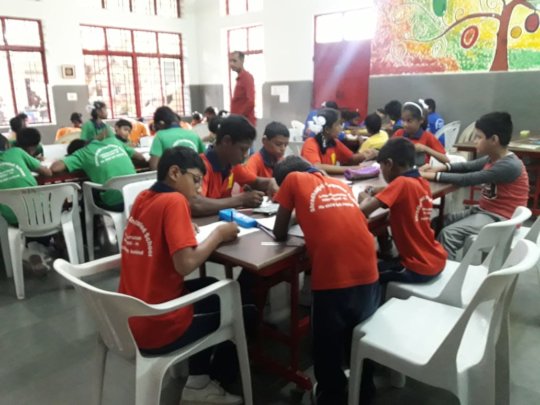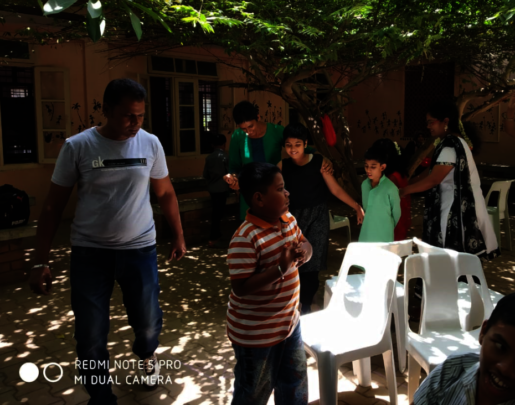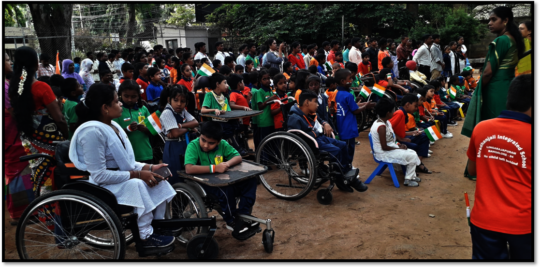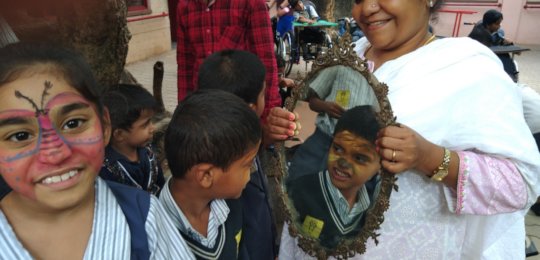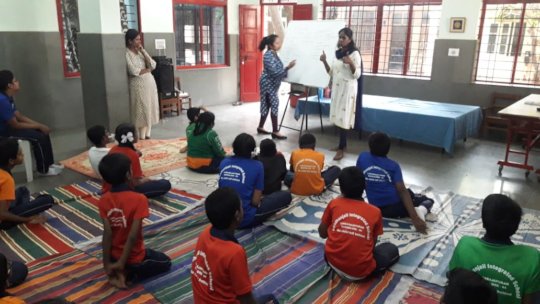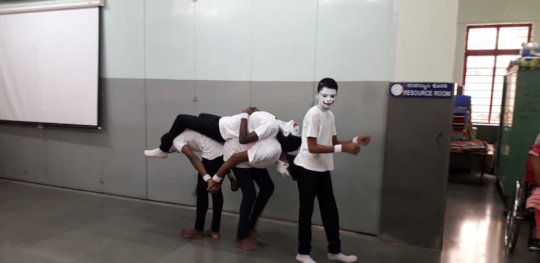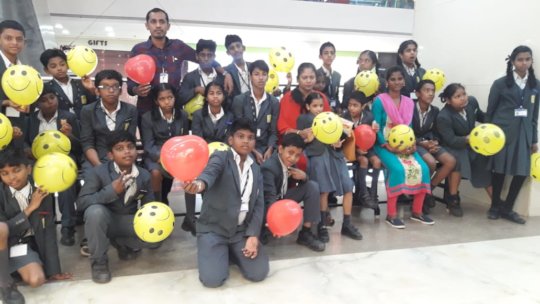 Attachments: