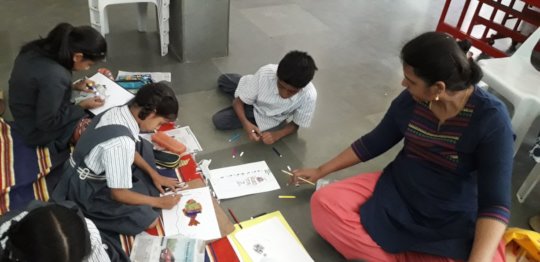 Sincere thanks to Global Giving for supporting APD's Shradhanjali Integrated School. One of the major purposes of SIS is to promote Inclusive Education and this model is much needed to sensitize the mainstream schools to accept the Inclusive Education system. Through your long term support, we have been able to achieve the desired results and provide education to children with disabilities.
In the academic year 2019-20 we have a total of 205 students in school. We are working towards improving the quality of education by enhancing the skills of our teachers and Innovative teaching practices, planning for digital teaching and for computer lab, incorporating alternative communication & teaching for children with CP, as per the measurable indicator 90% of the learning progress is achieved in last year. For Continuous and Comprehensive Evaluation (CCE) we follow methods like Formative assessment (FA) and Summative Assessment (SA) to assess the student's level of learning. Overall 163 children have been rehabilitated like speech therapy, sign language, physiotherapy, and occupational therapy. SIS is a resource center, shares knowledge and skills among model school teachers and the partner staff.
Art Therapy
Ms. Vinitha conducted Art Therapy for selected children.
Children are very creative and enjoyed drawing, coloring, and painting. The aim of this activity was to focus on developing concentration.
Wheelchair Tennis
Selection of children for Wheelchair Tennis.
Totally 19 students who are 8 to 15 years old were selected for testing. Out of which only 5 were chosen for Tennis coaching in the month of May 2019.
Planting
This activity enabled children to anticipate rains after Ugadi festival and expect the saplings to grow.
Students were thought about nature, festival, rain, seeds, and planting concepts.
alents Day
Recognized talents & rewards 2018-19. One of our Chief Guest gave Inspiring speech for children and shared his experience as a student of SIS
Encourage and nurture talent in students.
Students were inspired to pursue talents and good conduct.
Parent-Teacher Meeting grade nursery to 7th
Parents attended the review and report card meeting with class teachers.
Report cards were handed to parents and the progress of child was discussed.
Training on Emotional Skills and Methods of teachings.
All the SIS teachers attended the training.
It was focused on Emotional skills, Emotional feelings and methods of teaching activities. The activities were very creative and Innovative. Seven methods were used on the topic "Tree ". The 3V's were very necessary for teaching.
Visual 55%, Vocal 38 % and Verbal 7% with the percentage.
Training on communication skills and classroom management.
All the SIS teachers attended training.
It was focused on Communication skills and Classroom Management. Types of communication, forms, Do's, and barriers of communication and effective communication
Summer camp
One day summer camp was organized by Srushti Montessori house of children and Sahayog at Balabhavan, Cubbon Park, Bangalore. 12 children and 2 staff participated.
Children were very creative and actively learned pottery, clay modeling, photography, painting, singing, and dancing. It was a good opportunity to find an area of interest and gain different skills.
Training on Personality Development and Self Esteem.
All the SIS teachers attended training.
It was focused on Personality Development and Self Esteem. The activities are Roleplay on Emotional skills and performance by teachers and focused on self Esteem, positive steps to improve our self-esteem.
CRE Training
2 Staffs attended the training at MAP Education center
It was excellent training. Staffs were benefited from it.
School re-opening and Capacity building meeting for new admission parents
Teachers welcome students for students for the academic year 2019 -20. Conducted orientation for the new admitted children and their.
Created awareness of APD parents. Sense of belongingness was created in the mind of children, parents, and staff which motivates their enthusiastic arrival to school every day.
World Environment Day
Celebrated World environment day through quiz competition
Children came up with answers to the questions and teachers asked them to research further to know more about environment.
Drawing Competition
Drawing competition was held for all the students on behalf of Environment day the topics were all about saving the environment
Children were allowed to express their thoughts about saving the environment through art.
Bhoomi Habba (Earth festival)
30 children and 6 staff participated in the expo held at Vistaar.
It was exposure to the children and staff and they were able to develop contacts with the other participants and entrepreneurs were interested to share their skills with our children.
Advocacy Meeting
Created awareness on disability rights.
Awareness was created about DDRS and child-centric grants.
Visit to Nehru Planetarium
Visit to Nehru Planetarium for sky watching with 60 children and 5 teachers.
Children enjoyed learning about galaxies, universe and planets. Science teachers made the day an enjoyable one by explaining the main concepts in the technical park at the planetarium
Inspection from National Institute for Open Schooling Staff
From NIOS, two Inspectors visited our school.
The inspection was done. SIS will be the center for NIOS classes. This will be an added advantage for APD's service and will benefit all CwSN
Audition for singing class
Audition for singing class was held.
Music training will be resumed on every Saturday by our vocalist volunteer. Body movements and focus on rhythm enables each child to develop skills of concentration.
Full attendance reward.
7th standard students were rewarded for the full attendance of a class.
Students are encouraged to attend classes every day. Each class with a day's full attendance will be presented with a trophy.
Awareness program
5 teachers attended rainwater harvesting awareness program.
Teachers gained extra information about rainwater harvesting
Radio FM Program on Yoga and Art
20 children 2 staff were involved in the interaction. Ms. Usha Raj from Radio One 94.3 FM interacted with the students and staff about the uses of yoga and art for disabled.
The program was broadcasted in radio one 94.3 FM
Inauguration of Special class
Inaugurated the special classroom with students, parents, special teachers, and principal.
Selected student in academics and therapy is given by special educators regularly
International yoga day
Children and staff assembled in the small ground Our students spoke about yoga Ms. Sudha conducted a yoga session.
Awareness about yoga was created. Yoga session will be followed regularly for all children both CwSN's and able-bodied
Meeting with Vidhya on playable
Kavithamma, Sudhakar, Catherine Kavitha attended the meeting. New updates, syllabus were discussed and a demo was given.
Provided the basic knowledge to use the Playable for effective learning.
Orientation by Javeria Banu
Strategy, plans, budget, and priorities of APD on 60th year anniversary were discussed.
It was useful for our staff to know about the plans of APD to involve and inspire them to be part of it.
Baseline assessment
Baseline assessment Papers were prepared and assessment was taken.
Teachers are aware of the child's current stage. Assessment results will be entered in Goonjan as the academic year continues
Parents meeting
Awareness of APD and SIS was through video display and presentation. Teachers took a turn to explain about school activities. The briefing was done on Fees and travel.
Parents were made aware of the school and APD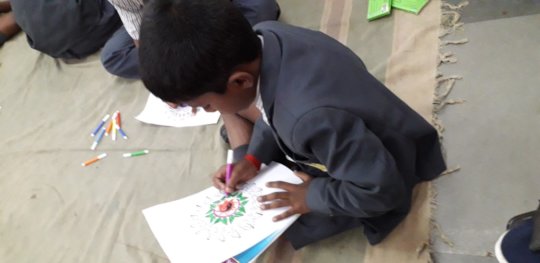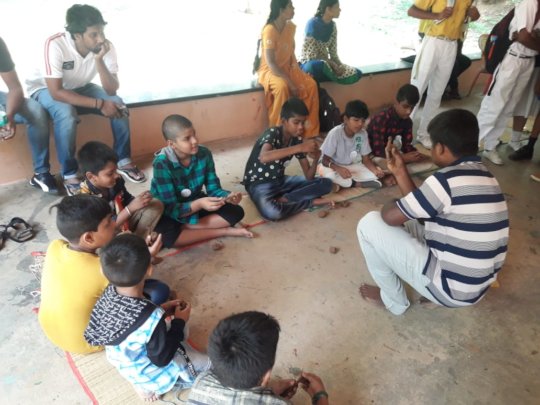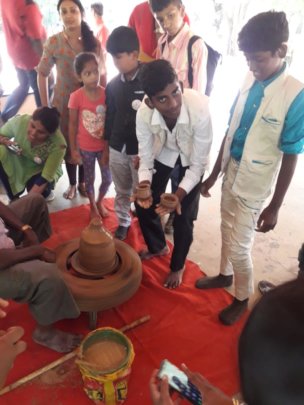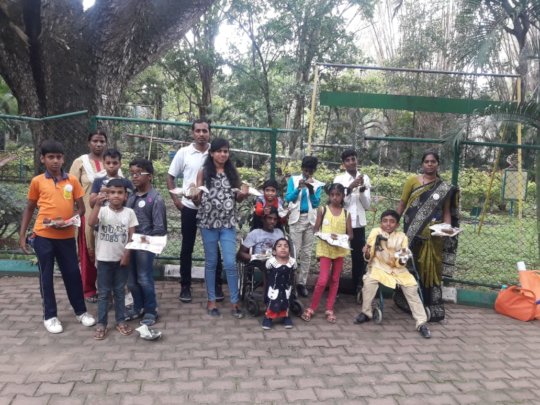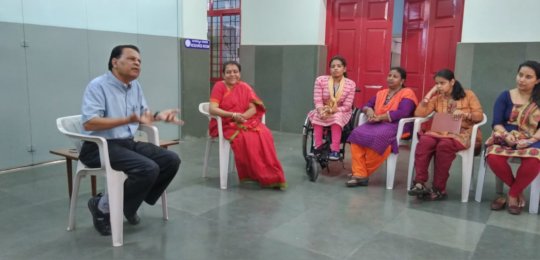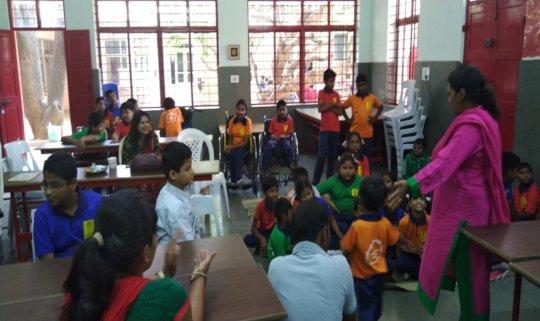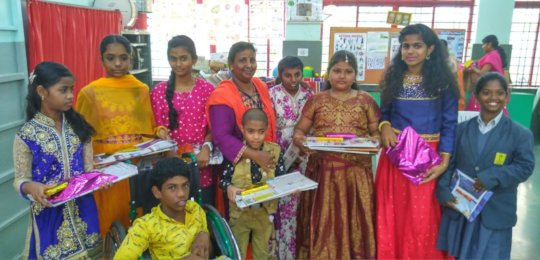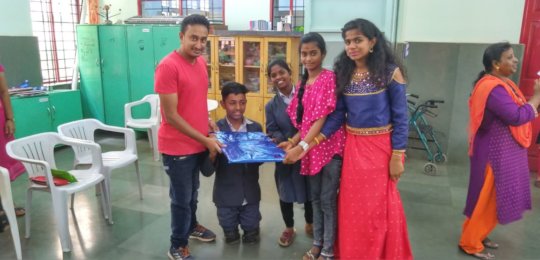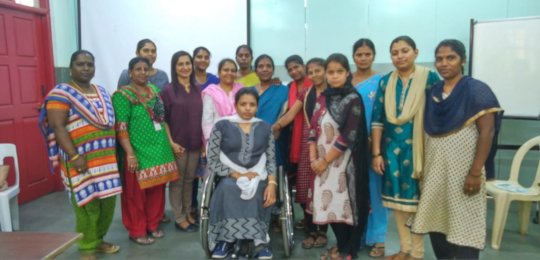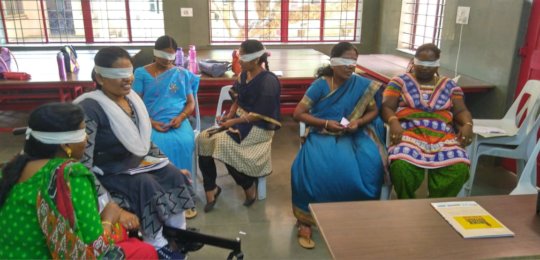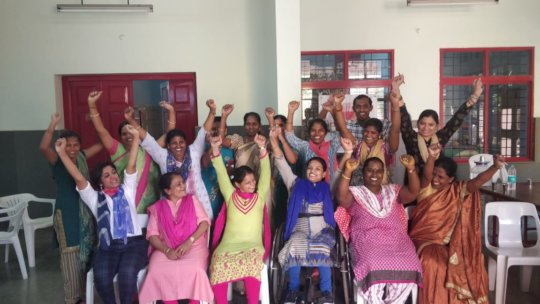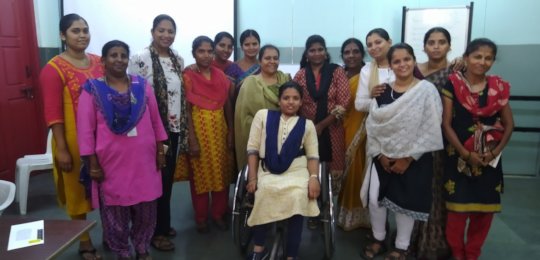 Attachments: