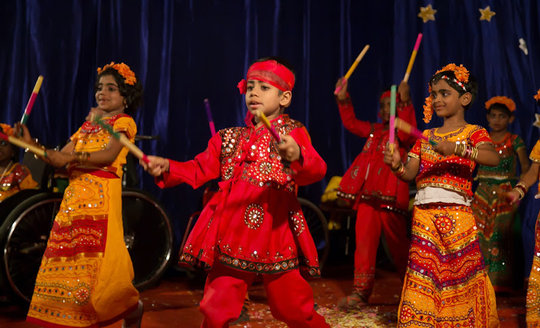 Dear Donors, Friends and Well-wishers of The Association of People with Disability (APD).
We are glad to submit to you the quarterly report of our Education Program for Children with Disability.
Thanks to GlobalGiving community for your generous support for educating the children with disability. The donation raised through GlobalGiving website helped us to provide mid-day meals, books, uniforms, healthcare, transportation, Hearing aids and special coaching supplement to children with disability. Their medical rehabilitation, an integral part of their development, is ensured through regular medical check ups, physiotherapy and use of mobility aids.
The Education Programme at APD aims at promoting inclusive education through focused institutional and district programs and networking with government agencies, NGOs, special and mainstream schools
The Shradhanjali Integrated School (SIS) of APD has 180 children on roll, for the Academic Year 2015-2016. These children are from under privileged segment .The school aims in helping these children join mainstream schools after giving the support required. This is a day school and we have two buses that pick up children every morning and drops them back home. The focus at SIS is on activity-oriented learning. The school offers a good resource center and library. Co – curricular activities like painting, quiz competitions, sports, cultural festivals, and arts and crafts ensure all round development.
Some of the major activities during the last three months are given below for your kind information.
Key Highlights for the month of March to May 2015
March 2015
The month started with Father's Day celebrations on 4th March with the children participating in various competitions. A special session was organized in conjunction with the Traffic Police Department to highlight and increase awareness about traffic safety rules and the importance of following the same.
On the 7th of March, 13 children from Standard VI had an exhilarating experience when they had an opportunity to participate in Parachute Gliding at R T Nagar in Bangalore. The Summative Assessment for children from Nursery to Standard VII began on 25th March.
April 2015
April started on a fun note with 49 children along with 10 staff and 7 parents going to GRS Amusement Park in nearby Mysore. It was a fun day for them and they had a memorable day out. On 7th April, a Farewell was organized for the 17 children of Standard VII who were passing out. This event was organized by the staff and the children from Standard VI. Prathiba Day was organized on 10th April where the outstanding students were honored after the results were announced, for the students from Nursery to Standard VII. This was also the last day before the handling Hearing Impaired children better.
On 22nd May, Dr. Sridhar a Counsellor, held a Child Psychology Training for 18 teachers. On 27th May, 23 teachers attended a Teaching Skills Training by Dr. Bhaskar followed by Classroom Management Training by Dr. Sridhar. This was followed on 28th May by a Training Session by the Principal, Mrs. Padma on Lesson Planning and developing IEPs.
school closed for summer vacation.
May 2015
On May 18th, the school re-opened for the teachers so they could undergo various training sessions and get prepared for the new academic year. On 21st and 23rd May, 17 teachers underwent a Language Development Training conducted by the Deputy Director Ms. Usha for
We need your help to spread the word! Please share this opportunity with your friends and contacts, especially those who are USA tax payers . Post a link to our project page on your Facebook page asking your friends to donate . For further details please feel free to write to me shanigar@apd-india.org or call me on *Mob: +91- 9972450655*
Our sincere thanks to all of our Donors for their kind donations and love. We shall submit to you more news in the next report.