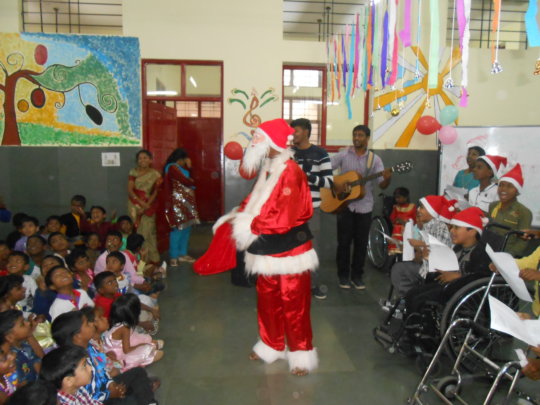 Dear Donors, Friends and Well-wishers of The Association of People with Disability (APD).

We are glad to submit to you the quarterly report of our Education Program for Children with Disability.

Thanks to GlobalGiving community for your generous support for educating the children with disability. The donation raised through GlobalGiving website helped us to provide mid-day meals, books, uniforms, healthcare, transportation, Hearing aids and special coaching supplement to children with disability. Their medical rehabilitation, an integral part of their development, is ensured through regular medical check ups, physiotherapy and use of mobility aids.

The Education Programme at APD aims at promoting inclusive education through focused institutional and district programs and networking with government agencies, NGOs, special and mainstream schools

The Shradhanjali Integrated School (SIS) of APD has 203 children on roll, for the Academic Year 2015-2016. These children are from under privileged segment .The school aims in helping these children join mainstream schools after giving the support required. This is a day school and we have two buses that pick up children every morning and drops them back home. The focus at SIS is on activity-oriented learning. The school offers a good resource center and library. Co – curricular activities like painting, quiz competitions, sports, cultural festivals, and arts and crafts ensure all round development.

Some of the major activities during the last three months are given below for your kind information.

Key Highlights for the month of Decmber 2015 , January 2016 & February 2016.
December 2015


December was a very busy month at SIS. It started with various awareness programmes being organized on 1st December, World AIDS Day. These sessions were also conducted on 3rd March when the children celebrated Mother's Day by having several special cultural performances for their mothers. An Art camp was held on 9th and 10th March where 60 students participated and were trained in clay modeling and painting.
A story telling competition was organized for children from Standard I to Standard VII on 11th March to help the children improve their communication skills.
Students from Standard I to Standard IV, had fun on 14th and 16th March when they were taken for an outing to Lumbini Gardens and the Aquarium. 6 teachers accompanied about 70 students for this exciting activity. On 15th March, 35 students along with 9 staff visited Omashrama for social work. The children donated clothes, blanket, and toiletries to the inmates of the Ashram.
On 21st December Evening, the children celebrated Christmas at SIS with various cultural programmes. A cozy bon fire at night added to the festive spirit.
A two day Teachers training programme was held on 22nd and 23rd December at Anandashrama on the current education scenario. To round of the month, on 28th and 29th December, a training was conducted for the parents in Bijapur for the parents of hearing impaired children to create awareness about the use of sign language and hearing aids.
January 2016


The New Year started with a Dental Check-up for about 180 children by doctors from Dr. Ambedkar Dental College. "Sankrati" or the Harvest festival was celebrated on 14th January by preparing a special dish called "Pongal" made of rice and lentils which is traditionally prepared during this festival and serving it to the children.
On 19th January a special session was organized on Community Therapy Aid and this was attended by 17 Parents. 20th was a special day for the children as the Annual Day was celebrated with much fanfare and 195 children participated in this Event which had a theme of "Colours"
February 2016


On 19th February Sports Day was held at the school with various events and prizes were distributed to the winners at the end of the programme. On 22nd and 23rd February, a special session was organized on Community Therapy Aid and this was attended by 17 Parents. The father's of the children from Nursery to Standard VII participated in various events and sports activities to celebrate Father's Day on 23rd February. Prizes were given to the winners. On 25th February, a Science Exhibition was held on the theme " Improvised Teaching Aids" to celebrate Science Day.

We need your help to spread the word! Please share this opportunity with your friends and contacts, especially those who are USA tax payers . Post a link to our project page on your Facebook page asking your friends to donate . For further details please feel free to write to me shanigar@apd-india.org or call me on *Mob: +91- 9972450655*

Our sincere thanks to all of our Donors for their kind donations and love. We shall submit to you more news in the next report.