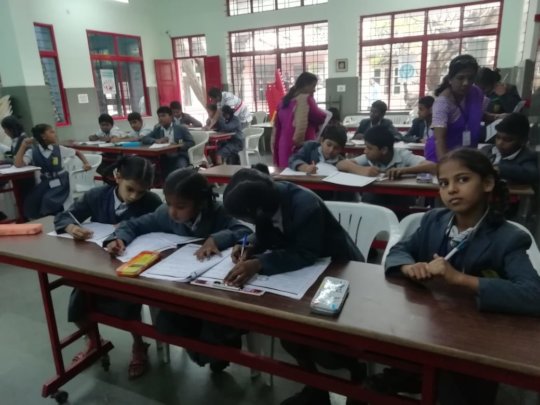 Founder's day
Founder's day was held at Balbhavan to commemorate the birth of an organization and its founder Ms. N. S. Hema.
Annual Sports meet
The sports meet was held in Charles's ground, Approximately 200 students with their parents participated in the customized and fun-filled track and also field events and drills. Prize distribution was held in APD Big ground. The sportive spirit was encouraged. Students realized the value of co-operation and team spirit.
Teacher's training
Counselor Gifty trained teachers on soft skills, self and classroom management and emotional intelligence.
Lion's club drawing competition
Lion's club drawing competition was held in SIS Dining hall under the theme "PEACE". 35 students participated. Children were engaged to develop creativity and open-ended thinking.
Parents capacity building by PT, OT and SLT
110 parents attended the training held in SIS dining hall. The therapists addressed the parents.
CRE Training
Two teachers attended training in Davagere about Writing disorder. Types of Dysgraphia, fine motor skill and gross motor skill. How to improve in handwriting, spellings and reading. Diagnosis and assessment of writing disorder.
CP Training.
Ms. Amala conducted the training on Cerebral Palsy for teachers. Definition of CP and its types. It was based on daily living. Therapy and mobility aids. She spoke about the communication techniques with CP Children which is Observe, Wait and Listen.
Dance competition
All the houses red, blue, green and orange performed well. The theme was based on kannada Rajyothsava. The Orange house won first place, red house second place and blue house third place. Patriotism, house spirit, co-operation, teamwork, competitiveness was built through this activity.
Makkala Samvada Karyagara
Two teachers along with five children attended the workshop conducted by Mobility India in association with KCRO and other organizations Ms. Lilavathi and Dr. Rohini Katoch Sepath, IPS were chief guests. Chief guests inspired the participants and in the next session, participants were briefed about parliament and the selection program. The workshop session was held after lunch, children were grouped and asked to prepare for presenting their problems and they were called to present group-wise. It was a good opportunity for our children to learn about parliament and also they learned to co-operate and compete outside the school.
Maths Putani exam
Students actively took part in the Putani exam from class I to VII. 55 students participated.
Math problems were solved by students the paper was thought-provoking and enabled the student to take up challenges in answering the paper.
Gardening in SIS garden
Nursery and preparatory children were allowed to sow seedlings like sunflower, marigold and enjoyed the activity. Children learned about seedlings and came to know how difficult to grow plants, Enhanced fine motor development and Introduced kids to scientific concepts.
Unnati Talent Exam.
Students took part in the talent exam from class III to VII. Totally 25 students participated. Conducted at SIS. Problem-solving, Increasing vocabulary, Identified and assisted individuals from disadvantaged backgrounds who have the potential to succeed in higher education. Career exploration and aptitude assessment are also enabling through this exam.
Chinthana Talent Exam.
Students took part in the talent exam from class IV to VII, Totally 25 students participated.
A timed, paper-and-pencil-based, reading, writing, and assessment that established a baseline measure of career readiness.
HAL Visit
Visited HAL Museum, 51 children, 5teachers, 2support staffs, along with the 4 parents went to HAL. 51 students and 5 staff visited the HAL Museum and observed the Jet, Helicopters and parts used in the Airplanes' and photos from the year it started. The main outcome expected from this visit is to improve performance and relationships back at school. School trips also made a major contribution to the acquisition of knowledge and development of skills.
Children's Day Celebration in SIS
Whole children from SIS gathered in the small ground. Teachers performed by various activities like Skit, Dance & Song. Children enjoyed very well and at last, they also joined the dance & we brought the entire wheelchair to the stage & we made them too to dance.
Visit JBN Garden Fair.
Garden Fair to JBN, plants, seeds and manures. 40 students visited the Garden Fair. Students enjoyed watching plants and flowers. Vegetables and medicinal plants were many, students identify few plants. Gardening created to respect and protection towards the environmental.
Kannada Rajyostava
All students gathered in the small ground to celebrate Rajyostava. Kannada Rajyotsava was celebrated on 20th November in our school. The dance performance was given by Hearing Impaired children.
Preparation of Pani Poori
Children accompanied teachers and enjoyed the activity of making The yummy dish call Pani Poori.
To give the handbills to aware about the garden fair in JBN
2 teachers and 6 volunteers went to give handbills in the defense area and HAL II stage. It was a new experience to give the handbills.to create awareness
Rotary club Bangalore
Students gathered in the small ground for the activity from classes Nursery to VII. Volunteers organized activities like prayer, storytelling and mask making. Students had great fun.
Model Exam
Model Exam for class VII. To prepare them for the final exam. The question paper was printed in a format suitable for every student. Students wrote the exams with volunteer help. To face the board exam without fear and to do with confidence was the main focus of these exams.
Visit HAL Museum
52 children, 3 teachers, 3 support staffs and two drivers went to HAL.
Children enjoyed the day; they were watching curiously all the models and they watched a short movie there related to HAL.
IDPD Sports Day
Conducted in the Kanteerava stadium. Various NGO's took part. 40 students took part actively in running race, slow walk, wheelchair race, shot put and march fast. 11 students won in the events. Developed Self-Esteem. Leadership Skills. Teamwork. Stronger Relationships developed in this event.
IDPD Day Cultural (Dance) Event
On the 28th of November 2019, a Cultural (Dance) event was conducted at Balbavan. 10 Hearing Impaired students participated in this event from class 1st, 4th,5th, 7th standard. 10 of Hearing Impaired children gave a performance. They were Better Communicators. During rehearsals learned to respect. Each other and Time Management.
IDPD Day Drawing Event
On the 29th of November 2019, a Drawing event was conducted at Balbavan. 25 students participated in this event from class 1st to 7th standard. Transport was arranged by SIS.
Foil paper activity by Zainab team
Mrs.Zainab (volunteer), and made the children color in the foil paper and pasted them. Help manipulate art materials and develop they are fine motor skills.
Capacity building for parents of CP children
Parents of all Cerebral Palsy children were given training on handling their children with special needs. 15 parents were given training and they interacted with their counterparts. Related question and doubts on handling their ward were answered by the resource person.
Tata Class Edge Training
Ms. Mrigya from Tata edge conducted the training for teachers in class VI 9 teachers attended the training. The practical session allowed teachers to practice and learn new updates on the usage of the smart board and Tata classes.
Volunteers from Northern trust
Volunteers from northern trust conducted greeting card-making activity for Class I, Quiz and debate competition for V, VI, VII Students. Students of class I actively participated to create beautiful cards with the help of volunteers and teachers. This, in turn, helped to enhance their creative ability and confidence. Volunteers also conducted the quiz and debate competition. Students were enabled to discover and develop skills like confidence, curiosity, critical thinking, communication and creativity.
Exposure visit to Visveshwaraiah Museum
30 children from class I with two teachers and one support staff and few parents visited the museum. It was a knowledge gaining visit for All students, teachers and parents. Children observed various working mechanisms of machines. The most interesting and enjoyable part of the museum was the sensory music.
Sign Language Training for Parents and Hearing Impaired children
SIS Nursery and preparatory class students participated in fancy dress competition. Students were happy to show up in their favorite roles. Helped to find their inner passion. And the understanding of the children about the different works like police, doctor etc.
National Conference On Inclusive Education
APD, Brotherhood and NIEPMD collaborated National Conference On Inclusive Education at Untied Theological College, Benson Town. 3 teachers attended the program. Helped us to update with current happenings related to inclusive education. Workshops on assessment and curriculum, the importance of early intervention, School Environment and personal safety was helpful to add to the knowledge pool of teachers.
Celebration of World differently-abled day in Preeti Nivas Trust.
30 children from class I to Class V, 2 teachers and few parents participated in the celebration of the differently abled day arranged by Preeti Nivas trust. The program started with prayer and was followed by various cultural programs from different trusts and NGO's. SIS children performed a dance. Students had an opportunity to exhibit their talent and were helpful for developing a community network.
Nakshatra specials-Bhumi's Annual talent festival for specially-abled.
Various competitions like Painting, Dance, Song, Mehandi, Rangoli were organized for the Disabled Children's/Adults. 25 students participated in this program from class 1st to 7th Breakfast and Lunch and Transport also was provided.3 teacher and 2 support staff accompanied the children. Students had an opportunity to exhibit their talent. Skills such as group interaction. Participation. Facing challenges during the events was strengthened.
Exposure visit to Cubbon Park
Nursery children were taken to Cubbon park. Children were delighted with the freedom to play. Joy rides Made them fee wanted. The greenery and the ambiance enabled children to relax.
Mysore Trip
15 students of class VII 9 teachers, 2 support staff and 6 parents went to Mysore for a one day trip. Visited Sri Chamarajendra Zoological Garden, Mysore Palace, and Church. It was a final year trip for class VII helped students to socialize with teachers outside the school environment. To expose them to a new culture of locals and to give the experience to connect education with the real world. The zoological park was much of learning and understanding the need to conserve natural resources.
State Level cultural activity competition for Deaf Children's/Aduby Karnataka State Federation of Deaf (R) Banglore State Level cultural activity competition for Deaf Children's/Adult by Karnataka state federation of the deaf (R) Banglore was held at Rangoli metro art center. Painting competition and cultural activities like dance and mime were organized on the occasion of International Day of Persons with Disabilities on 15th December 2019 (Sunday) from 9:00 Am to 5:00 PM. 15 students participated in this program from class 1st to 7th standard accompanied by 2 teachers
Exposure Visit to dairy day Ice Cream Factory
50 Students, 5 teachers, 2 supportive staff and2 parents visited the Dairy Day Ice Cream Factory at the Harohalli Industrial Area, Kanakapura. Students were exposed to factory environments & helped them to learn outside the classroom with exposure to real-world connections. Students were amused to see the organized way of operations at the factory. Careers for PWD in these areas were thought-provoking.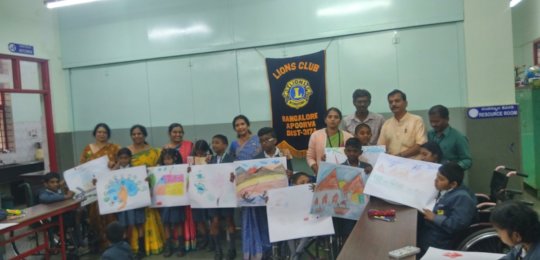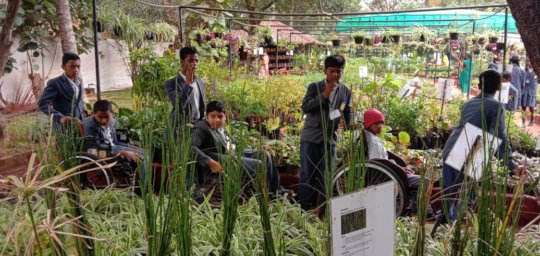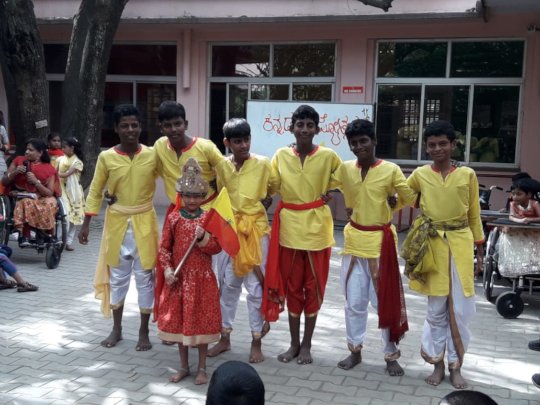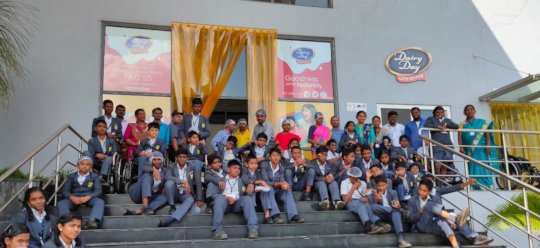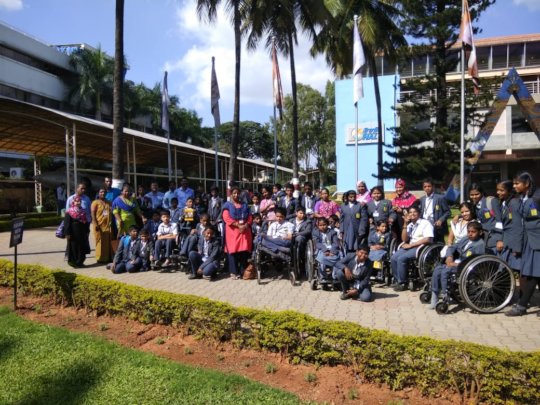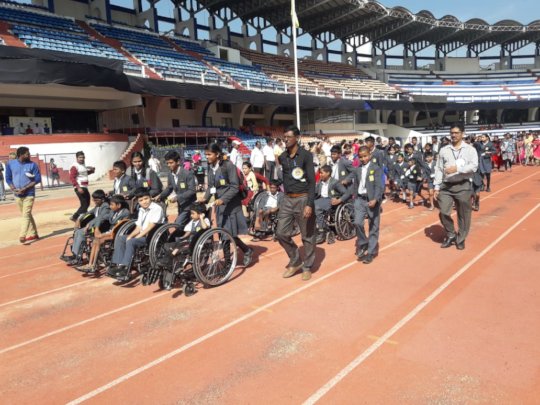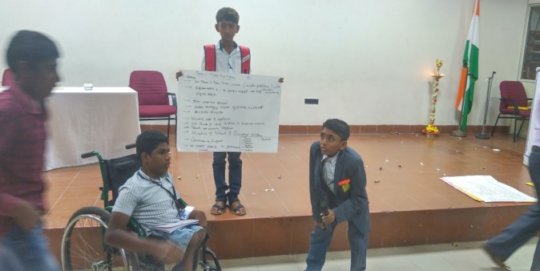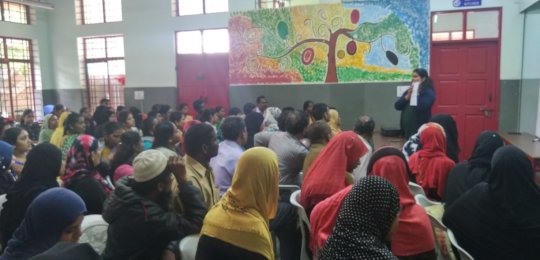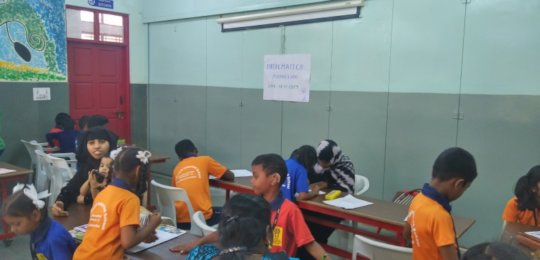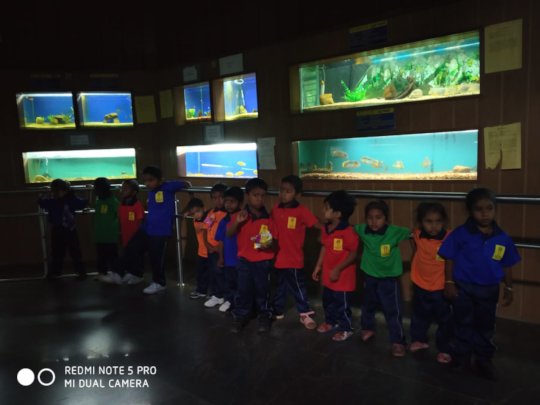 Attachments: