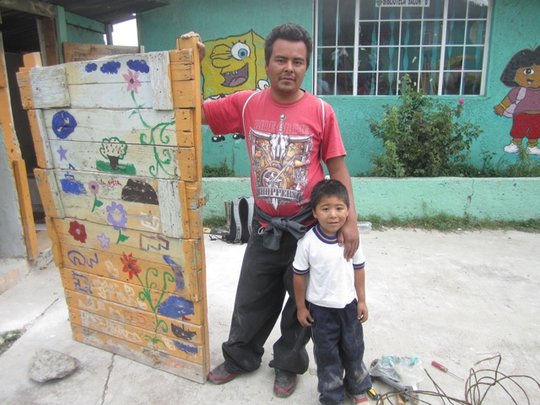 Agua Pura Director Tom Carter recently returned from a service trip to Mexico where he taught classes in water testing for community members and also advised and helped repair composting latrines. Because of a sudden family emergency at home he and his wife had to return early, leaving undone part of his program. Current plans are to return in the fall and complete the work, and perhaps to offer other programs as well. Here's his progress report:
Our program started in early July near Mexico City working with a local non-profit to improve sanitation and help provide clean drinking water to families working and living on a garbage dump. In the past, well intentioned service groups have tried to help by building composting latrines. The problem has been that some of the latrines were not well constructed nor were they easy to use or maintain. Some quickly fell into disrepair and were abandoned. Few latrines had any way for families to wash after using them and disease was easily spread.
Because of past expertise and experience, Agua Pura was asked to help advise and assist with rehabilitating the latrines and encouraging families to use them. The principal of urine diverting composting latrines is that when properly used and maintained the fecal material dries out and becomes safe to handle. We opened up some of the old latrines to show that the material inside was dried out and took samples to test for bacteria and other disease organisms. We showed families how to maintain their composting latrines and encouraged them to use them. We also helped to repair the local schools latrine so that the students could use it again and provided a hand washing station for them. Agua Pura will return often to the community to continue our work.
After completing that project we then traveled to Palenque in southern Mexico to continue a program we started last fall. There, working with the Mexican non-profit Amextra we gave a series of workshops on accurate, scientific methods of water testing for bacterial contamination. Many local communities have no access to safe water and have to rely on local water sources that are often polluted. When they test their drinking water and find it contaminated we then help them find simple inexpensive ways to make it safe, such as pasteurization using simple solar reflectors and water pasteurization indicators.
Your generous support of Agua Pura has made our work possible. All of our supplies and teaching materials were provided by your donations. Agua Pura volunteers pay all their own expenses so that 100% of your funds goes to our programs. We are deeply grateful for your help.
With your help Agua Pura has provided hundreds of Water Pasteurization Indicators (WAPI's) to families. WAPI's are a simple device that shows when water has been heated enough to make it safe to drink. A new project of ours has been to develop an information card with drawings showing how the WAPI's work without words, for families that don't read English or Spanish. Because of your support you can have a WAPI for your own use. They are good for camping or emergencies when you don't have access to clean water. Send us your name and address to tom@aguapuraparaelpueblo.org and we'll send you one.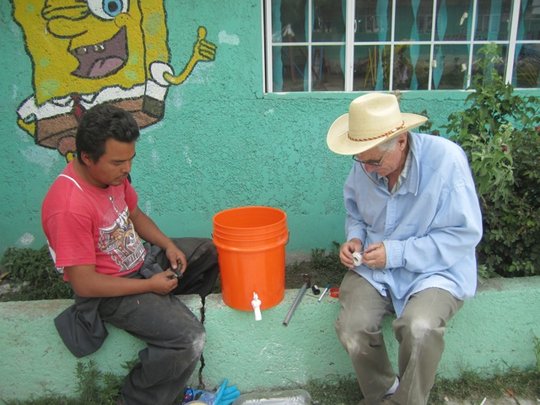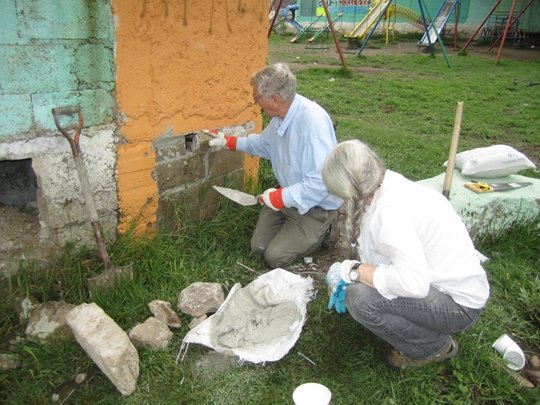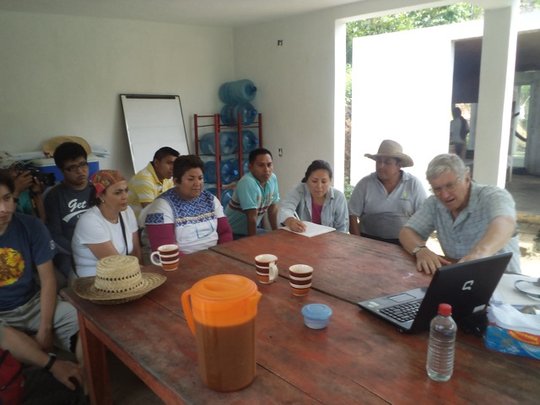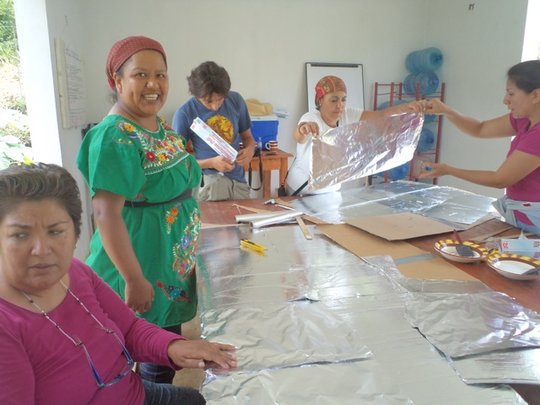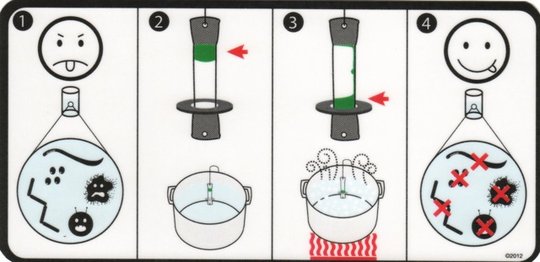 Links:
Dear Friends and Supporters-
Thanks to your generous support Agua Pura has had a busy spring. One of our goals is to train volunteers and others in modern methods of water testing and water purification so that they can include these procedures in their own programs. Teaching others about the methods and supporting their work greatly increases our impact and helps spread the information to more people.
Recently we received a request from a local community college to help train a group of 20 students going to Nicaragua on a service trip. They would be working in rural communities helping with health and sanitation programs and wanted to know about clean water. On a Saturday before they left we gave them an intensive workshop on how to make simple solar stoves and "rocket stoves". These stoves are safer to use than open fires and can easily pasteurize water making it safe to drink. Families can also use them to cook healthy meals.
We also trained them in use of water pasteurization indicators (WAPI's). They are small reusable tubes with a special wax inside that melts at a temperature when water is safe to drink. It is not necessary to boil water, only to pasteurize it to make it safe. Using a WAPI can help keep families safe from disease. The students took a number of WAPI's with them to distribute. We're including a table that shows the some of the different pathogens that are killed by pasteurizing water.

WAPI's are also great to have as an emergency backup and for camping trips. If your drinking water is suspect you can heat it until the WAPI shows it's safe to drink. As thanks for being a supporter of Agua Pura, we will send you one at no charge for your use. Send us an email with your address and we'll mail you one.
Thanks,
Tom

Links:
Attachments:
Dear Friends-
What a wild December! With your help we more than exceeded our fund raising goal to join GlobalGiving's group of partner non profits. The final figures aren't in yet but we received enough to fully fund our planned projects for this year, and your donations continue to come in. Thank you again!
Now comes the exciting part, what can we do with our new resources? Right now we are negotiating with several partner organizations in Latin America to sponsor water testing and water purification programs in their communities, Some are our tried and true friends and some are new potential partners. We want to go back to previous projects to check the effectiveness of our work but we also want to expand to meet our new goals.
We'll let you know as our plans for the year develop, but I have a question. Do you want to come along? In the past we have presented these programs just with our staff, but now we feel it would be interesting to invite our sponsors to join us and see for yourselves the good work your money is doing. You can see examples of some of our previous trips and photos on our website Agua Pura Para El Pueblo Please let me know if you are interested.
Sincerely,
Tom Carter
p.s. I'm including a photo of a school hand washing program we did last year in Tultitlan, Mexico. It was amazing to see the students stare at their clean hands, in some cases the first time they had ever washed them!
Links:
WARNING: Javascript is currently disabled or is not available in your browser. GlobalGiving makes extensive use of Javascript and will not function properly with Javascript disabled.
Please enable Javascript
and refresh this page.