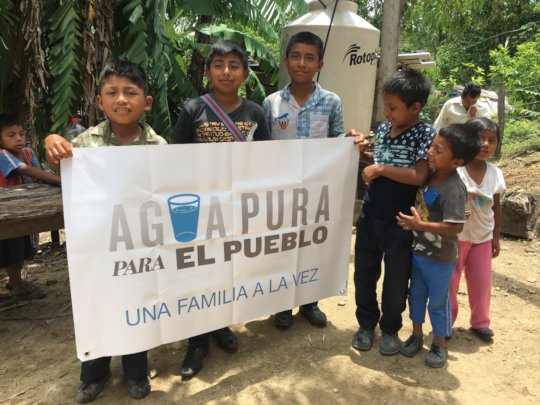 Community "Articulo 27" is small, new village in the mountains of Southern Mexico. About 30 families live on what was once a cattle ranch. They try to do some farming but the soil is poor. Often the men have to go elsewhere to find work leaving the families behind. Unfortunately, their water supply is badly contaminated due to years of neglect and cattle trampling the springs, and the children are often sick.
In July, Agua Pura was asked to come to Articulo 27 to help them to have safe drinking water. When we got there the first thing we did was to test the water for bacterial contamination. Our assays are very accurate but simple to use and we teach the community members how to do the testing themselves.
In the photo there are two circular plates that have a special growth media that detects E. coli and other bacteria in water. E. coli bacteria are always an indicator of contamination, where E. coli is present other disease causing organisms may also be there. In the circle on the left are red and blue spots and white gas bubbles. The red spots are normal bacteria found in the air and water. The many blue spots are colonies of E. coli bacteria, showing that their drinking water was highly contaminated and dangerous.
After we tested the water and saw the contamination we had a meeting with the community in their church and showed them the results. We also gave a presentation about how bacteria cause disease and how they can be eliminated. There are many ways that water can be made safe to drink, including boiling, filtering and the use of disinfectants like chlorine. A method we advocate is Pasteurization, heating the water high enough to kill the bacteria but not boiling. A Water Pasteurization Indicator (WAPI) is a small reusable thermometer that shows when the water is pasteurized and safe to drink.
In the photo, the right hand circle shows the same contaminated water after pasteurization using a WAPI as an indicator. It is completely clear, showing that all the bacteria have been killed. The families could see that pasteurization made their water safe to drink. All the families received a WAPI and training in how to use it. Since they saw the contamination themselves they agreed that they had to always pasteurize their water before drinking it.
Once water is purified it has to be protected against recontamination by storing it in a safe, clean container like the one in the picture. We showed how these safe storage containers can be easily made or purchased.
Finally, simple hand washing after using the latrine or before handling food can also help stop disease. We showed easy ways that people can have a place to wash their hands near their latrine or in their cooking areas.
What we did in the community of Articulo 27 was similar to our programs in many communities throughout Latin America. We work directly with the families to offer them simple solutions to protect their health. What we do is inexpensive but life saving, and it is the continued support of donors like you that make it possible for us to continue. THANK YOU SO VERY MUCH!
Please, if you want more information or we can help you in some way, please contact me directly.
Tom Carter