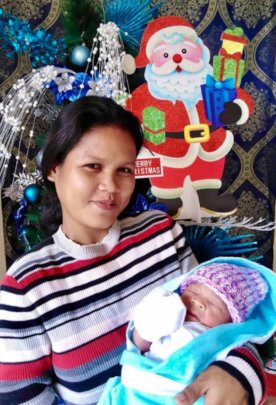 Aliz is worried; she feels her labor starting, but she does not know how she will pay for any assistance with the birth. Her husband is far away, looking for work. Her two-year-old son sleeps beside her. Its almost Christmas, but there will be no presents this year - the birth will take all the money she has and more. As morning dawns, she can no longer deny that she is indeed in labor - the baby will be born today.
Then her neighbor stops by and notices the contractions that come every 5 minutes. "Have you heard of Mercy?" she asks. "You could go there, they will accept you, even without money".
Aliz shakes her head. She has not heard of this option. What is mercy, she wonders to herself?
"Come with me", says the neighbor, and picking up the sleepy toddler, she leads the way out to the road, where they soon flag down a jeepney. It is only a short ride, and then they are there... the birthing facility Mercy In Action built, where all pregnant women are welcomed and accepted into care with no charge.
Aliz is now in serious labor, contractions coming close together. Her neighbor promises to watch her child, while two friendly midwives greet Aliz and take her down the hall to the labor room. She is given privacy, dignity, and informed consent for every possible option, and soon she surrenders fully to the force of the contractions, feeling safe and secure in this bright, clean, and warm birthing home. Before another hour is passed, Aliz is holding a new tiny daughter, who cries with protest as Aliz cries with relief.
Later, when Aliz is nursing her baby in the postpartum recovery ward, her neighbor brings her son in to meet his sister. She smiles and Analiz smiles back. All worry has vanished from Alaliz's face. I told you they were kind and competent, and you will not be in debt when you leave here", declares the neighbor, for she had birthed her own baby here only last year.
As Analiz gets ready to check out the next day, 24 hours after giving birth, she stops by the Christmas tree in the lobby and gets her picture taken with her beautiful daughter. She leans down and whispers "I will name you Mercy, for mercy was shown to me this day...truly the Lord is good, at Christmastime and always..."
We hope you have enjoyed this short Christmas story. We ask you to keep us in your thoughts and prayers as we continue to offer excellent maternity care at no charge to the patient and her family here in our Mercy In Action Philippines birthing homes and clinics!
And please, won't you take a moment to click on the URL link and watch our short Chrismas and Year-End video...these pictures are worth a thousand words!
Blessings for a Merry Christmas season and Happy New Year!
Vicki, for the Mercy In Action team
Links: