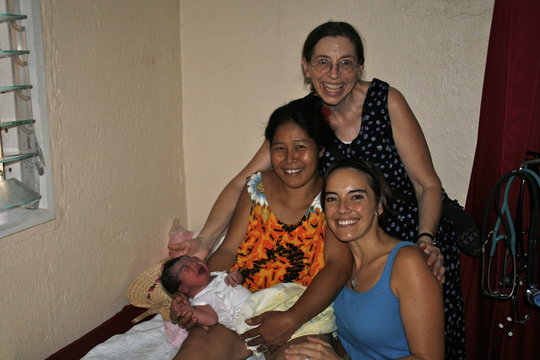 We got a text message a few days ago at 5:30 am from Marcel in the nearby resettlement camp for Aeta tribal people who were displaced 20 years ago following a volcano that destroyed their homeland. They are known by the world community as Internally Displaced Persons, and Marcel is the tribal Chief's wife. The family has 6 children, this is number 7. Since these refugees are truly among the poorest of the poor, she has not even the few pesos for public transportation, so our midwife Theresa picks her up and drives her to the birth center, where everything is free, including supplies and a newborn layette. We would have delivered her at home but like many countries in the developing world, our country passed ordinances to ban home birth a few years ago, in an attempt to lower the high neonatal and maternal death rate. Fortunately, the local Department of Health recognizes our birthing home as a facility, so they allow us to midwife babies in homebirth style in our own converted home. The baby is a healthy little girl. The Chief tells us he knows many babies and mothers who have died in childbirth; he is wildly happy with the birth. (Names have been changed to protect the women's privacy)
Because of your help, we have been able to offer hundreds of free prenatal check ups to pregnant women in the Subic Bay area of the Philippines. Our birth center delivers around 20 babies each month, and gives each woman individualized woman-centered care.
Thank you for your support of Mercy In Action on GlobalGiving.

Links: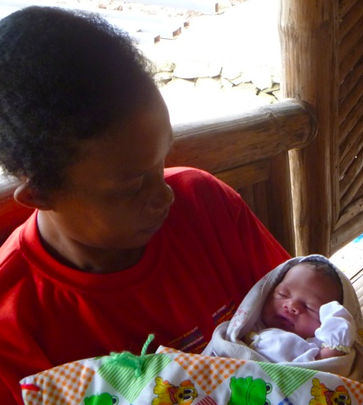 A woman arrives at our door in labor. She lives on the local garbage dump, making a meager living as a scavenger along with her husband and older children. She is overjoyed to know that she will not be turned away for lack of the Skilled Birth Attendant user fee or Birth Center facility fee...for she has arrived at Mercy In Action's Mercy Midwives Birthing Home in Olongapo, where care is provided at no charge to the patients. She will be warmly welcomed into the clean, cheerful birthing suite, where she will labor, deliver, and recover in the same bed. Best of all, she does not need to worry that her baby will be taken away from her, or that she will be treated roughly, because this birth center not only has a well stocked pharmacy and supply closet, but they are a Mother-Friendly and Baby-Friendly designated facility as well.
Approximately 15-20 women birth in our birth center each month, and each receives access to anti-hemoragic drugs if needed. Hemorrhage is the leading cause of death in the world. An average of 120 women come each month for prenatal exams, and each receives a monthly supply of prenatal vitamins. Each woman attending prenatal care also is given access to free screening for HIV and Hep B, and any mother positive is given the necessary treatment so that she never has to worry about passing these viruses on to her baby. Each woman who delivers in our centers also receives at least 2 home visits in the first week after birth, and 3 more postpartum visits before 6 weeks.
Thank you for your support of Mercy In Action on GlobalGiving!
Links:
WARNING: Javascript is currently disabled or is not available in your browser. GlobalGiving makes extensive use of Javascript and will not function properly with Javascript disabled.
Please enable Javascript
and refresh this page.