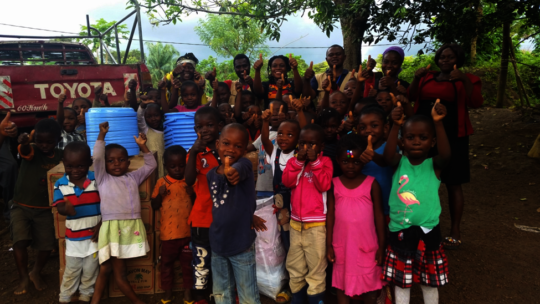 Four staff from Reach Out NGO visited the Mah Di's orphanage on Friday October 11, 2019. The aim of this visit was to donate basic household items and pay the school fees of some children. The following items were donated:
30 cartons of soap each contain 48 tablets of Savon
30 mosquito nets
10 baby's Poo pot
10 drinking rubber cups
25 20 L buckets.
When we arrived at the orphanage, most of the children were in class studying. The Founder and some of the smaller children and the class on break welcomed us by singing songs and some recited short poems for us. We were given the opportunity to visit the children in class and get to talk to them briefly on our mission to the orphanage and the usage of the items brought. ''We feel delighted to receive you today and we are very grateful for these items you have brought'' said Joy, a 10-year old pupil. The project of the school is expanding with 65 children from the neighborhood enrolling to study there. "Thanks to the enrollment of other children from outside, the orphanage is able to meet its objective to carter for the less priviledged'' said Mah Diana, the Founder. We then preceded to hand the items to the Founder and some of the younger children who were on a short break.
We were made to understand that the orphanage is now referred to as "Mah Di's Center for Children in Distress". Despite the successful running of the school, the orphanage is in need of support to adequately pay the staff monthly and funds to increase the number of staff from one teacher to two teachers per class. They also still need a lot of support to cater for the children in the community as the orphanage now assists a blind lady by name Bih and some vulnerable persons.
We were taken to the project sites and the number of pigs have reduced from 35 to 25 due to an epidemic but the founder said they are hopeful to sell the remaining pigs in December to make up for the lost encountered.
500 birds were bought in the poultry farm and within a short period, they were sold and more birds and feeds were bought. So far, the poultry farm is expanding and Charles, the oldest orphan, has taken complete charge over the farm ensuring that all goes well. The orphanage is one of the biggest suppliers of chicks in the neighbourhood.
Unfortunately, the orphanage had seven cows but some died before it could be sold, just about 4 were sold. According to the founder, they experienced some losses.
The bigger children are in charge of cultivating the vegetable farm which they sell when the market price is high and consume internally when the price is low.
These income generating activities still remain one of their biggest sources of livelihood. Particularly because given that with the on-going civil war visitors who use to donate gifts have reduced their visits. The founder was so happy and extended her gratitude to REO and its partners, and prays God to continue to bless the entire team for the endless support to see that the children are happy. She said thanks to the items donated, she will divert the money she could have used to buy the items to buy other necessities for the children