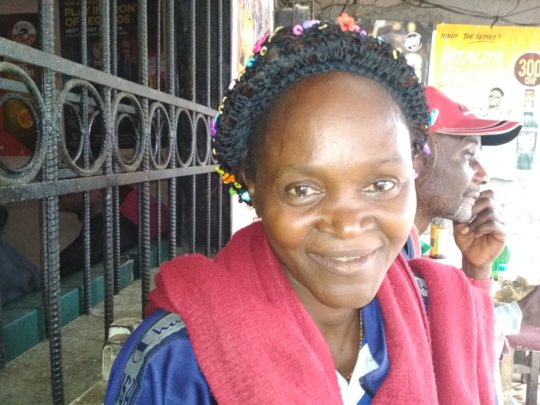 Dear donors,
With 246,000 displaced persons in the South-West Region and about 100,000 in the North-West, we are doing our best to help as many people as we can. Thank you for giving us the strength to continue.
Those of you who supported our first project already know we gave cash transfers to 22 families. We have so far raised 566 dollars, and we are waiting to raise a bit more before we go for the second batch of families.
Although the conflict has made the people supported to displace themselves again to safer locations, we are still in touch with many of them. One of them is Akwaji.
Akwaji was actually one of the two natives of Tole whom we supported. The reason we chose her was that she is taking care of 9 displaced children and adolescents. "They are my brother's children, he died some years back. The mother sent them from Ekona when the war got bad there. We speak every week, she prefers the children to be with me for now. She is in the forest." A month ago, Akwaji too had to move with the children to a nearby village. "It got dangerous in Tole. I'm now in Likoko."
With all the difficulties, your helped made an impact on her. She has doubled her weekly expenditure and is not experiencing hunger on a regular basis anymore. She used a substantial portion of the grant to invest in a small business (vegetable trading), improved on everybody's feeding and even got birth certificates for two of the children, who lost them in the course of running away. She is very grateful and was excited to share the improvement of her business and life in general. "Have you not seen how much weight I've gained?"
This is what we want to continue doing. Even in the midst of the horror around us, there are things that can make it a bit better, or make it less bad. Akwaji's nephews will feel the difference right to adulthood. Like Akwaji's, we have many families waiting to receive support. We have shared some of their stories social media and will continue to do so. This is part of our effort to make this conflict more visible. (You can check out here, here or here. Please, do share!)
These last two months, we also took part in the following activities:
Helped more than 1,800 families (+16,000 people) living in hidden camps in the forests of Mbonge with Hygiene and Sanitation Kits (Water treatment product, buckets, cups, soap…) and mosquito nets.

Helped more than 220 pregnant women living in these same communities with Birthing Kits to give birth in the best conditions. (Thanks to Birthing Kits Australia)
Helped 290 displaced families in the urban areas of Fako and Meme with household items. (200 of them with support from the International Rescue Committee)
So as you can see, we are not idle. International organizations are supporting us to carry out some emergency relief projects. But this project is the most important one. While all the other ones provide in-kind help, it is cash that is most needed. To pay rents, transport their families, take care of their health and start businesses. Nobody is tackling those problems and you can't solve those problems "in-kind" in an efficient manner.
It is only with your support and the support of others like you, that we can give those families a real chance to start their lives again. So please, share this project, talk about this war, and consider donating again.
P.D: All depicted persons or their guardians gave consent to use their image in our communications.
Links: