Dear donors,
Between March and April 2018 we added 33 new girls into the program. This report will talk about the first follow-up. That is the first visits we do 1 week after having disbursed the first grants (54$) to the girls' business sites and households. This report threatens to be very long, so I'll split into 2 or 3 parts, but by the time we are done you will know much more about the girls we have helped thanks to you, and about how we do it.
PART 1.
30th of March, 8.45, 2 staff of REO arrive Tole after a motorbike ride through the tea plantation.
It's Friday, and it's market in Tole, so we start there. We have a list of girls that just received support and we want to check if they have started their businesses. We don't really expect all of them to be active by now, it's been only one week, but we want to take note of who is already in business and who is not, and also put a bit of pressure on those who are not.
Tole market starts as early as 4.00 o'clock because traders come to buy cheap fruits and vegetables and sell in Douala. By 10 it's closed, but we are still on time to see it booming.
The first participant to see us is Esther, who is selling clothes with Lizette, also close to Akenji. Esther has been with us since 2013. "I hear you people are now doing savings too? That might be your best idea so far" (She confirmed her opinion by saving 17$ with us the week after).
We don't ask for their business records, because participants have a particular day of the month when they are expected to meet us all at once and show the records. This was a very simple innovation that one of our new staff, Sylvie, brought and it has helped us save a lot of time and keep much better track of everybody's situation. The reason we are asking business records of the new ones is that it's very common to make mistakes on the first attempts, and we want to correct them early.
We ask them some of the names on the list to see if they can help us locate them in the market. Before they can answer somebody calls our attention.
It's Violet, one of the new girls. She's just behind them selling t-shirts. She has recorded, perfectly, three days of sales in different markets. No correction is made and we just ask some questions about the business. Actually, she was not supposed to be selling clothes but was planning to buy and sell garri (a by-product of cassava). "I looked at it again and the capital was not enough for that yet, considering the transport costs I will not make any profit". She is doing well with the clothes and within her first month she will go on to make 71 dollars. Which is already bigger than the business grant we gave her.
Next, we see Urslar. Urslar had stopped business for the last two months after giving birth. She asked for a loan with us in February, and she used it to re-start business with a capital push. You can see her in the project video receiving the loan. We just remind her of her payment time and confirm that her little spot in the market is looking bigger than ever.
We then see Patience and Melvis, new participants, selling one in front of the other. Both of them are a bit older than our normal participant. (31 and 34). This year we had agreed to increase the age of eligibility after a lot of feedback from the community asking us for it.
Patience is selling palm oil. She has not used all the money of the grant to start her business, but only half of it. That is very normal. She will be adding more money if she has established that there is a solid market and she can make profits with it. Even though she had first used only half of the capital, she will still go on to make 61 dollars, more than what we gave her, after her first month.
Melvis has brought her book to the market and I'm impressed. She is semi-literate and struggled a lot during training, but she finally got it. It's simple, but what she has works fine. There is something else, though. One day after receiving our grant she got involved in a problem with another trader. She sells vegetables and was supplied with a harvest of unlawful origin without knowing. When it was discovered she had to give it back and pay a fine to the local authority. The money lost was, roughly, the value of our business grant. She is doing business now on loan. She gets the product in the morning and pays back for it in the evening. We feel for her, but she is an experienced businesswoman and she will be fine. At least our grant helped her avoid a worse situation. "Just keep doing what you are doing, if we see a business running for 3 months, you will qualify for the next grant just like the rest." With all her problems, Melvis made 75$ on her first month with us anyway.
That's it for the market, those were the easy ones. We look at our list again. We need to start going to their houses and business places within Tole. We draw a map and try to walk in some kind of a circle. We start with the most far away people, those of "Tole Weeding". Tole is a community around a tea plantation that has grown a lot in the last years, as more and more people come attracted by the very cheap housing and the proximity to the urban centers.
We visit Solange and Enanga, our youngest participants, but can't see either for different reasons (Enanga has gone to collect a small stipend the father of her child sends her, Solange is working by the road). Then we call Modestine. Modestine lives with her husband and does not have a phone, we call the husband who is around and directs us to her house after a long walk. We sit with the couple and their 3 children and look at her records. She also struggles a lot with writing so we try to make it easier for her. Another change of business. She has decided to do bobolo (a by-product of cassava) and groundnut paste (peanut butter, but hot). That is alright, but she does not seem to have spent much of the business grant for it, as that is a business that can be done with very little resources (less than one-third of the grant).
Later, both of us (Reach Out staff) will agree it's possible she has given the money to the husband (willfully or not). During the meeting, without being confrontational, we just emphasize that we need to see all the money being spent in a business and that this will make her qualify for a bigger grant after 3 months. It's important to make the husband also understand this, so he gets behind the process. We take note of the possible conflict and will be carefully monitoring her. Whatever the case, we are very happy to have helped Modestine, she might be one of the most vulnerable women we have helped so far (in our database, she was the first among 129), and she is incredibly grateful for the opportunity. (Far from being fine now, but by the end of April she had doubled her small business capital, now she's using roughly half of the grant. Also, her business records were OK).
On the 30th of March we saw a total of 14 of the new girls, so far we have only talked about 4! We will update you next month with the rest of the girls, and like today, we will complement also with updates on their present situation.
Thank you very much for helping them and for believing in us!
P.D: Until the 13th of May, if you sign up for a recurring donation GlobalGiving gives us a one-time 100% bonus on it! (If you sign up to give 25 dollars every month, they will add another 25 dollars for the first donation, after you have been giving for 4 months).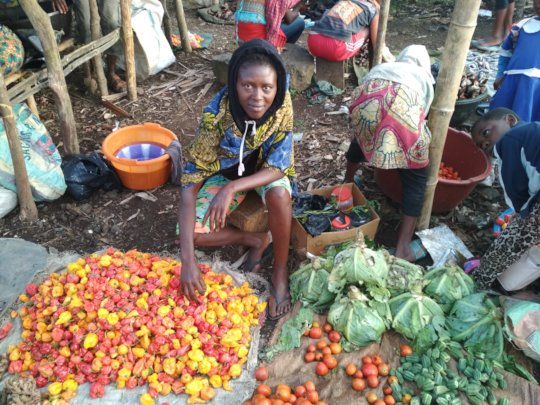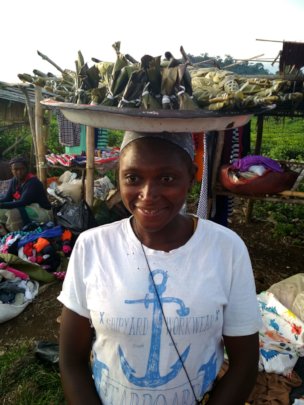 Links: