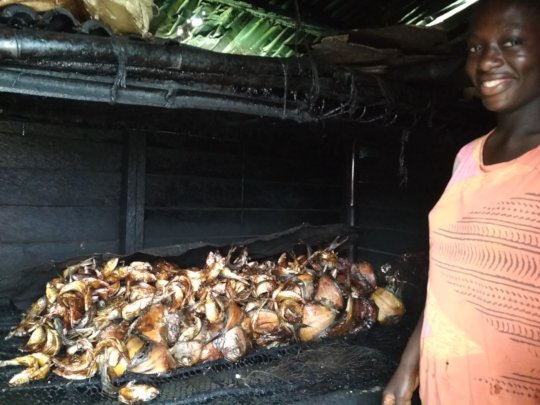 Dear donors, thank you for being with us. This report is a continuation of the one published last month on a follow-up visit carried out on the 30th of March. Since that day, we have done about 8 of such visits, plus our monthly general catch-up in our field office. I will continue showing you the details of this trip, with some updated data on participants.
From Tole Weeding, where we had met Modestine, we started coming back to the centre of Tole.
We arrived "church street" where we saw Alice and Salome. Alice was one of the youngest girls of this batch, so we were impressed when she had quickly set up a functional business. We met her smoking fish to dry and sell. She explained to us she has a client that purchases her whole batch, so she does not spend time in the market. She has kept stable and made 44 dollars every month after that without any interruption. She was also quick to explain on that day that "not all the fish you see here is mine, only the one down" and we appreciate the honesty. Smoked fish is a very common ingredient in many Cameroonian dishes.
Almost immediately after she received her business grant, Salome fell sick. So at the time of our visit she had not really done anything, we just talked with her and made sure she was OK and had not had to use the money to pay hospital bills. After another week she set up her ground-nut (peanut) business. She buys in bulk and sells in different markets. She put together her savings with your grant and made a purchase of 96$, but she has not yet realized much profit (about 10$ a month). This could still be a bookkeeping error or indicate that she is not really involved in the business and occupies much of her time with other things, such as her new-born baby. We keep working with her to find out what's the problem.
We moved to the entrance of the village now, to finish our visit with Mbo quarters. There, we met with Lizette, Ako and Chantal. Lizette is doing trading of cocoyams (or Taro) and palm oil. She was very fast, and even though we gave business grants in the 3rd week of March, she closed the month with 47$. Which she maintained in April and later on doubled this May. We met her on the spot while she was moving the cocoyams to the main road, where a customer was waiting.
Ako, at the time of the visit, was still setting up her business. "I'm still arranging my table and getting some advice, I'm new in the village". Some weeks later, she started selling eru (a local vegetable similar to spinach) in the market. "Now I'm just doing this, but when my child grows a bit I will be selling soup around, food is where the money is. I can't carry him all over the place, he is too heavy". She made 28 dollars in April, and 50 in May.
Chantal has set up a little bar, and she was there selling when we met her. Bars are not our preferred choice of business, but we think it's important to orientate and guide, not to impose. She showed us her business records and she had a common problem that we fixed on the spot. It took a few more visits, but her business records are fine now. She made 39$ in April and 183$ in May, which is great for such a young businesswoman.
We closed our visit going to Jin's restaurant. Because it was the mid-afternoon, she was not yet there, she cooks in the morning, the brother sells in the afternoon and then she takes the evening shift. We got a chance to taste her soup, which was great. Jin is the best performing participant of this batch and she made 304 dollars in April and 244 in May.
We have two bad news for the end. The last person we met on that day, before going to Jin's restaurant, was Solange. Solange had not been completely truthful to us and hid the fact that she was working for somebody else. She thought, rightly, that would make her look less vulnerable, and therefore less likely to receive help. We can understand that a young single mother all by herself might be tempted to hide such facts, and when we discovered it, we were not angry. We just explained to her that if she wanted to keep working with us she should not hide information from us, and gave her a warning that hiding more things would mean her removal from the program.
Achuma, another of the girls, was seen but had no business to show yet, and I'm saddened to say that we don't have any confirmation, two months after, that she is doing any business.
We know there are going to be failures, but the returns are worth the risk we take. It gets paid back, several times. Take all the girls together, the 18 we helped in March, and sum all their recorded profits for the month of April, both the ones that have something to show and the ones that have not. It's 894$. What was your investment in them? 900$ and a short training. This May they have just made 1163$, so you can see how the effect of your donation multiplies every month.
We have a commitment with you to not edulcorate the truth. Our girls are amazing enough without exaggerating or hiding the few that some are not doing well. Of the 18 girls trained in March, we have omitted 5 in these 2 reports. They were: One similar case of fraud and four who are having well-functioning, active businesses. 1 doing very well, above average, 3 doing ok, within the average.
Thank you very much, always remember that you are changing lives in Cameroon!
As a reference: All girls were given business grants of 50$ in late March. The Cameroonian poverty line is at 24$ a month and the official minimum salary at 65$.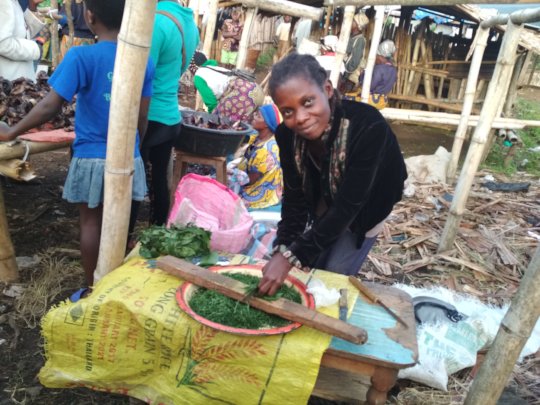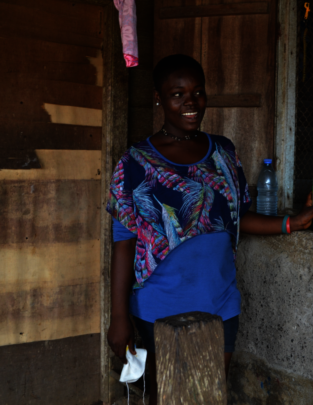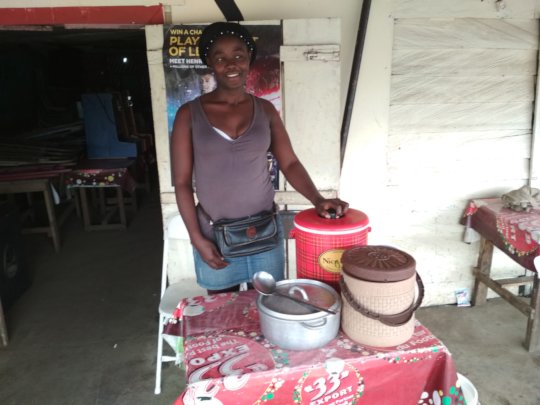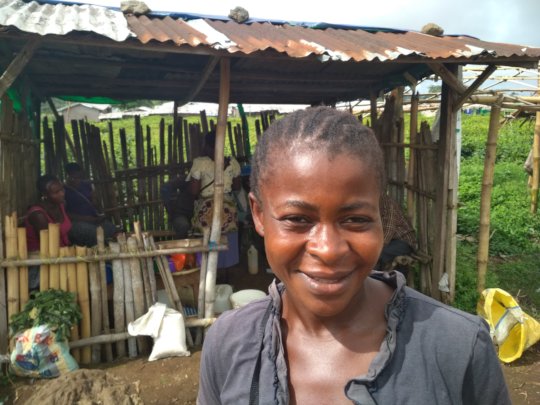 Links: