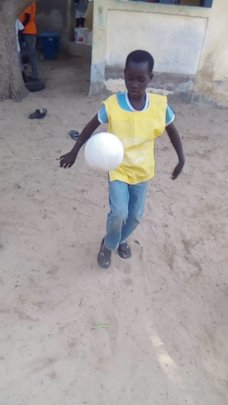 This month, Vieux our supervisor (for his love of football) had a really nice initiative by organizing a Juggling competition.
Since kids are passionate soccer fans and know above all, football stars such as Lionel Messi, Sadio Mané, Ronaldo, Mbapé, Vieux and Cheikh, found that would be very funny to organize that tournament.
That was a real moment for children to express joy and solidarity between themselves.
We know that Education is much more important, but there are some talented kids who will need to be identified and express their abilities. For our part, we will have to encourage developing that talent.
Before starting the competition, Vieux met Khali Diaw the coach of Medina Marmiyale (local football club in Darou). Vieux's idea was very welcomed by him and every Saturday and Sunday, he came to train kids to try with balls.
In Africa, football is one of the most popular sports, for example, in all the neighborhoods, young people used to gather together, close to houses, in any kind of space which can serve as a yard, in order to play soccer. And during the World Cup, everyone is busy, watching TV or listening to the radio if they don't have TV;
After three weeks 3 weeks of training, we chose 12 young very talented and we bought jerseys and candies in order to offer them to winners and supporters altogether.
Six groups of 2 had to start the competition. Each participant had 30 seconds to show the best of him and the winner of each little group was qualified to the next step.
Then we had three groups of two. The competition was very tight at that stage but we finally had our three finalists. One of them was automatically eliminated by the public but nevertheless he benefited of a soccer jersey (Which was really cool : )
And then we came to our two heroes Adama and Bachir.
Vieux did a very special introduction of our two winners before the results. Supporters were shouting and clapping their hands saying like: Allez! Go! LOOOOOL
Well the tournament was over, Adama won the competition and as there were remaining two beautiful jerseys, he chose another one as a gift for his little brother.
The losers were encouraged and they enjoyed their candies.
The coach Khali congratulated all the team members for that initiative and children for their efforts;
Also he found several kids with real potential to develop in the future.
It was a great moment.