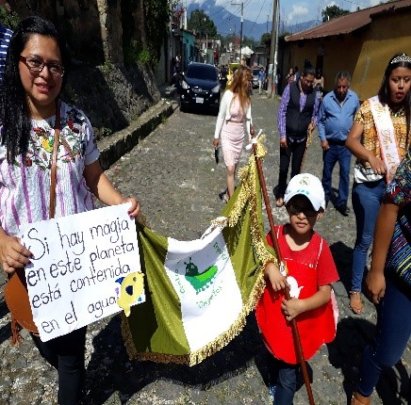 "Freedom is something that is earned and obtained, not given away"
Guatemala is a very cultural country and full of traditions, that is why we want to tell you all about the activities that our teachers carried out, regarding the Independence Day. This year 198 years of independence were completed, which indicates that we are close to reaching 100.
September is known as the patriotic month, since most of the activities carried out during this month have to do with the date of independence. We also take the opportunity to teach you more about the culture of the country, the symbols that represent the country, history and civics.
Most of our teachers perform a parade or civic walk, on a theme of conscience or that has to do with independence, in their community. In the images you will notice what I am talking about here.
Children learn more about the variety of ethnicities and people we inhabit in this country, also about the symbols that represent the country; as they are: the Ceiba, the Monja Blanca, the Escudo, the Quetzal, the Marimba, the Flag and Tecún Umán; a brave man who fought against Don Pedro de Alvarado, for his people and thus achieve independence.
We had to use a lot of imagination and creativity to carry out the activities for this month, for example: some of our teachers made crafts on symbols, worksheets and other posters in small groups to have a better learning.
Fathers and Mothers also participated and supported their children in these activities, without a doubt their help was also key to get the children to develop better. The children of the community of Cerritos in Patzicía-Chimaltenango, had a lot of fun and will be able to notice in the images how the mothers supported our teacher and how creative she was with her children ...
Guatemala is a multicultural and multicultural country, which has beautiful landscapes; That is why we invite everyone to visit this beautiful country, so they can enjoy biodiversity. And of course you can appreciate all this, when visiting our children and teachers in each of their communities, please do so, and you will notice the need and support we need to continue teaching and training good children; so they have a better future ...
Well this has been all for this time, in our next report we will write to you as we close the school year.
See you soon.