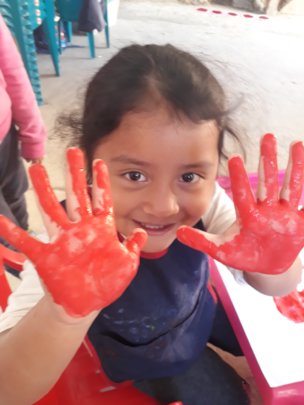 "The True sign of Intelligence is not knowledge, but imagination" (Albert Einstein)
Hello everyone, how are you? I hope it's ok.
In this report I want to tell you a little about how we started our school activities in our different "Lets Be Ready" centers.
I have noticed that most of our teachers are putting into practice all the ideas and suggestions that we showed them in the training for the month of January; because they are very fun ideas. The children have loved it very much, as their facial expressions demonstrate it; as you can see in the images below.
We are working on fine motor skills, performing eye-hand exercises, using the clay to mold, the tweezers with the thumb and index finger, tearing paper, painting with the fingers and making strokes of the letters that make up its name. We also work with primary and secondary colors, making crafts with different types of recycled material.
In physical education we make games to work with balance, laterality and coordination; skills that are not yet fully mastered. Children love this class, as we try to make physical activities always fun and entertaining.
"I want to tell you something very particular that happens at the school of" Los Izotes "in San Juan Sacatepéquez. Our teacher Lidia, who works there, tells in her report that a mother named Astrid, who has her son Elvin in the program; After preparing the Atol, he goes to the Library corner to bring books to read. Take time to analyze them well and understand the stories. When he finishes, before going home he borrows some books to read there, this indicates that he wants to excel and foster a good desire for reading in his son ".
On the other hand, we have already started with the size and weight that is done every year in our different schools to start the "Chispuditos" program with the nutritious drink, which has done so much for our children in Guatemala. Parents are very happy to have this program one more year; That is why we thank all our sponsors, who make it possible with their donations, that our children can consume this atol. Thank you so much…
Everyone in the program is very happy to have started this school year with great success; but as you know there are always challenges or difficult situations that we face. This year was not the exception, because we know that worldwide we are going through an unexpected situation, since due to the COVID-19 disease; We have suspended classes in our country for a week. The government is doing everything possible so that this disease does not spread too much. That is why we are following all the precautionary measures that have been given to us. We hope soon to resume our activities with the children so that we can share with you what we do. Thank God we are all doing well, both our children and their families, our teachers and supervisors.
We hope in God to get out of this situation soon, that is why we want to tell you that if we all collaborate and follow the instructions or precautionary measures, "together" we will succeed and fight against this virus that has affected the world so much. Please stay home if there is no need to go out and take good care of yourself.
I am writing to you soon ...