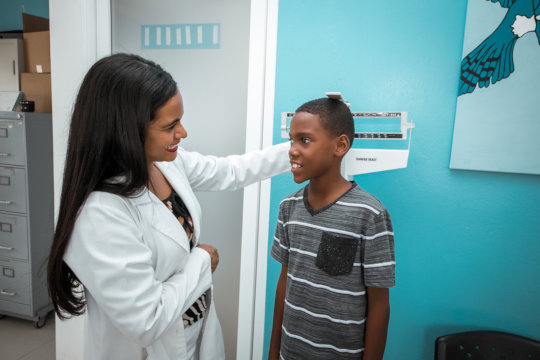 Dear Donor, please receive a warm greeting. Thank you for your contribution, we are thrilled to have your support. Through your donation we have been able to serve quality health care services to thousands of children living in the underserved communities of the Punta Cana region. You truly make the difference for us, and we are extremely grateful!
In the last November representatives of Akron Children's Hospital (an ally entity our Foundation) visited our pediatric center and had a productive work schedule along with the staff of Fundacion Grupo Puntacana and the personnel of the center. One of the meetings was leaded by Mrs. Haydée Rainieri (Vice President of Fundación Grupo Puntacana) and Mrs. Grace Wakulchikm (President of Akron Children's Hospital).
The main objective of their visit was to weigh up the achievements and the new opportunities for collaboration through our inter-institutional alliance (training and internship programs, others) in order to continue contributing to the well-being of children residing in the most disadvantaged communities
Nowadays the clinic continues offering health prevention programs, outpatient consultations, dental care, vaccination, emergency, laboratory, nutrition program, pharmacy services, x ray services, training program.
As time goes by, the number of child patients (0-15 year old) belonging to families with limited economic resources increases, meeting the growing demand while maintaining the quality of the medical service is a challenge.
Relevant monthly statistics: More than 1,000 children vaccinated , more than 1, 800 children served in emergency unit, more than 2,000 children served in the out patients consultations
There are still many needs to meet; we hope that you will continue to partner with us in our commitment to make it:
Missing medical equipment and furniture ( diagnostic sets consisting of

ophthalmoscope y otoscope,

pediatric

sphygmomanometers, a

mong others)
Periodic staff training programs
Periodic supply of medical supplies and medications (This

is essential taking into account the increase in demand)
Please see the three pictures attached.
We will keep you informed about the progress of the project. If you have any comment, advice or question, please feel free to direct them to us and we will answer as best we can.
Thank you very much again for your outstanding support
All the best,