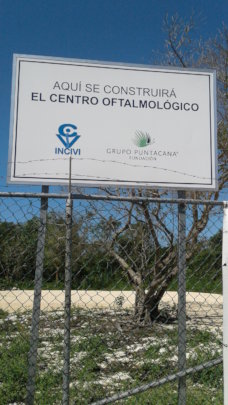 Dear donor; may you receive our warmest greeting.
Your support means the world to us, it will help us to offer quality ophthalmologic care to thousands of people in need in the Dominican Republic, specially those living at the eastern region of the country.
We are confident that this project will continue receiving the aid from people like you, committed to the achievement of a more equitable and supportive world.
This and all the reports to follow will update you periodically on our progress.
We are in the first stage of our project, specifically we are involved in the following:
Clearing the lot where the center will be constructed. Please see the picture attached.
Obtaining the planning and building permits from the local authorities
Raising funds
Fortunately the starting of the construction of the center is closer than ever
In the upcoming months, we plan to keep you updated. If you have any comments, advice or questions please do not hesitate to contact to us and we will try to answer them as best we can.
Thank you very much again for your support
Best wishes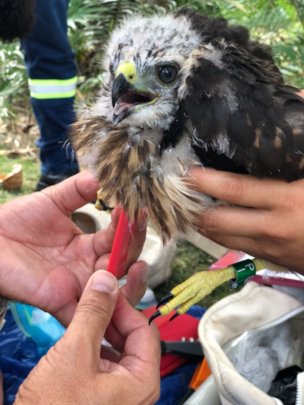 It has been an incredible year for the Ridgway's Hawk Project. It seems like we say that a lot in these reports, but it is true, things just keep getting better and better. Every year we seem to set new records for the number of pairs, number of nesting pairs and number of nestlings fledged. This goes for both Puntacana and Los Haitises National Park.
As we mentioned in the last report we decided not to release any new Ridgway's Hawks into the Puntacana area this season. This decision was made due to how successful the project has been and the fact that the area surrounding the current release site is saturated with Ridgway's Hawks, including several nesting pairs. In fact, currently we have a pair nesting and incubating eggs on top of the hackbox at our old release site!
To date we have monitored 18 pairs of Ridgway's Hawks in Puntacana and 16 of these pairs have attempted nesting. We have observed 17 nestlings in nests and so far we have banded 13 nestlings. Three pairs of hawks are still incubating and several pairs may still nest or attempt their second nest after their first nest attempt failed. It seems like we may see about twenty nestlings fledge from the Puntacana population this year and all from wild nests! In total the project is monitoring over 150 pairs of Ridgway's Hawks this year. We also recently received a very weak Ridgway's Hawk (Red 6/9, female released in PC in 2017) in Puntacana and we were able to successfully rehabilitate this individual and release her. So all in all, we are very optimistic about the future of the Ridgway's Hawk population in the island!
Ridgway's Hawk Day is coming up soon on May 25th. Make sure and stay tuned for the next report which will contain details on all the fun and exciting educational activities that take place this year. Our long-term goal is that one day Ridgway's Hawk Day will be a special and celebrated day throughout all of the Dominican Republic!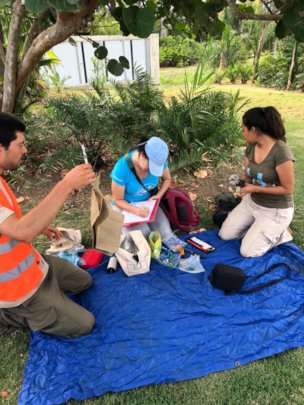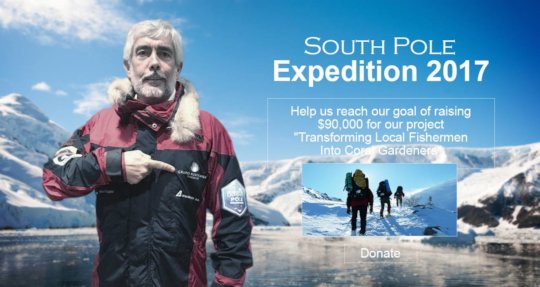 Over the last couple of months, we have spread the word all over our community and beyond to support this project with amazing response so far. Inspired by this project, many have showed interest in becoming volunteers of the Coral Restoration Program and have started the training process as well.
Last December, an expedition to the South Pole led by Mr. Arata, who is part of Puntacana Resort & Club's community, successfully supported and help promoting the project, resulting on very appreciated donations.
The Foundation staff has held meetings with 5 local fishermen to review with them the up and coming alternative income generation alternatives.
These same 5 fishermen have all expresses interest in forming part of Transforming Local Fishermen into Coral Gardeners project.
With the funds provided through Global Giving, the foundation plans to create one job opportunity for a boat captain and 3 coral gardeners. The goal is to create a 4 person coral gardening team whose mission is to out plant nursery reared, genetically diverse coral fragments obtained from the Grupo Puntacana Foundation's coral nursery.
We estimate that this group of fishermen and volunteers, will be able to transplant at least 1,000 linear meters of coral tissue back onto local reefs over the course of 12 months.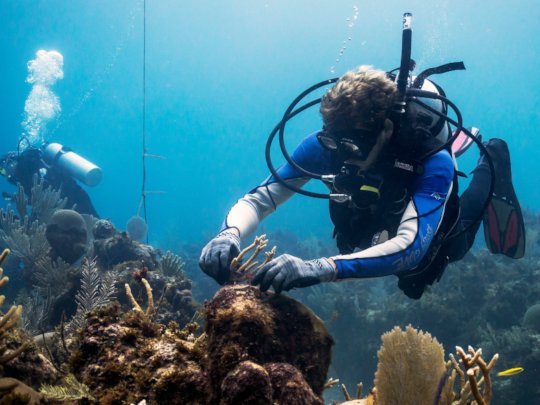 WARNING: Javascript is currently disabled or is not available in your browser. GlobalGiving makes extensive use of Javascript and will not function properly with Javascript disabled.
Please enable Javascript
and refresh this page.