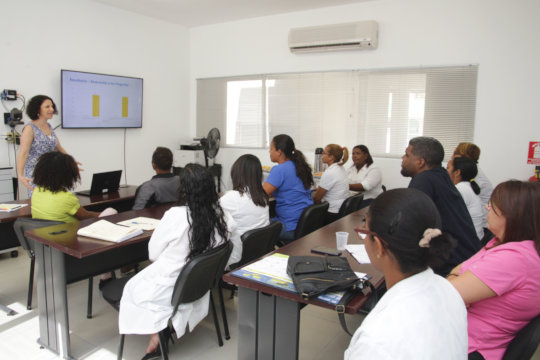 Dear Donor, may you receive a warm greeting. Thank you very much for your donation, it is so rewarding to know that the work we are doing, with your help, is resulting in the improvement of the living conditions of thousands of children in need through the access to quality and timely health services
This is mainly you have helped us achieve !, your contribution is really impacting thousands of low income families living in the deprived communities of the Punta Cana tourist destination.
Nowadays the clinic continues offering health prevention programs, outpatient consultations, dental care, vaccination, emergency, laboratory, pharmacy services, x ray services, training program.
The staff of the pediatric center is committed to serve the children in the community and meet the needs of each family, going above and beyond to make sure that they are getting the help that they need.
In this regard, taking as a framework the inter-institutional agreement with the entity Clínica de Familia the COPE project was developed, in the months of January and February of 2019.. This project, through a process of participatory and collaborative accompaniment with the staff of the center, using the COPE methodology (Oriented Client, Efficient Provider) and to which practical management tools are incorporated; Its main objective is to improve the functioning and quality of health services offered to users and greater efficiency in the use of resources. Main tools: Staff self-evaluation (focused on the rights of users and health providers), user flow analysis, user satisfaction surveys and review of files. A Quality Committee was created in the center to provide periodic and constant follow-up to the action plan developed. As a result of our alliance with the aforementioned entity an expert pediatrician came from the USA as a volunteer to give a workshop to the medical staff (on March 13 and 14, 2019 ) on the detection of disabilities in childhood patients
Please see the two pictures attached.
Relevant statistics: More than 6,773 children vaccinated and more than 9,878 patients attended in emergency, since May 2017. More than 30,000 annual patients
The construction of the unit to serve children with disabilities (diagnosis and treatment of autism, down syndrome, brain paralysis, learning difficulty) has started. We are planning to post this project separately in the Global Giving website, given its scope and social impact it will no longer be a new area of the pediatric center but will operate independently as a specialized health center. Please see the picture attached
There are still many needs to meet, we hope that you will continue to partner with us in our commitment to make it:
Missing medical equipment and furniture
Periodic staff training programs
Periodic supply of medical supplies and medications.
We will keep you informed about the progress of the project. If you have any comment, advice or question, please feel free to direct them to us and we will answer as best we can.
Thank you very much again for your outstanding support
Best wishes,