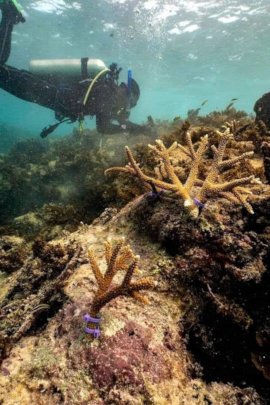 During this period the efforts of the group of coral gardeners focused on finalizing the evaluation of the transplant sites, evaluated a total of 48 sites. We have now evaluated more than 61 different sites of coral colonies at Puntacana.
They have also introduced microfragments of the Porites Furcata coral species in the nursery of the Grupo Puntacana Foundation, as well as, they have developed an exhaustive maintenance work, for us keep being one of the best coral nurseries evaluated by the Dominican Consortium of Coastal Restoration (CDRC).
Finally, they have collaborated in the realization of other primary activities for the Center for Marine Innovation. A highlight of this activities, was the filmed documentation of the spawning of the coral colonies Acropora Cervicornis at the transplant sites; in the sampling for the study of the biofilm of bacteria from the transplanted coral colonies; and in the selection of seagrass sites for study and conservation.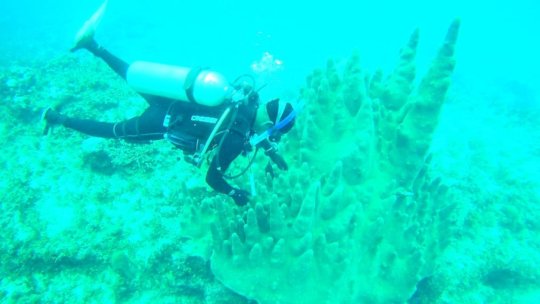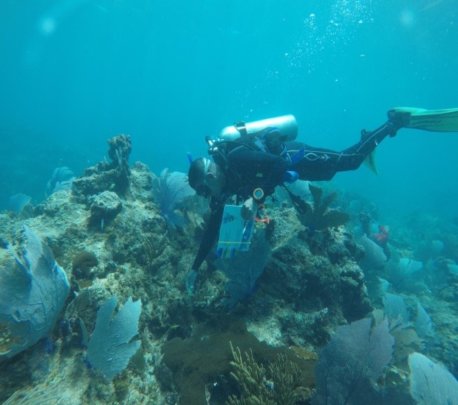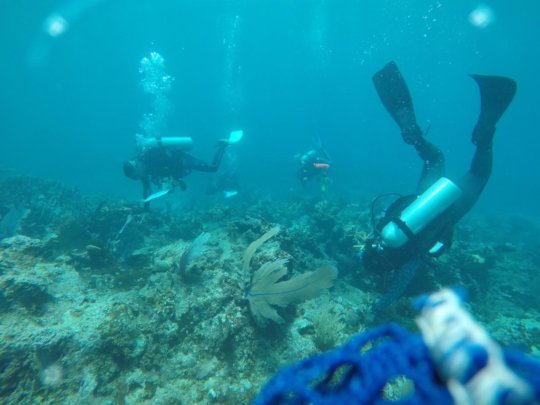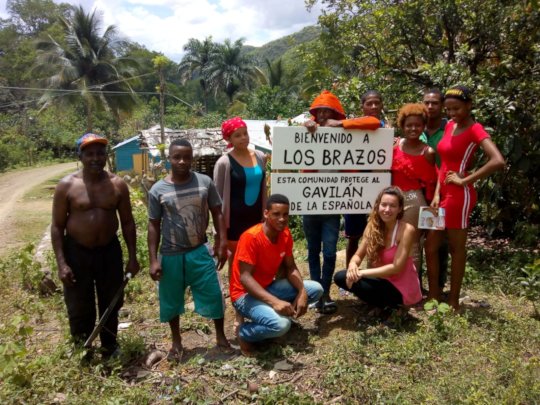 It´s September 25th of 2019 and Ridgway's Hawk nesting season is now over. After almost seven months of intense nest monitoring, we are starting to catch our breath. We are beyond happy to announce that we monitored a total of 17 breeding pairs of hawks in Puntacana alone. Twelve successful pairs were able to produce 17 nestlings. Additionally, two nestlings brought from a fallen nest at Los Haitises National Park were fostered in Puntacana for a total of 19 new individual hawks recruited into the population.
In Los Haitises National Park (LHNP) we monitored a total of 144 pairs of hawks this past season and observed 126 nestlings fledge. Many of these nestlings likely wouldn't have made it to fledging if it were not for the care provided by our Dominican field team.
A very important step in achieving our goals has taken place this past season. As mentioned in the last report, a new release site was established in Aniana Vargas National Park (AVNP). A total of 25 hawks were successfully released and to date nearly all of them have become independent, which means they are no longer depending on the food that we provide at the release site. The work we are conducting in AVNP isn't just about releasing hawks. We have been working very closely with the communities in the area, especially the community of Los Brazos which is the closest to our release site. A total of 8 community members directly worked or volunteered on the project this past season. Many of these amazing individuals are even doing education work in local communities and even in their own schools.
Our education program is stronger than ever! Program coordinator Marta Curti has been conducting numerous activities with our partners. Ridgway's Hawk Day, teacher training workshops, door to door visits and coming soon – a new campaign in the Puntacana area. This campaign is going to focus on educating the general public using mass media such as radio, newspapers, and billboards. Prior to the campaign we conducted surveys in the area to evaluate residents' knowledge of Ridgway's Hawks and the protection of the environment in general. Once the education campaign has ended we will again conduct similar surveys and see if our efforts worked. This will be very important information for the next task, a "Nation-wide Campaign".
Until the next nesting season begins we will focus our efforts on monitoring the existing populations and continuing the quest to educate the public about protecting Ridgway's Hawks and the environment in general. There are many preparations underway to make next Ridgway's Hawk nesting season the best yet!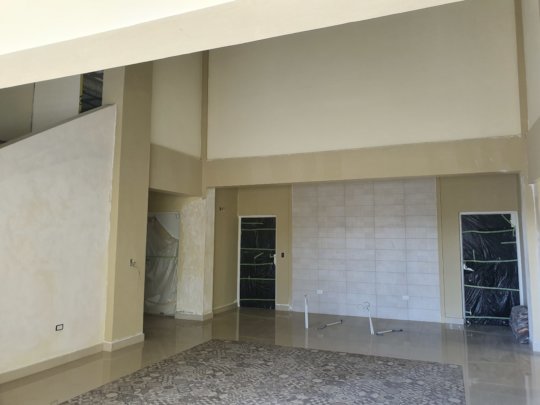 Dear Donor, may you receive our warmest greeting. Your support to our project means that you understand just how important affording eye care can be to a person with limited economic resources
That's why you gave, and why we and the people to be benefited are thankful for your generosity.
We are delighted to inform to you that the construction of the facilities is almost finished.
Please see the picture attached of one of the areas.
We hope to open it in the first quarter of 2020, as soon as it has the equipment, furniture, medical materials and staffing needed to ensure high quality ophthalmological services.
We will keep you informed about the progress of the project. If you have any comment, advice or question, please feel free to direct them to us and we will answer as best we can.
We are together in this and we hope that it will remain so , your support help make our project possible
Again, thank you very much !
All the best,
WARNING: Javascript is currently disabled or is not available in your browser. GlobalGiving makes extensive use of Javascript and will not function properly with Javascript disabled.
Please enable Javascript
and refresh this page.