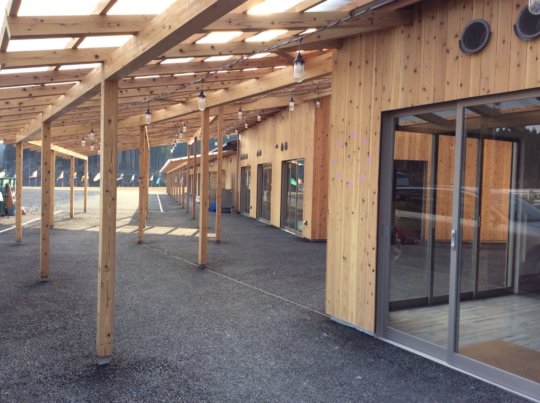 The Isatomae Temporary Shopping Arcade will be reborn on April 23, 2017, as a permanent one with the name of "Minami-sanriku Hamare Utatsu" (Utatsu Arcade). It went through several stages of development, starting from a big-size tent-shop which DSIA offered six months after the disaster, to the temporary arcade from December, 2011, and finally after six years, to a new permanent shopping arcade. It took unimaginably and painful long time for redevelopment.
Two buildings with outside panels made from locally-produced-woods were completed, and now interior decorating is advancing. The Arcade has a large space for parking and events. Eight shops and two restaurants, the latter operated by young entrepreneurs, will enter into these buildings. The Arcade will be quite lively with the participation of young generations, which Isatomae Community needs for its future redevelopment.
However, how has its environment changed? The neighboring area about 10 km or about 20 minute-car-ride away, called Shizugawa, now has a newly established Shopping Arcade mostly with restaurants. It has been frequently reported by media and has successfully attracted tourists. There in this March, six wooden one-floor buildings, accommodating 28 shops, designed by Mr. Kengo Sumi, famous for designing the main stadium of the Tokyo Olympic and Paralympic, were completed. He also designed the Utatsu Arcade. Though the buildings are nicely designed, the number of shops accommodated are drastically different between Shizugawa and Utatsu.
In both places, dump cars are busily running around, still raising the level of land in other places, and no other building can be seen around those shopping arcades. They are the first facilities opened as symbols of redevelopment. And if you go by car for about half an hour to Tome City, a shopping arcade by a road is opened, selling locally produced vegetables and serving locally-popular food at restaurants, and even having a convenience store. The parking space tends to be filled with cars over week-ends.
Although local people are with enormous joy, expecting the prosperity of business and the development of Isatomae Community in the future, their alertness about the toughness of competition and concern over their future were easily felt.
The former head of the Isatomae Shop Arcade Association (ISAA) has been helping to redevelop the community and watching the growth of children as a member of the District Education Board. This year, he hoped to have at least one full class of 40 for newly entering students in both elementary and junior high schools. Among five elementary schools in Minami-sanriku City, Isatomae has the largest number of student enrollment, 32 students, and a bigger city of Shizugawa only 21, other schools less than 20 students. These numbers suggest a serious problem of population decline in the area. The success of this small Isatomae community may be because of fishing industry they worked hard to redevelop. These schools are getting together to support the growth of children in the whole district.
The former head of ISAA also recollected his experiences in the past six years. He remembered how tough it was at the very beginning and stated, "We took an unnecessary long way to come to the present stage. Since politicians requested us to suggest anything the community needed to develop, we spent a large amount of time to discuss what we wanted to have. However, hardly anything was realized at the end. This process turned out to be purely wasted." For the redevelopment of the community, he organized many events and offered many interesting ideas to gather outside visitors. Unfortunately, he could not pay enough efforts to get his business going and became not feasible to enter into the Utatsu Arcade. Although he was really unfortunate, he was happy that he could help and serve his community.
In the disaster, he lost his own house, his father's and his own shops, and ended up carrying a huge amount of debt. Despite he sold away two pieces of land in Sendai City and Isatomae to return his debt to banks, he still has to carry some debt. He still cannot realize his obligation to his family to established a tomb for his deceased mother. He stated, "I worry about the future of children. But the eldest son really became serious in studying by himself. The disaster really changed him. Since we cannot afford to send him to a university, he entered the Self-defense Force. I am very proud of him." "Now, he cannot borrow money from a bank. But since her daughter started working for the City Government, she may be able to borrow money and build a house for his family as well as his company." He is waiting for the answer from a bank. Even if he succeeds to obtains the funding, he still has to wait for his turn of construction, since a limited number of local carpenters, who construct with much lower costs than big nation-wide construction companies, are extremely busy in building houses. He still does not know when this will take place. Given the situation, it may still take time to move out of the present temporary housing. Though the Isatomae Shopping Arcade started its new road to build its future, individual shop owners are continuously having their own unsolved difficulties and still struggling to find their own future.
The DSIA is very sad to inform you that this will be the last report we make on the Isatomae Shopping Arcade. Although each individual still continues to struggle for building their future, the Isatomae Shopping Arcade became renewed and started getting a path of future development. In this point, we withdraw our support to the Isatomae Community. The DSIA is extremely thankful to those who concerned about people in the Community and donated money to show your support, which has been well appreciated and recognized by local people. They are quite indebted to your kind heart, which is basically the key reason why they can continue to struggle for rebuilding their future, especially for their children. The DSIA has been happy to be with you to have been able to support them. Finally, we would like to thank cooperation of many people in the Isatomae Community who enabled us to continue reporting about their amazing stories on their struggles and to learn about the value of human essence.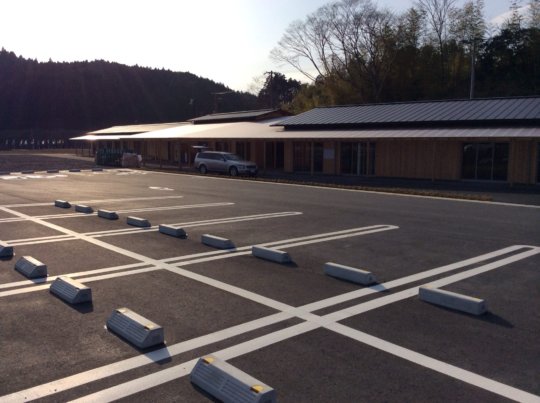 Links: